Robert Work nominated to be Pentagon's No. 2 civilian
---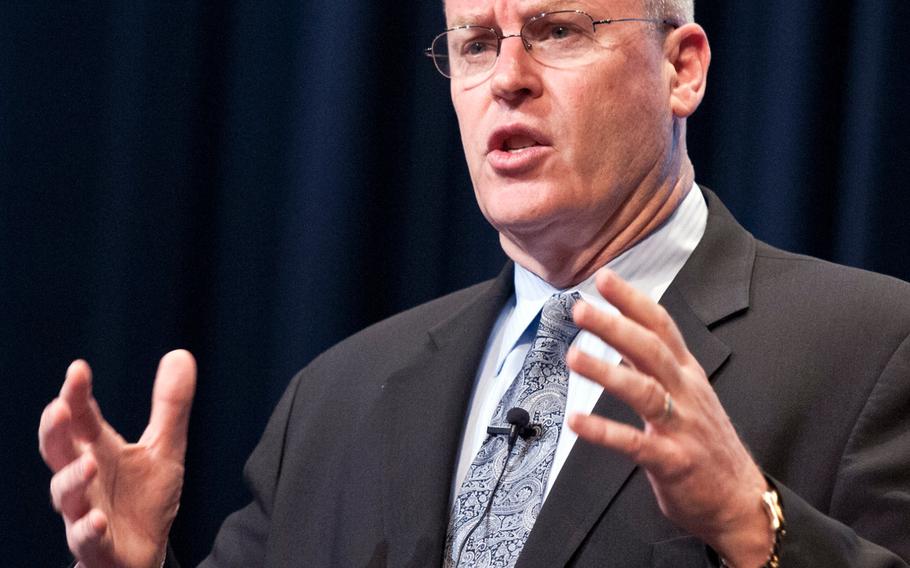 WASHINGTON — President Barack Obama has nominated Robert Work to be the next Deputy Secretary of Defense, the White House announced Friday.
"Bob … is a highly respected and nationally recognized strategic thinker, practitioner and expert on national security, as well as budgeting, technology and military affairs," Secretary of Defense Chuck Hagel told reporters at the Pentagon.
Work was Under Secretary of the Navy from May 2009 to March 2013. In that capacity, he was the Secretary of the Navy's principal deputy and was responsible for the day-to-day management of the department, according to the Navy.
Work is a former artillery officer and spent 27 years in the Marine Corps. He was commissioned a second lieutenant in 1974 and retired at the rank of colonel.
Work is currently the chief Executive Officer at the Center for a New American Security, an influential think tank in Washington with close ties to the Obama administration. He served on Obama's DOD transition team after the 2008 presidential election, focusing on naval affairs, defense policy, acquisitions and budget issues in that role, according to his CNAS profile.
Handling budget challenges and acquisition decisions at a time of fiscal austerity will be one of Work's most critical responsibilities if he gets the job, and his background dealing with these issues likely played a key role in his nomination. Acting Deputy Secretary Christine Fox was appointed to the position last year because of her budget expertise, according to Hagel.
Work's naval background and familiarity with Air-Sea Battle operational concepts are especially relevant as the Pentagon executes a rebalance toward the Asia-Pacific, where the Chinese military's emerging anti-access capabilities could make it difficult for the U.S. to operate in the region. He studied these issues as the Navy's No. 2 and as an analyst for the Center for Strategic and Budget Assessments, an independent research institute.
Work holds a Bachelor of Science degree in Biology from the University of Illinois, a Master of Science in Systems Management from the University of Southern California, a Master of Science in Space System Operations from the Naval Postgraduate School, and a Master in International Public Policy from the Johns Hopkins School of Advanced International Studies, according to his CNAS profile.
The Senate Armed Services Committee will hold a hearing Feb. 13 to consider his nomination. If he is confirmed by the Senate, he will take over for Fox, who has been serving as the acting deputy secretary since December.
On Friday, Hagel also announced the nomination of Air Force Gen. Paul Selva to serve as commander of U.S. Transportation Command. Selva currently leads Air Mobility Command. If his nomination is confirmed by the Senate, he will succeed Gen. William Fraser III, the current head of TRANSCOM.
harper.jon@stripes.com Twitter: @JHarperStripes
---
---
---
---