Riders, Gold Star families honor dead at Civil War Unknowns Monument
---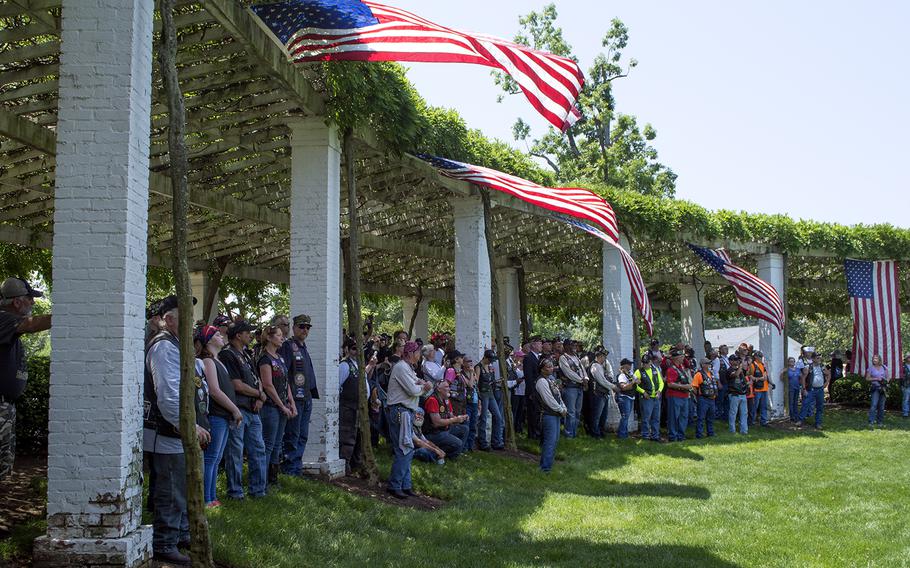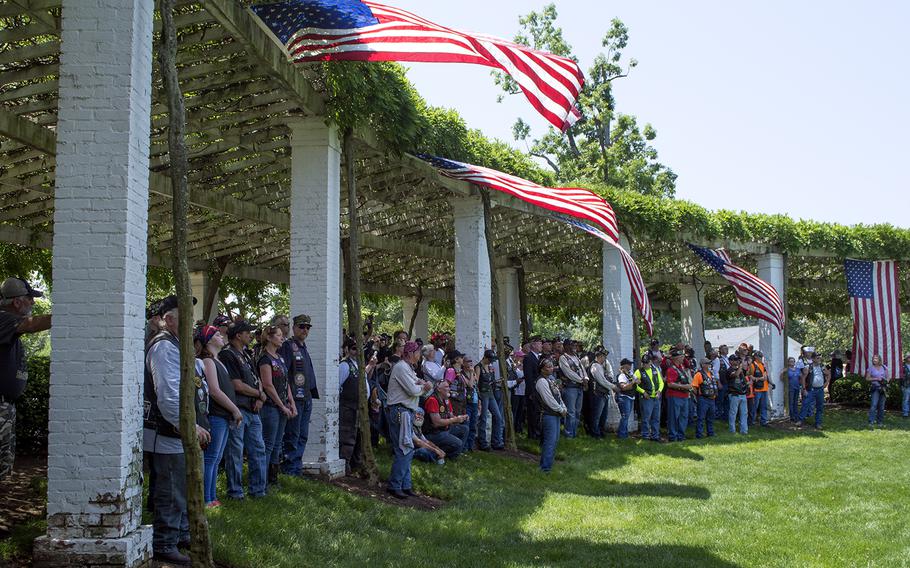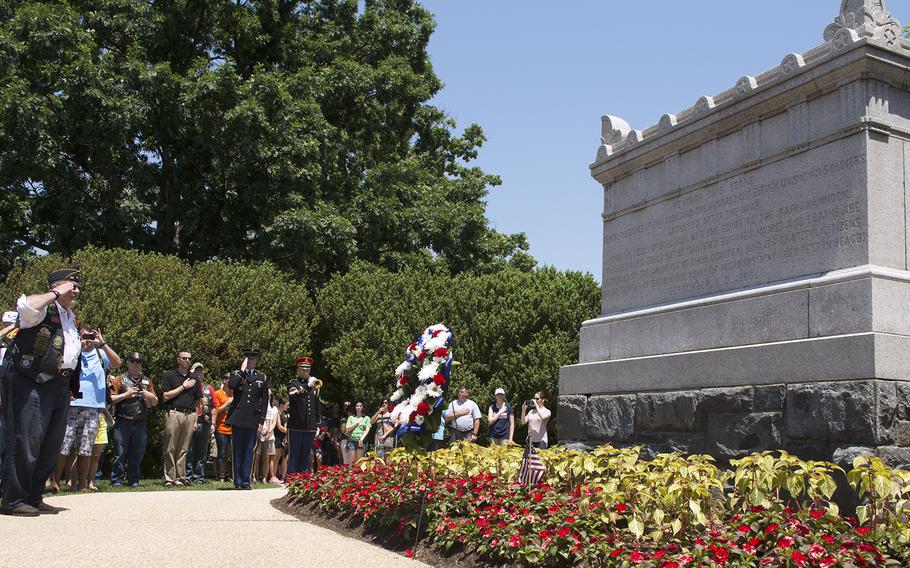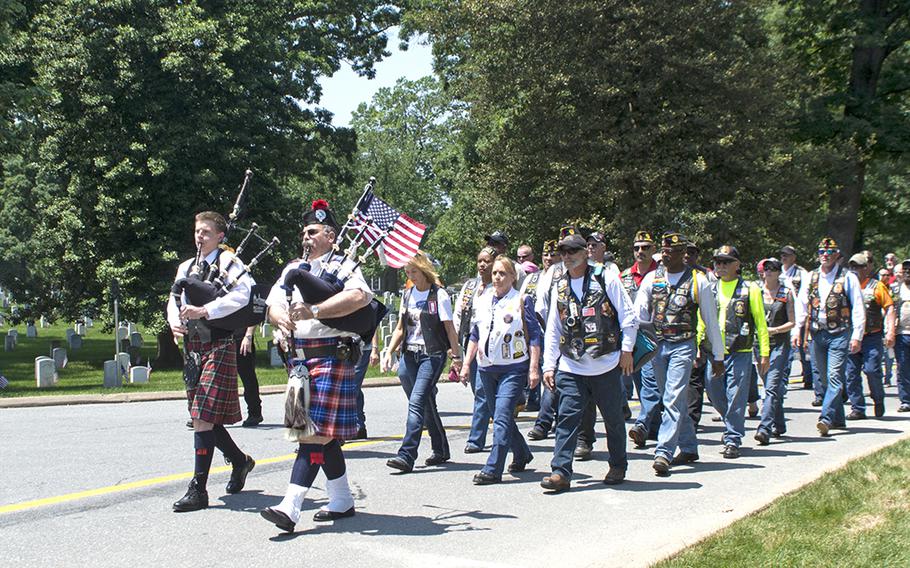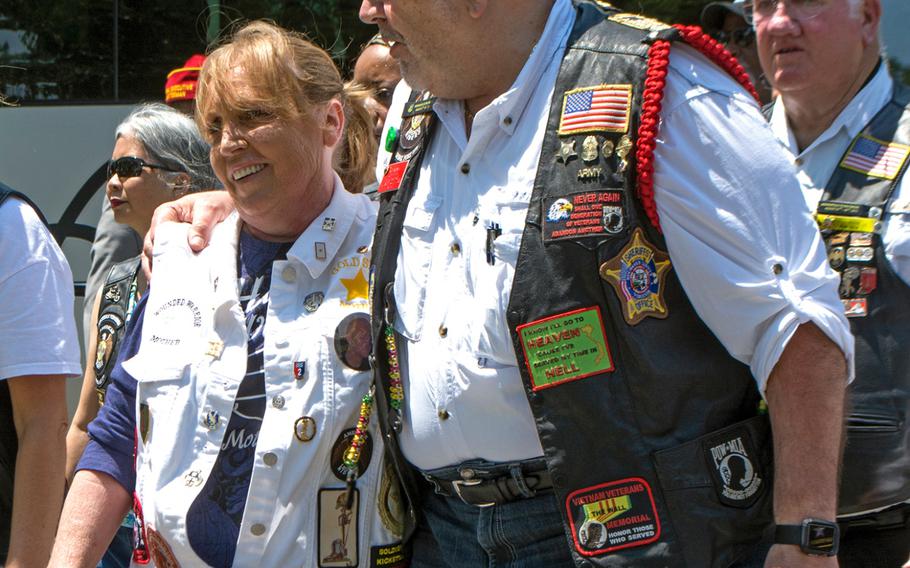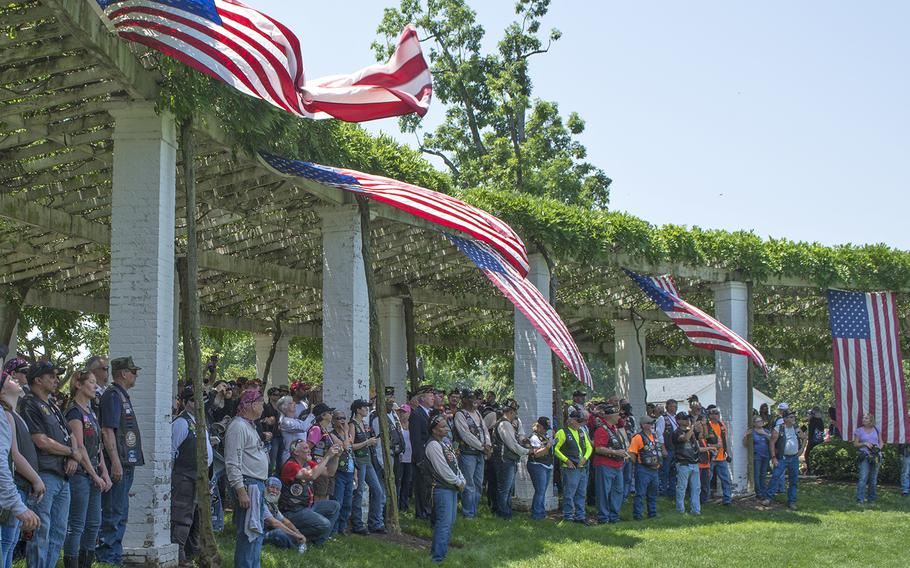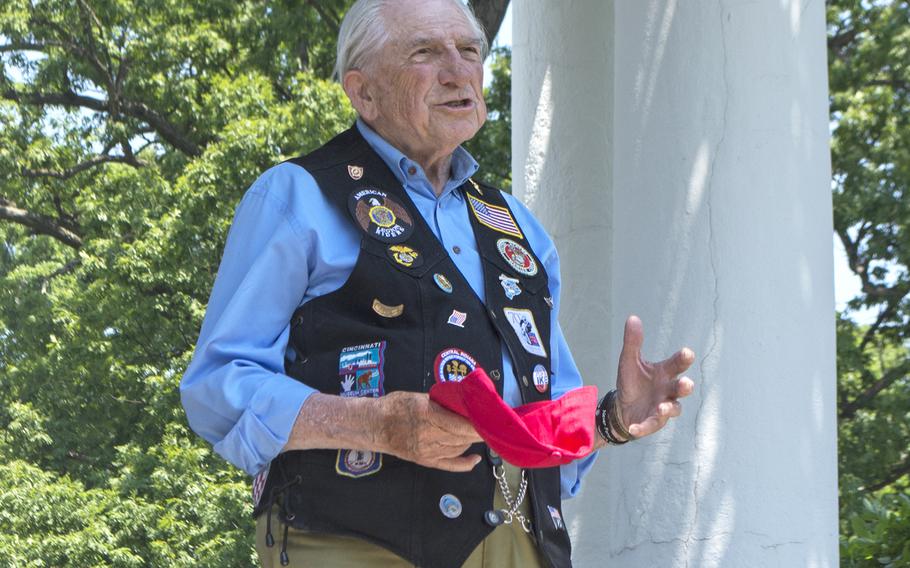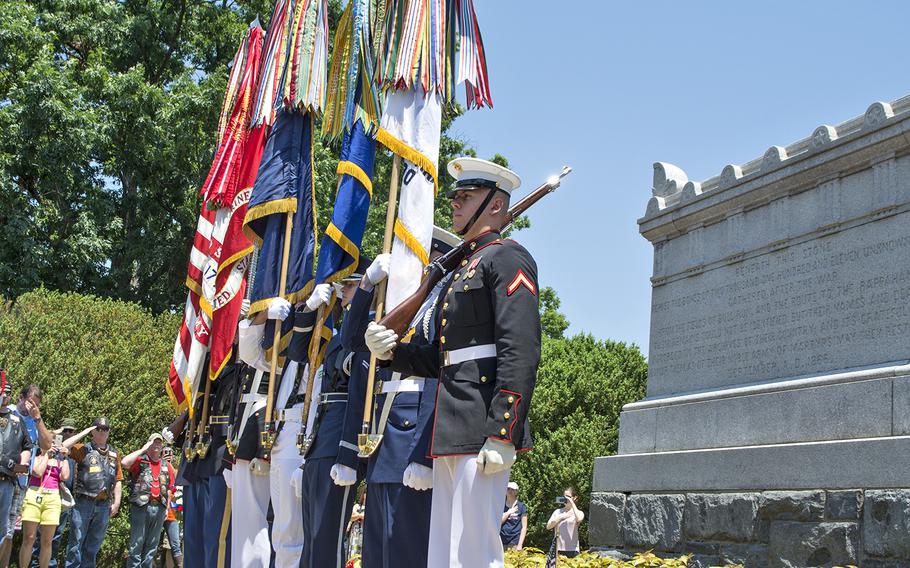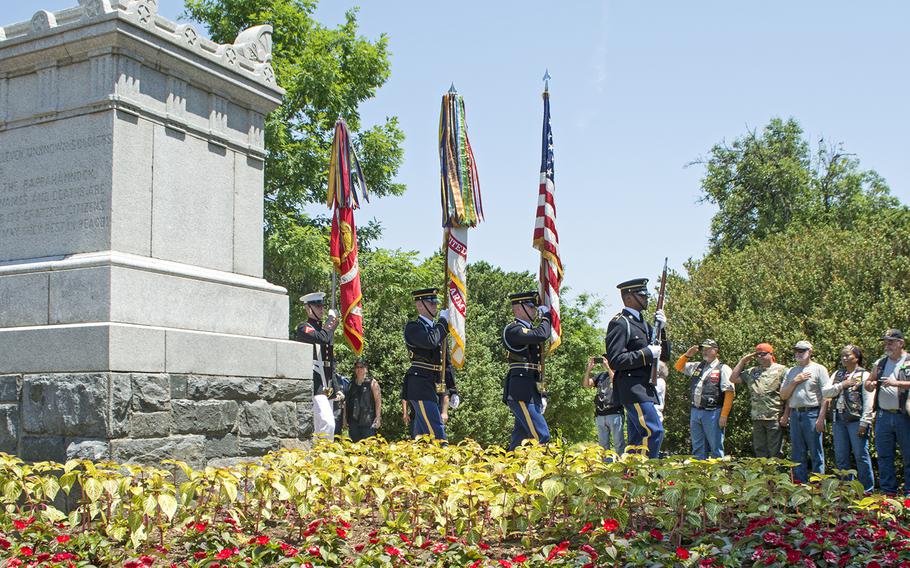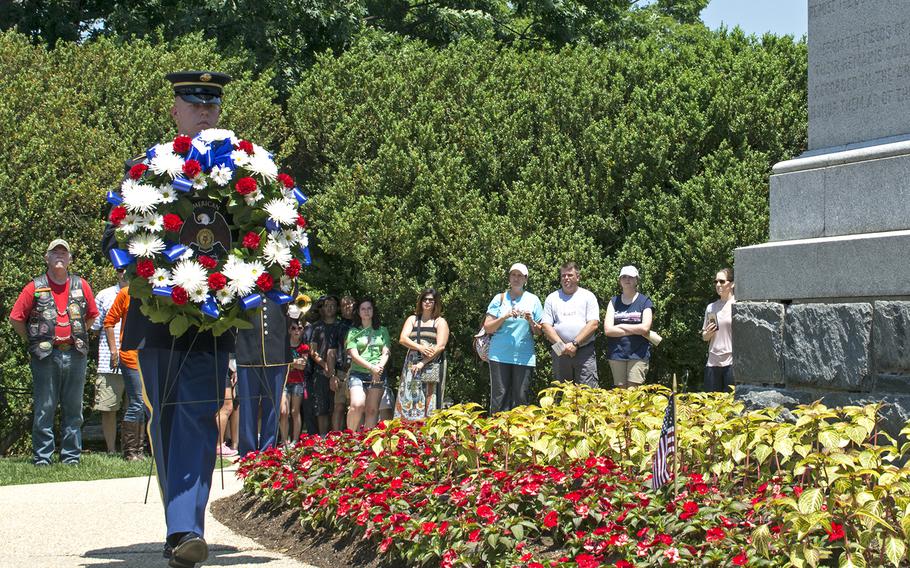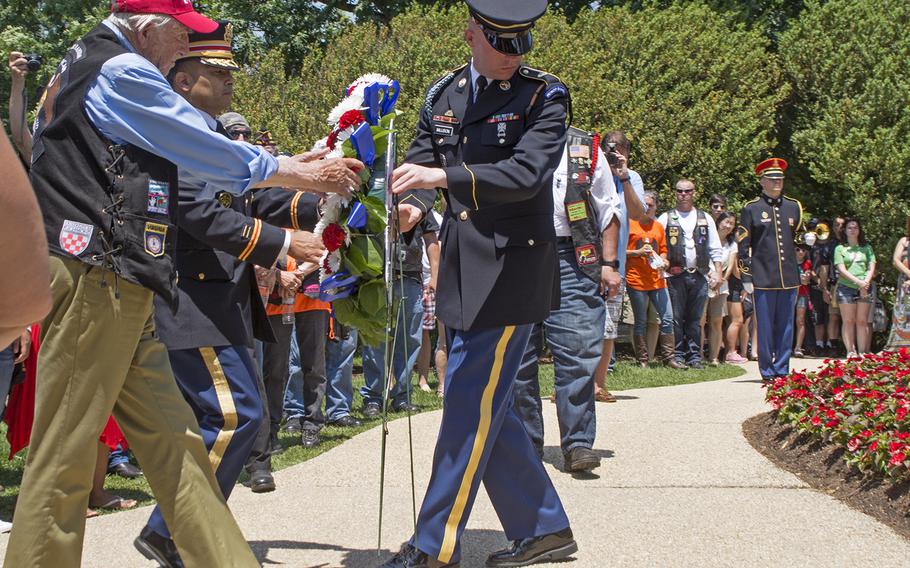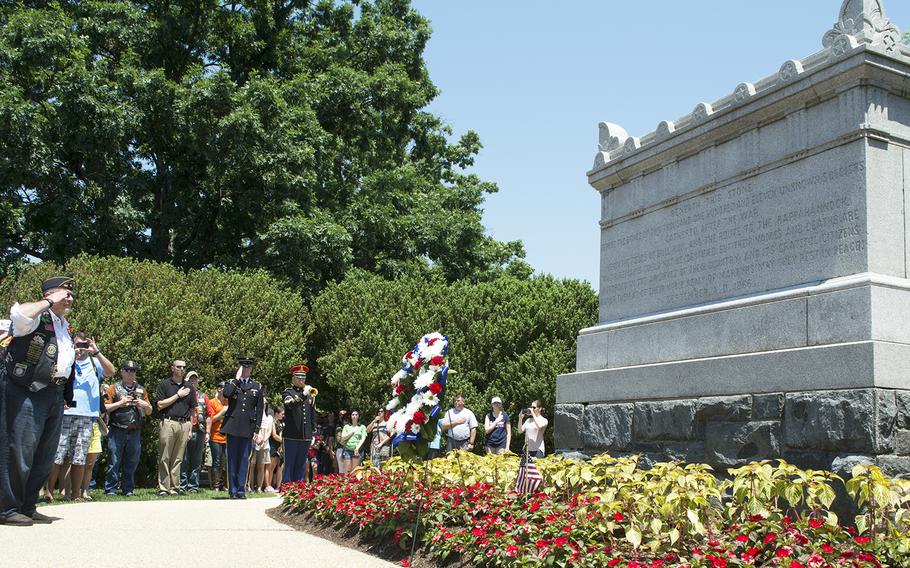 ARLINGTON, Va. — It's not the first place a visitor usually heads to at Arlington National Cemetery. Tucked back, surrounded by hedges on top of the hill near the Custis-Lee Mansion, the Civil War Unknowns Monument is easy to miss. But more than 2,111 remains from Union and Confederate forces are buried there.
On Saturday, more than 150 American Legion riders were joined by Gold Star family members as they walked through the gates at Joint Base Myer-Henderson hall to the large monument for a wreath-laying ceremony.
"It means that it represents our not forgetting those for whom the wreath is laid," said 89-year-old World War II veteran E. Bruce Heilman, the University of Richmond's chancellor. "These are those that could be forgotten and have been forgotten. We are re-resurrecting them to the world and to history. Even though we don't know their names, we know what they did. We want everyone else to know it."
Gina Townsend, whose father was killed in Vietnam on Feb. 21, 1968, was one of the Gold Star participants. Her father, Staff Sgt. Clifford Sims, served with the Delta Raiders, and died when Townsend was only four years old.
"I remember some of our times together through pictures, but mainly through people who are telling us stories and reliving his life with us now," Townsend said.
"There was a guy who served with him, and they were in the trenches for a while. My father made sure that even if he didn't get food, his soldiers were fed," she said, relating one of the recent stories she had heard.
Sims, who died when he was 25, received the Medal of Honor for his actions near Hue, Vietnam. He led his company during a furious attack against the enemy, which had pinned down the 1st Platoon. While continuing through the woods under heavy fire, his citation says, he heard the "unmistakable noise of a concealed booby trap being triggered." He threw himself onto the device, taking the full impact of the blast and saving his squad.
"That was a war that people didn't talk about much. It wasn't until adulthood that I came into contact with veterans that knew him, veterans that served with him and veterans that keep his memory alive through their effort and support," Townsend said.
Townsend recalled that as a little girl, her mother had initially kept her all father's medals carefully wrapped, but hidden from view, in their house. Townsend said a man — she thought he may have been in insurance — had warned her mother about the value of the medals and the anger of the protesters. But her family was always proud of Sims's sacrifice.
They were put back proudly back on display a few years later.
Townsend got involved in the event at Arlington through the American Legion. "I have an instant family that I never knew I had," she said of the camaraderie between members of the Legion.
Heilmanrode to Arlington on his Electra Glide Ultra Classic Patriot Harley — an activity he still thoroughly enjoys and has no plans to stop. He served four years in the Marines, from ages 17-21, saw combat on Okinawa, and served during the Occupation of Japan.
"Grew four inches taller after I went into the Marine Corps, so I became a man and I became changed forever by the military," Heilman said.
"I was trained as a tail gunner and (on) dive bombers. I was with the 2nd Marine Air Wing….I was on IFF — Identification Friend or Foe — so we didn't shoot down our own aircraft and we shot theirs down when they came in. So I was a pretty responsible young feller," Heilman said.
He said it was a very vicious war for the Marines and Army on Okinawa.
"We had all kinds of casualties. We knew how much we were going to lose when we invaded Japan. We were ready to invade Japan. We all expected to be killed, and then they dropped the bombs and we all got to live," Heilman said.
"That's the essence of the way we 18-, 19-year-old young people felt about dropping the bomb. We're here because it was dropped or else we would have dropped."
Heilman represents the Gold Star families, which he has been doing for the past month all around the country for 7,000 miles.
"We owe them not only a debt of gratitude, we owe them a debt we can't fully repay. But we can respect what they have done and respect their families for having suffered that loss. And not let others forget how important it is that we have people who will give their lives for their country."
Heilman guesses he is the only 89-year-old from World War II that can ride around on a motorcycle for the last 30 days while shouting out: "Don't forget those who have paid the ultimate sacrifice."
Email: tibbetts.meredith@stripes.com Twitter: @mjtibbs
---
---
---
---