Ribbons at Arlington remember the fallen of Iraq, Afghanistan wars
---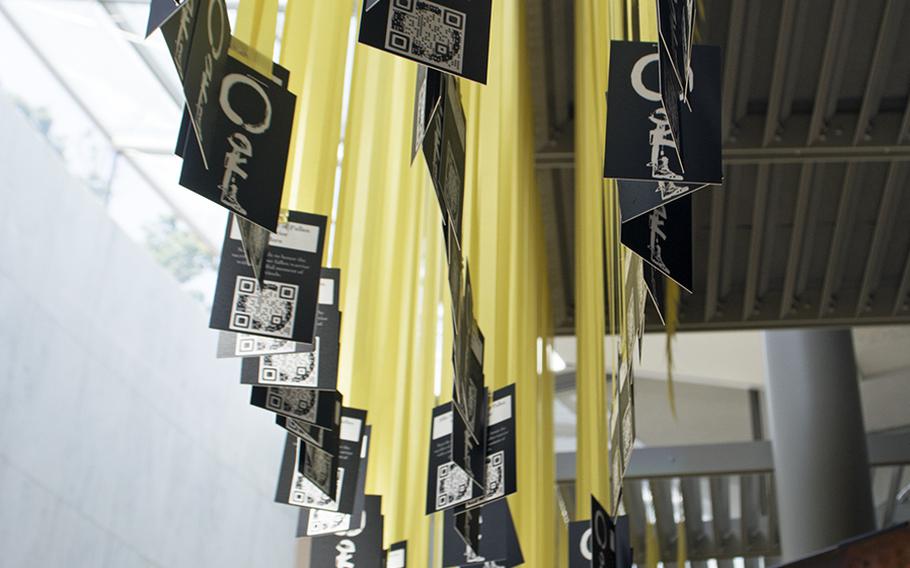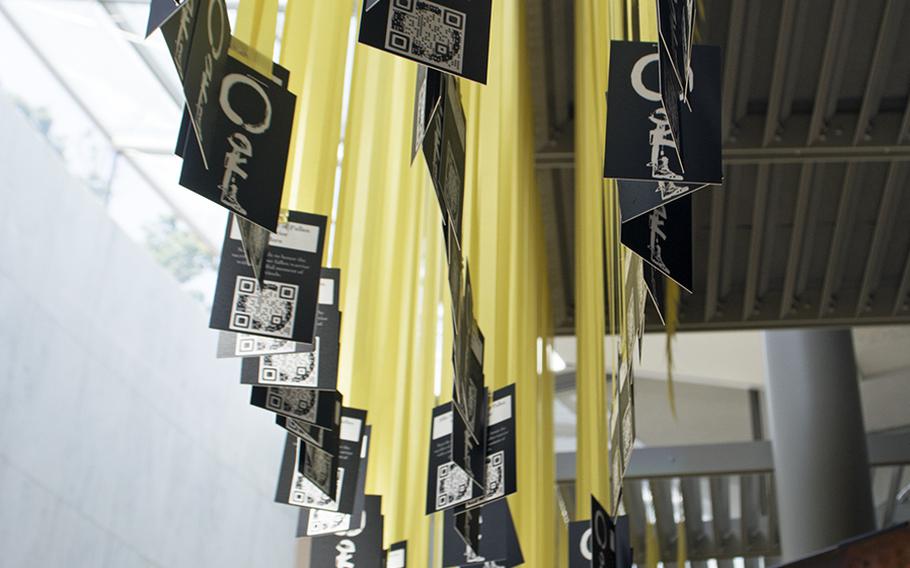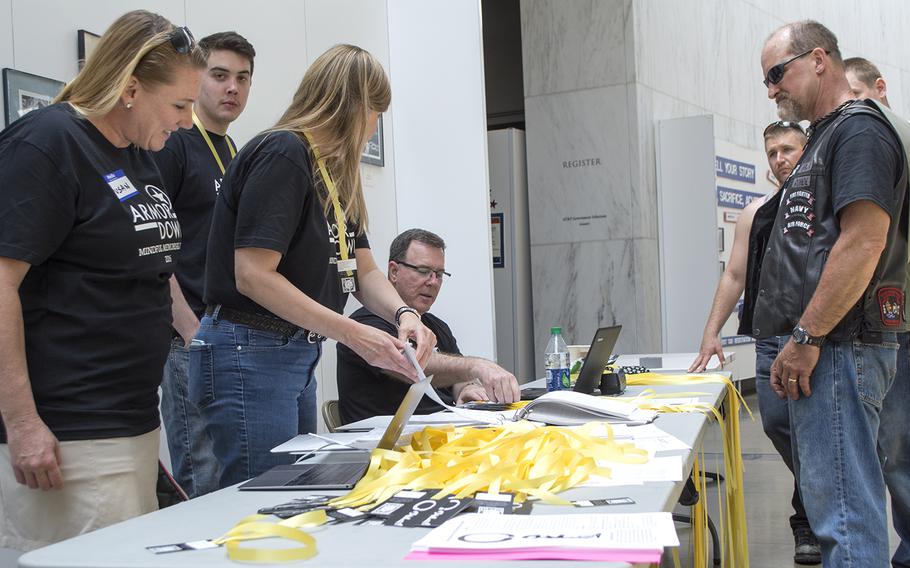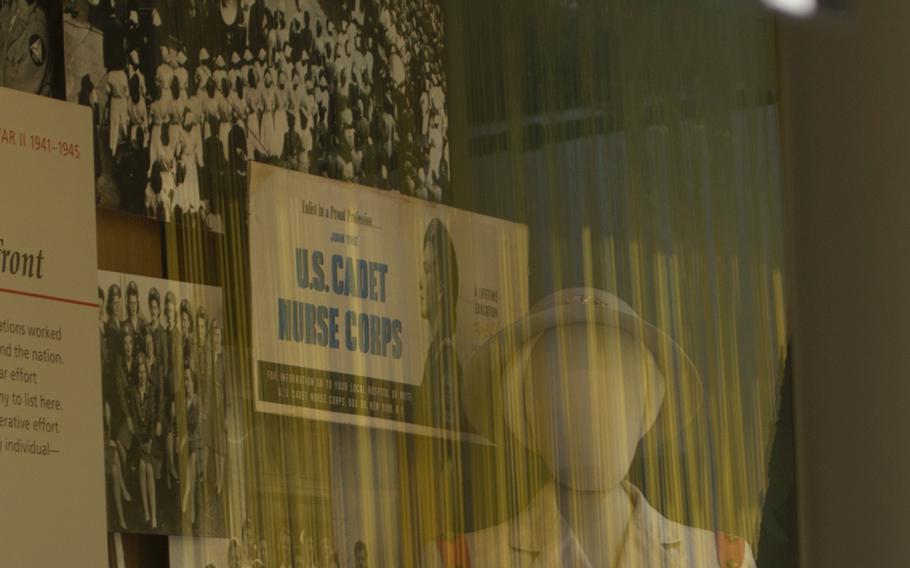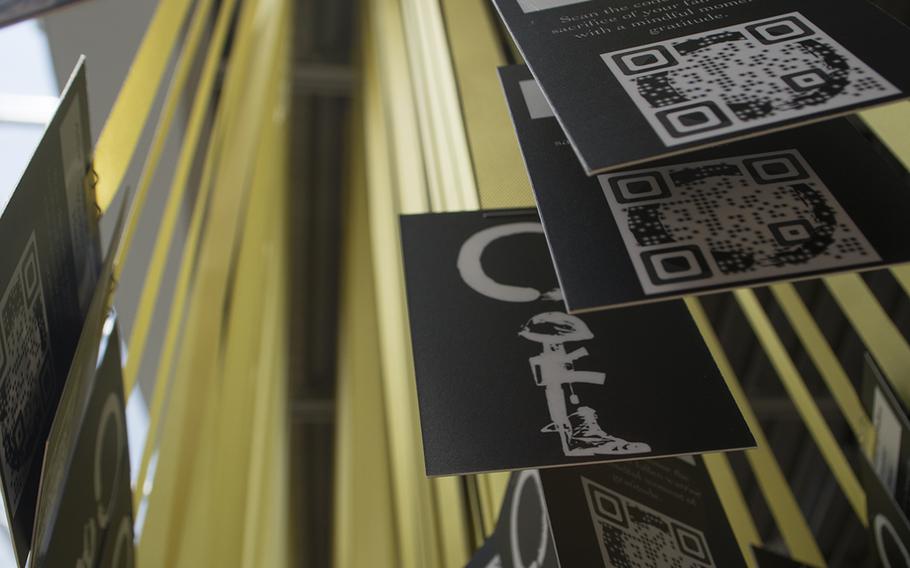 ARLINGTON, Va. — His name is Marine Cpl. Gregory Fleury, and he was from Anchorage, Alaska. He died supporting Operation Enduring Freedom on Oct. 26, 2009, during one of the bloodiest months of American combat in Afghanistan.
Long, yellow blank ribbons in honor of Fleury — and all of the 6,852 servicemembers who have died since the Sept. 11, 2001 attacks — hang inside the Women's Memorial at Arlington National Cemetery this Memorial Day weekend.
"We have them all hanging for a visual representation, but towards the center of the memorial we have a database of each of the fallen, so you can request a specific servicemember or you can receive a random one if you don't know anybody," said Marine Sgt. Alex Sayada, executive director of the Mindful Memorial Day Foundation.
Once you receive the name of a fallen servicemember, you are requested to do a "Mindful Moment of Gratitude," a 20-second meditation to honor that person's life and sacrifice
"Sometimes I'll pull people that haven't been honored yet," Sayada said.
Last year, he honored Medal of Honor recipient Cpl. Jason Dunham, who was killed in action in Iraq in 2004, and Sayada's former battalion commander, Marine Sgt. Maj. Robert J. Cottle, who was killed in an IED attack in Afghanistan in 2010.
"When you see it and realize each one represents a person, it's like nobody .... they all lived. You want to honor them each equally," Sayada said, his voice catching halfway through.
"For us, it's a way of bridging the military and civilian communities to really see how big the contributions of the newest generation of fallen have been."
Mindful Memorial Day was started in 2014 by Armor Down, a business run by Army veteran Ben King. Armor Down is dedicated to helping servicemembers make the transition back to civilian life.
"It was really just a challenge trying to navigate — in particular for me — just kind of chronic pain, insomnia, and no ability to deal with my emotions. I stumbled across yoga out of desperation," said King, who worked in psychological operations and left the Army in 2010.
When it gave him a good night sleep, he kept doing it. He was writing a blog at the time about his experience in Iraq, and a lot of it was about "up" armor: Up-armored Humvees for example.
"The Army trained me to up armor my mind and my body for war, but I never really considered the physicality of it, or the mentality of it," King said, adding that Armor Down developed out of that.
After taking mindful meditation at the VA, he had another "a-ha" moment.
"I could not deal with my mind. Whether it was being angry about civilians not having any clue what was going on, just being angry, like my mind was always being spun up. I took this class and it was so simple," King said. "I felt my mind settle."
Mindful Meditation evolved from a postcard to Mindful Memorial Day through talking with people. It was the idea of the Women's Memorial to hang the yellow ribbons from the awning.
"It was organic," King said.
This is the third year the event has taken place.
Around King's neck as he spoke was a yellow ribbon with the name Air Force Master Sgt. Evander E. Andrews on it.
Andrews was the first death after Sept. 11, killed on October 10, 2001. He chose Andrews after visiting the Air Force Memorial.
"What we do over the three days is take all the ribbons down and give them away with the name of a warrior attached to it. It was either a warrior you just met at random, or it's someone you may know. By the end of Monday, all the ribbons that we put up, will all be spread out among the visitors who have come to honor the fallen," King said.
And who was Cpl. Gregory Fleury?
Fifty-five Americans died in October 2009 in Afghanistan. One of them was Fleury, who was killed in a collision between a UH-1 and an AH-1 helicopter in Helmand province. Capts.Eric Jones, Davis Mitchell and Kyle Van De Giesen were also killed in the incident.
Anchorage Dispatch News wrote in 2009 that Fleury, "already had served two tours of duty in Iraq as a gunner and mechanic aboard combat helicopters before being shipped to Afghanistan."
For more information about Armor Down, go to: http://www.armordown.com/mindful.html For more information about Mindful Memorial Day, go to: http://www.mindfulmemorialday.org/about/
Email: tibbetts.meredith@stripes.com Twitter: @mjtibbs
---
---
---
---