Reports of sexual assault in the military climbed in FY 2013
---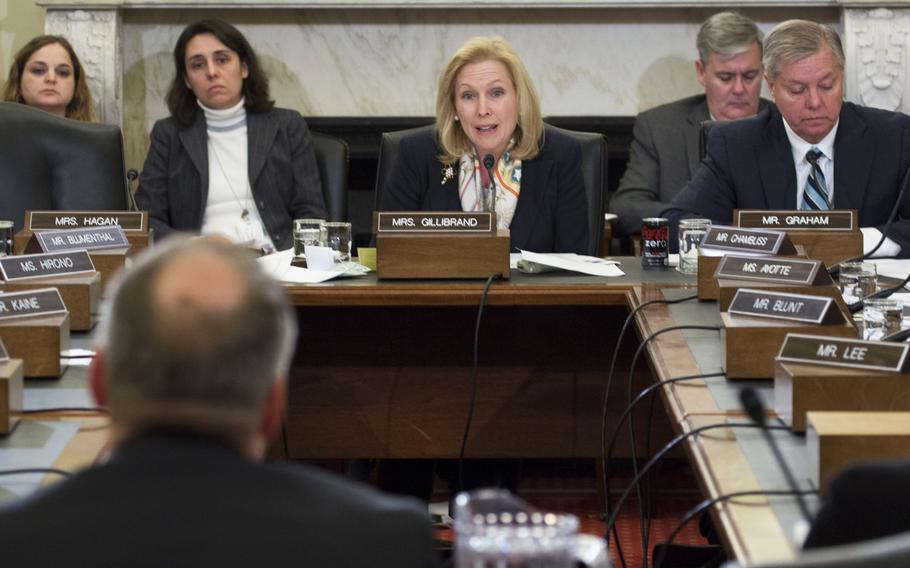 WASHINGTON — About 5,400 instances of sexual assault or "unwanted sexual contact" were reported within the U.S. military last fiscal year, a 60 percent rise from 2012, the Pentagon said Wednesday.
The total, which is preliminary, has risen since late December, when the military had just over 5,000 reports. The number could potentially rise somewhat higher before a final report for 2013, Pentagon spokeswoman Lt. Col. Cathy Wilkinson said.
In fiscal 2012, military members reported 3,374 instances of unwanted sexual contact. That same year, defense official estimated the true number was about 26,000, based on a "prevalence survey" given to troops.
The survey, which indicates that fewer than 20 percent of such incidents are reported, is conducted every second year, meaning no estimate for the total number of incidents will be available for 2013.
The latest number came out in panel discussion during a Senate hearing Wednesday to discuss the links between sexual assault, PTSD and suicide. The hearing was run by Sen. Kirsten Gillibrand, D-N.Y., who's spearheading an effort to overhaul prosecutions of serious crimes in the military in order to better protect sexual assault victims.
More than 600 of the incidents, or about 11 percent, occurred prior to servicemembers entering the military, Wilkinson said. In 2012, only 3.4 percent of reports were from events prior to military service.
Defense officials regards the increase as a sign that confidence in the military sexual assault reporting system is growing , she said.
Also Wednesday, the Army announced it had disqualified 588 out of about 20,000 soldiers in "positions of trust" such as sexual assault response coordinators and recruiters for a variety of infractions including alcohol abuse to sexual assault.
The Army is in the process of deciding whether those suspended can remain in the service, a spokesman at the Pentagon said.
"To date, 79 are pending separation from the Army," Col. David H. Patterson Jr. said. "However, others could face further actions from their commands."
Defense Secretary Chuck Hagel last May ordered the services to conduct a "stand down" to review the credentials and backgrounds of recruiters and others who work with vulnerable populations.
Last August, the Army announced it had suspended 55 sexual assault counselors, drill instructors, recruiters and others, less than one-tenth of the eventual number pulled out of their jobs.
"The Army continues to ensure that those in positions of personal trust have the right tools, skills and background needed to carry out their duties effectively," Patterson said. "We will continue working to better ensure we select the very best people for these posts, and that the chain of command knows what is expected of them, and how important this work is to the Army."
Carroll.chris@stripes.com Twitter: @ChrisCarroll_
---
---
---
---