Renaming facility at Lackland AFB for Medal of Honor recipient meant to inspire future warriors
---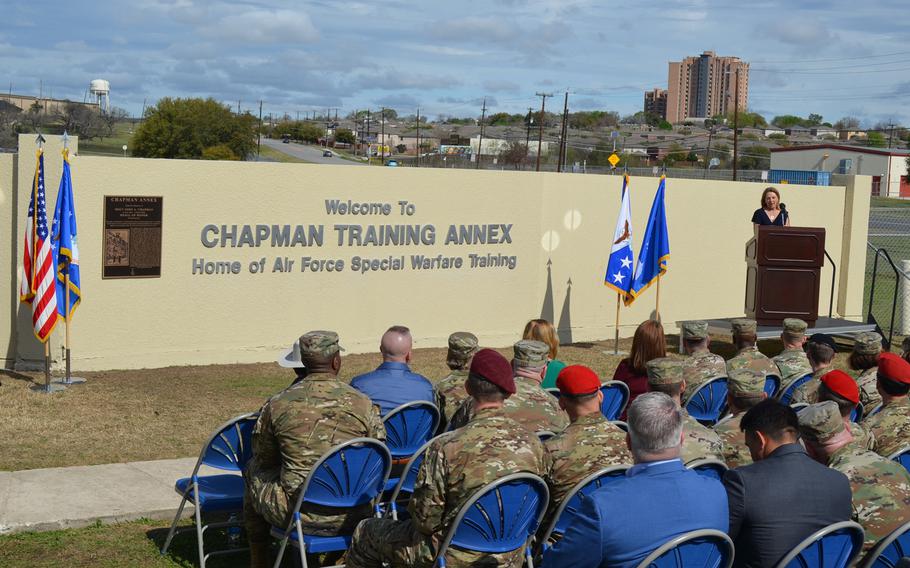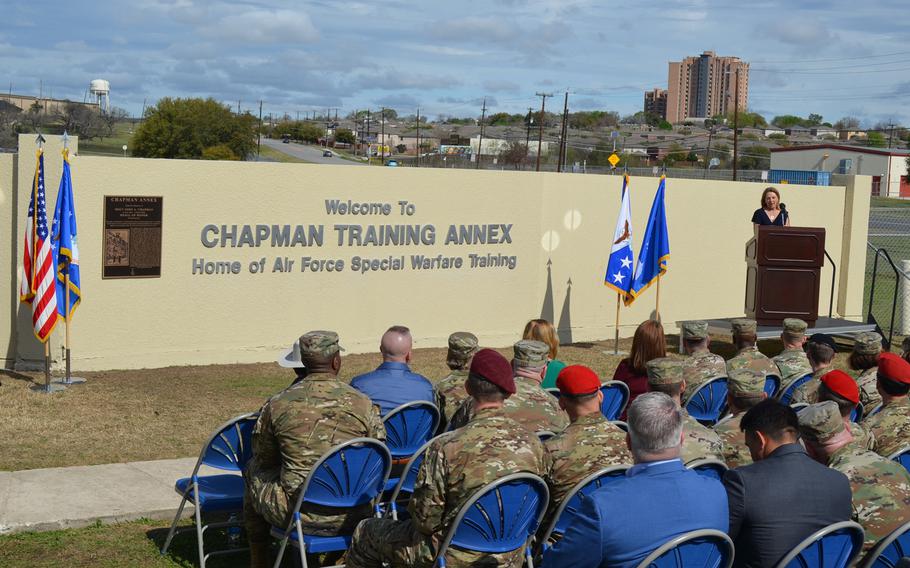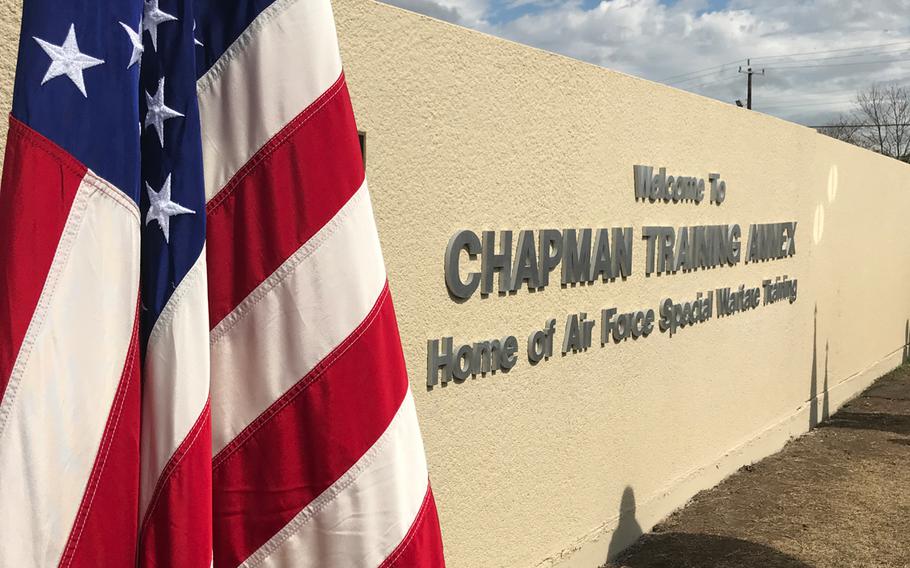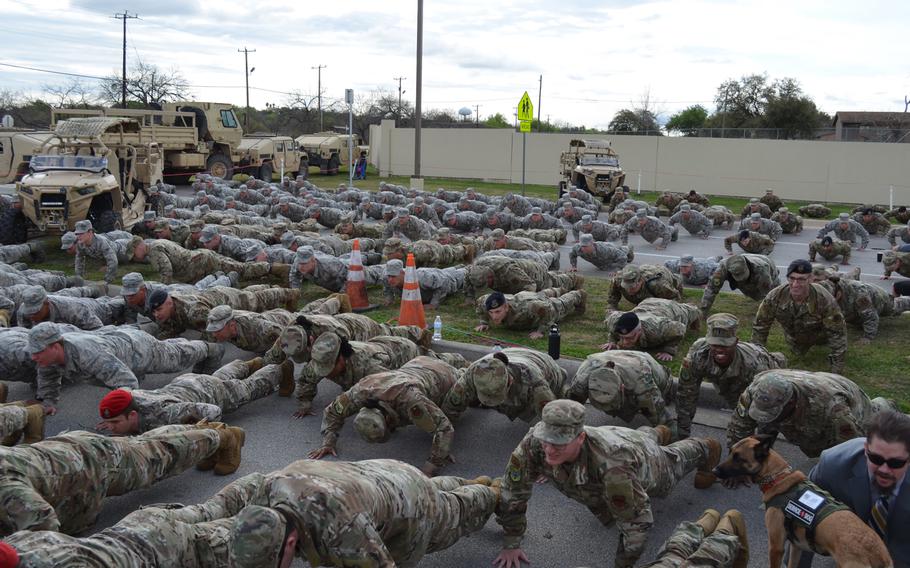 LACKLAND AIR FORCE BASE, Texas — All airmen aspiring to join one of the Air Force's elite special warfare units will now begin their journey at a training complex named for Medal of Honor recipient Master Sgt. John A. Chapman.
Chapman's widow and daughter helped remove the tarp Wednesday morning to officially unveil the renamed Chapman Training Annex at Lackland Air Force Base to a crowd of hundreds of current, former and future special warfare airmen and local community members.
"All airmen who pass through this gate will gaze upon the sign of the Chapman Training Annex and know they may be called upon to be the next Chapman," Lt. Gen. Brad Webb, commander of the Air Education and Training Command, said during his remarks at the ceremony, which occurred on the 18th anniversary of Chapman's death in combat on a snowy mountaintop in Afghanistan.
Chapman was the fourth enlisted airman to receive the Medal of Honor, and the training annex is only the second Air Force facility to be named in honor of an enlisted airman, according to service officials. The other is Scott Air Force Base in Illinois, which was named for Army Cpl. Frank S. Scott, a chief mechanic who in 1912 became the first enlisted fatality in U.S. military aviation history, according to Air Force Magazine.
At the time of Chapman's death, the then-technical sergeant was assigned to the 24th Special Tactics Squadron at Pope Air Force Base, N.C., and was a member of a reconnaissance team in Takur Ghar, Afghanistan, in conjunction with Operation Anaconda, according to the military's online biography of Chapman.
On March 4, 2002, his unit's helicopter was attacked by enemy fighters with heavy machine guns, throwing another service member from the aircraft. Chapman and his team volunteered to go back to save him.
Chapman charged uphill through thigh-deep snow to clear an enemy bunker. He then engaged another enemy machine gun but was shot. Despite his wounds, Chapman continued to battle multiple enemy fighters, which led to his death but allowed for another unit to pull casualties from the battlefield.
In total, seven service members died in the battle of Takur Ghar.
"John died as he lived, as a man of tremendous character," said Gen. Stephen A. Wilson, the Air Force vice chief of staff and keynote speaker for the ceremony. "He was a man who would stop at nothing to defend his fellow warriors."
In August 2018, Chapman was posthumously awarded the Medal of Honor. His widow, Valerie Nessel, said as airmen train at the facility in Texas, she hoped they use her late husband's story as motivation to continue when training becomes difficult.
Speaking to the dozens of airmen at the ceremony who are in training, she said: "Remember John on that mountaintop," where, despite his injuries, he "somehow found the physical strength to take out the enemy."
thayer.rose@stripes.com Twitter: @Rose_Lori
---
---
---
---