Rapidly deployed 82nd Airborne soldiers to replace Marines at Baghdad embassy, could see pay boost
by
Corey Dickstein
January 15, 2020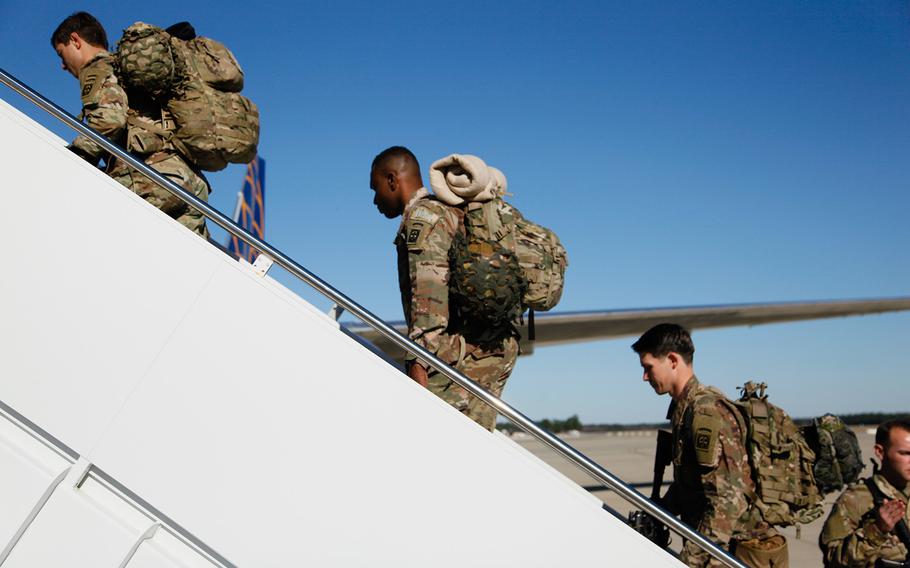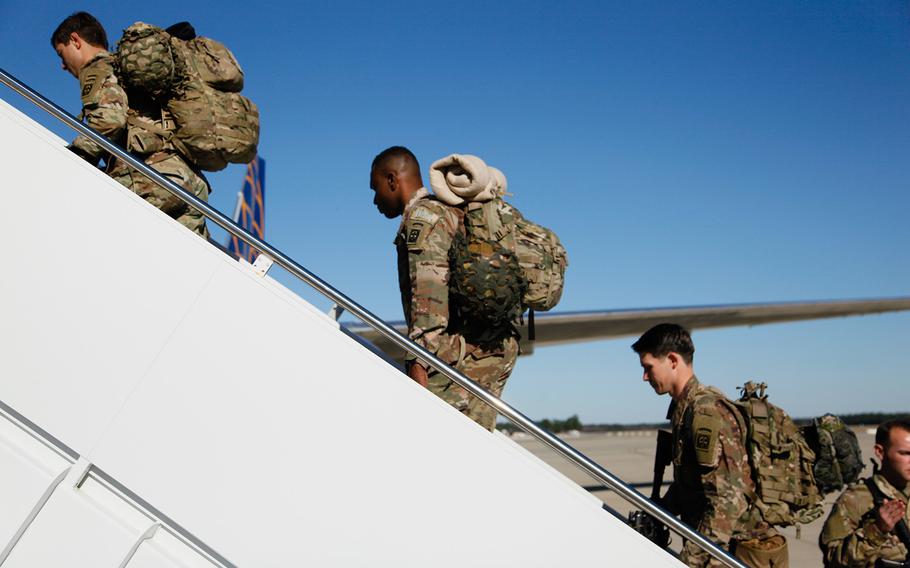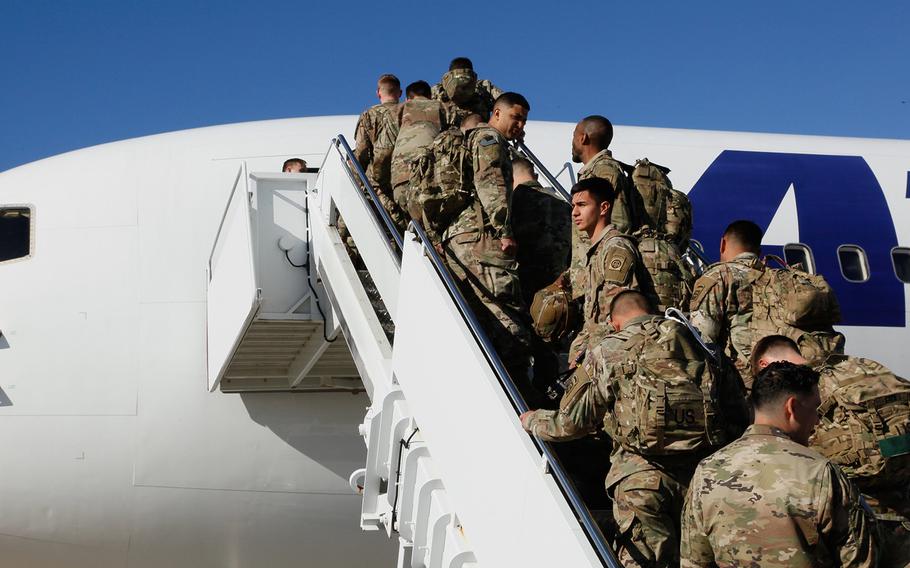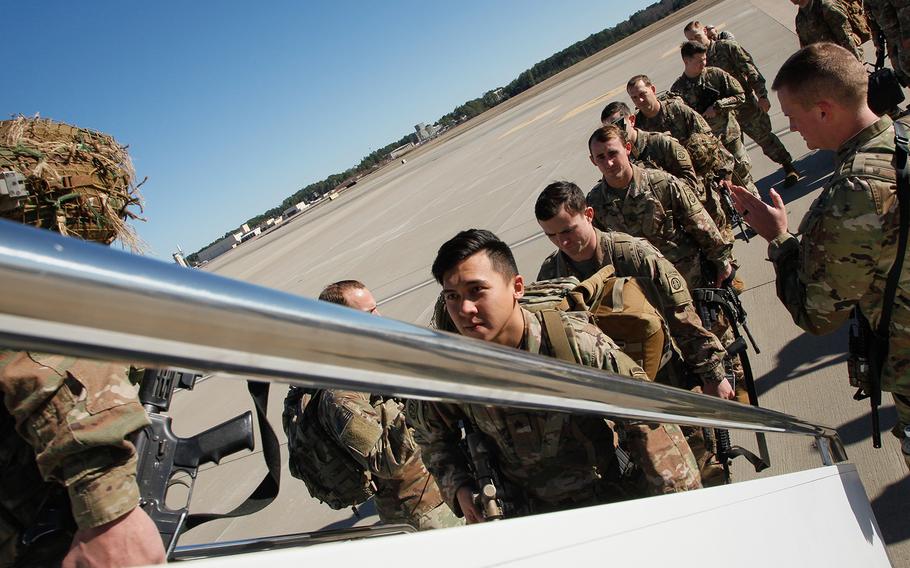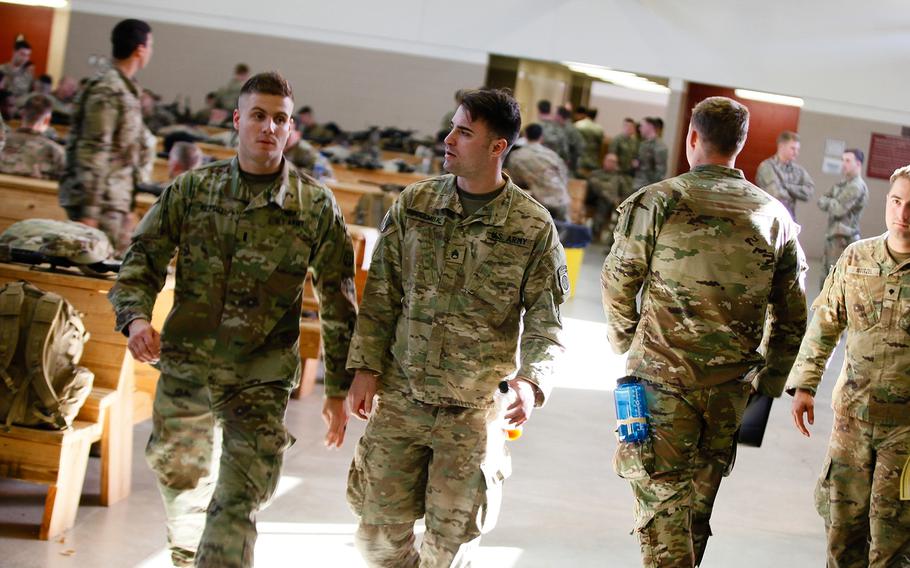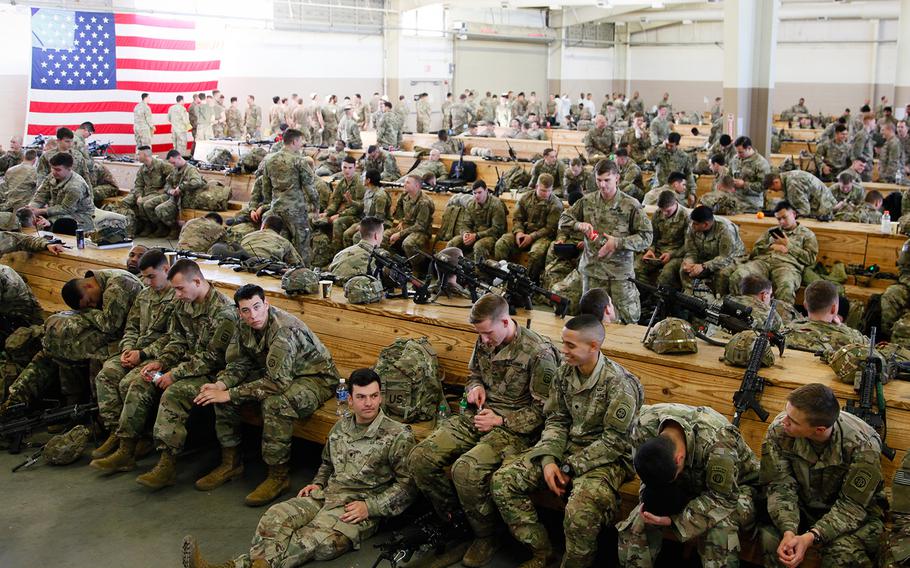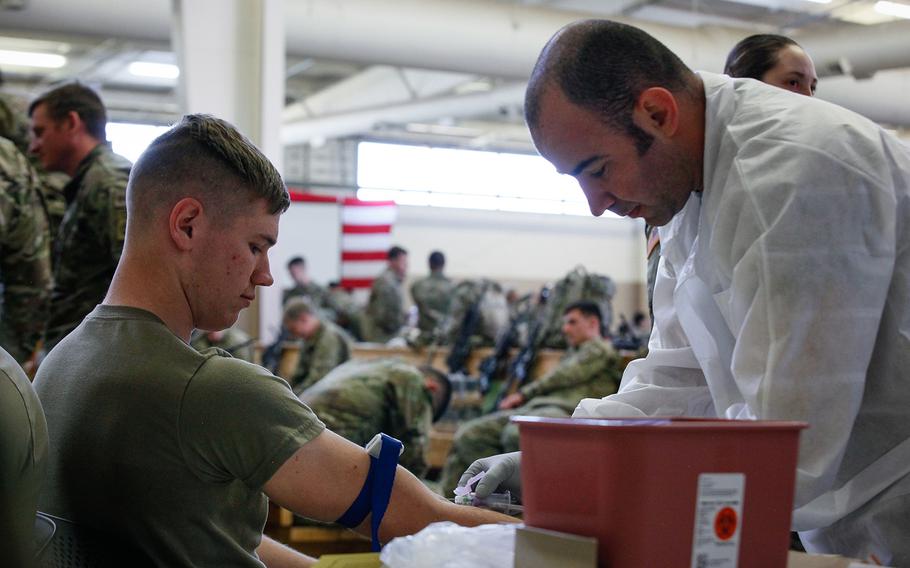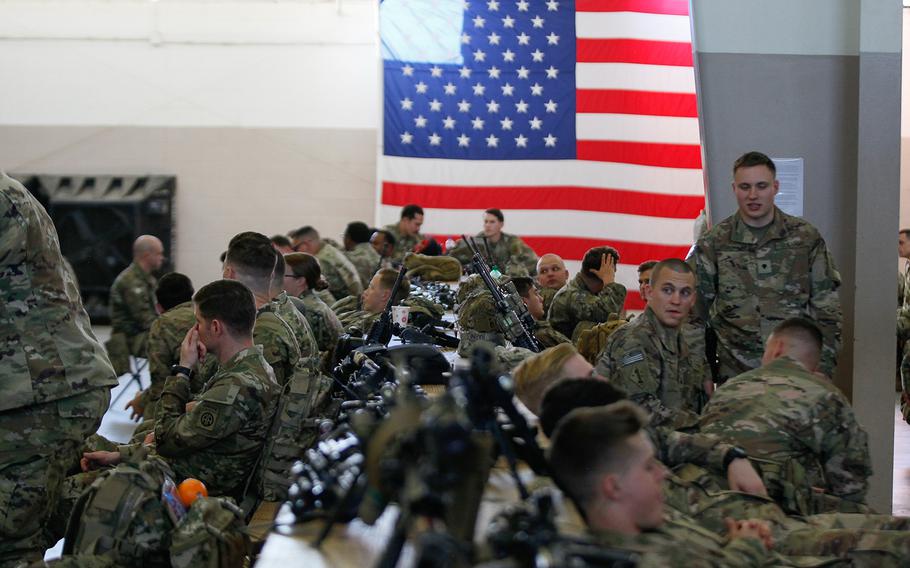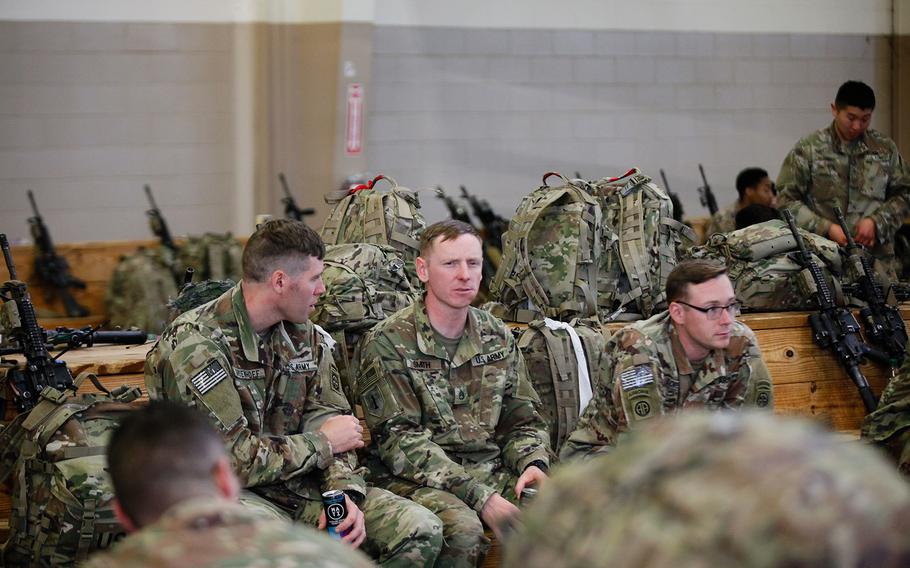 WASHINGTON — Troops from a brigade of the 82nd Airborne Division rapidly deployed into the Middle East this month amid escalating tensions between the United States and Iran will deploy soon to Baghdad, U.S. Central Command said Wednesday.
Paratroopers from the Immediate Response Force of the 82nd's 1st Brigade Combat Team will replace some 100 Marines from the 2nd Battalion, 7th Marines who were sped from Kuwait to the U.S. Embassy in Baghdad as enraged Iraqi-Shiite militiamen attempted to storm the American compound on Dec. 31, a CENTCOM spokesperson said. The spokesperson would not say when the soldiers would be sent to Iraq or how many troops would be in that element, citing security concerns.
Those paratroopers will be tasked with bolstering the embassy's security, the mission that the Marines — assigned to Kuwait as part of the Special Purpose Marine Air-Ground Task Force Crisis Response team for CENTCOM — have been conducting in recent weeks since the attempted siege in retaliation for a series of U.S. airstrikes. U.S. troops throughout Iraq and the Middle East remain on high alert, even after tensions between America and Iran seem to have eased in recent days.
The bulk of the brigade, which is made up of nearly 4,000 paratroopers, is expected to remain in Kuwait, at least for the time being, defense officials said. The brigade, which is specially trained to deploy on short notice, was rushed into the Middle East during the first week of 2020 as tensions increased with Iran. Hostilities heightened after the death of an American civilian at an Iraqi military base in a rocket attack attributed to an Iran-back Shiite militia, which also wounded four American troops and two Iraqis.
The standoff reached its apex with a drone strike Jan. 3 that killed top Iranian general Qassem Soleimani at Baghdad's international airport. Iran retaliated Jan. 8 with a barrage of ballistic missiles, striking primarily at al Asad Air Base in Iraq's Anbar province, which hosts some 1,500 troops of the U.S.-led anti-Islamic State coalition. That attack yielded no deaths or injuries that necessitated troops to evacuate from the base, and President Donald Trump decided not to retaliate with military action, at least temporarily cooling tensions between the two nations.
But it remains unclear how long the thousands of troops sent rapidly into the Middle East will remain in the region. CENTCOM officials, as well as defense officials in Iraq and at the Pentagon, declined to comment on how long that deployment could stretch.
Despite the uncertainty that continues to surround the deployment, those soldiers – and other troops sped into the Middle East in recent weeks – could be entitled to a variety of special pay for service members who are separated from their families, sent to dangerous places or are subjected to poor living conditions, defense officials said. The special pay could potentially exceed $575 per month, depending on where the troops are located and how long they are deployed. Troops will also receive a federal tax break for their service in the Middle East.
The deployment-specific special pay includes several categories — Family Separation Pay, Imminent Danger or Hostile Fire Pay, Hardship Duty Pay based on their location, and the tax break — which comes in the form of the Combat Zone Tax Exclusion program, said Army Lt. Col. Junel Jeffrey, a service spokeswoman.
Troops who are deployed away from their families or other dependents for at least 30 days receive a $250 monthly Family Separation Allowance payment, meant to pay for the "reasonable amount of extra expenses that result from such separation," Jeffrey said. Soldiers who are deployed for more than 30 days at a time receive the money dating back to when they first left their families until they return home, she said.
Troops who are deployed to areas designated by the Pentagon as places where hostilities could break out soon also receive Imminent Danger Pay, Jeffrey said. Troops sent into Iraq would receive that pay, which is paid out at $7.50 per day in the imminent danger zone up to $225 per month. Kuwait is not designated now an imminent danger zone, according to Pentagon policy.
The troops who are in Kuwait — as well as any other troops in the Middle East — could potentially receive Hostile Fire Pay, which pays troops who are subjected to hostile fire or explosions while deployed. Troops who face such events receive the full monthly payment of $225. Troops cannot receive Imminent Danger Pay and Hostile Fire Pay in the same month, Jeffrey said.
Deployed service members can also receive Hardship Duty Pay based on their location, according to Jeffrey. That payment, up to $100 per month, is meant to compensate troops for having to live in "areas where the quality of life is substantially below that which most military members in the United States generally experience." Troops serving in Iraq would receive the maximum amount of $100 per month, while the Pentagon pays troops in Kuwait $50 per month for hardship duty.
The Marines deployed as part of a Marine Expeditionary Unit to support contingency operations in the region could additionally receive Hardship Duty Pay based on the deployment tempo, if it lasts more than 220 days, said Marine Maj. Craig Thomas, a service spokesman. Marines who qualify for that pay — potentially including the Marines deployed to Baghdad as well as the troops with 26th Marine Expeditionary Unit sent to the Middle East in recent weeks aboard the USS Bataan amphibious assault ship — receive $495 per month, prorated at a daily rate of $16.50, Thomas said.
All of the troops deployed to the Middle East in recent weeks should be eligible for the Combat Zone Tax Exclusion program, which exempts service members from federal taxes while they service in a designated combat zone or combat zone support area. Iraq, Kuwait and the greater Arabian Peninsula area are all such designated zones, as are most of the border bodies of water, meaning troops aboard ships in the Red Sea and Persian Gulf qualify, according to Pentagon documents.
dickstein.corey@stripes.com Twitter: @CDicksteinDC