Purple Hearts to go to victims of Chattanooga terror attack
By
Corey Dickstein Tara Copp
December 16, 2015
---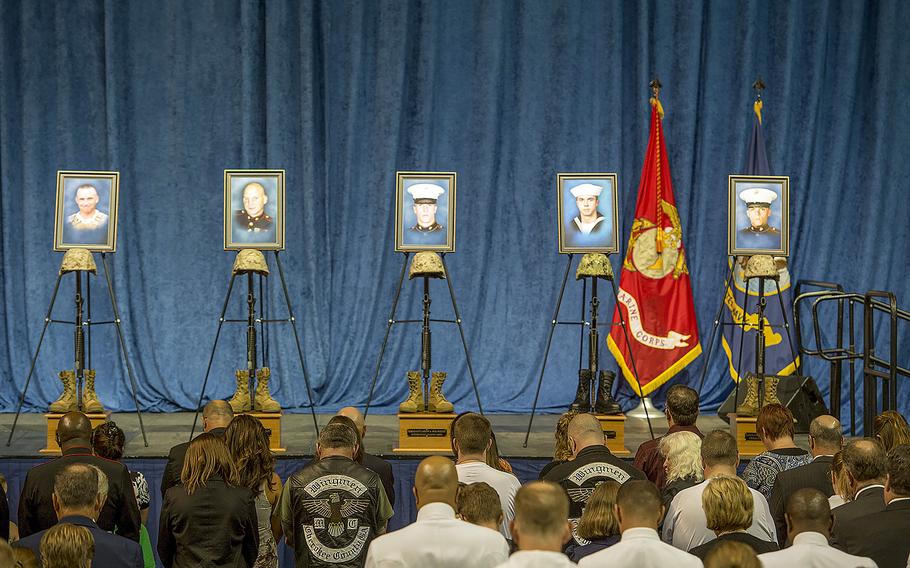 WASHINGTON — The Navy said Wednesday that four Marines and one sailor murdered in Chattanooga will receive Purple Hearts after the FBI announced earlier in the day that the July attacks were an act of terrorism.
The ambush on July 16 claimed the lives of one sailor, Navy Logistics Specialist 2nd Class Randall Smith, 26, and four Marines: Gunnery Sgt. Thomas Sullivan, 40, a Purple Heart recipient for wounds received in Iraq; Lance Cpl. Squire K. Wells, 21; Staff Sgt. David Wyatt, 35, and Sgt. Carson Holmquist, 25.
They were attacked by lone gunman Mohammad Abdulazeez, 24, who fired on the Naval Operational Support Center in Chattanooga. Abdulazeez forced his way onto the facility after shooting at a nearby Chattanooga military recruitment center, where he shot Marine Sgt. DeMonte Cheeley in the leg.The shooter then led police on a chase to the operations support center. Abdulazeez entered the facility with an assault rifle and handgun, killing the five men before he was shot and killed by police.
Cheeley also will receive a Purple Heart, the Navy stated in a news release.
The attack prompted questions about the safety of U.S. troops, especially servicemembers stationed at the Defense Department's roughly 7,000 domestic off-installations sites, such as recruiting stations and reserve centers.
Lawmakers, including Sen. John McCain, R-Ariz., Rep. Mac Thornberry, R-Texas, and Rep. Scott Rigell, R-Va., renewed calls for troops to be armed with firearms on bases for self-protection. Such calls also followed earlier shootings on U.S. installations including the 2009 Fort Hood, Texas shooting and the 2013 shooting at the Washington Navy Yard.
While Defense Secretary Ash Carter stopped short of arming large numbers of troops at their home stations, he did authorized in October that some "appropriately qualified individuals" carry guns at off-installations facilities determined to be at the greatest risk of attack. Carter's decision followed a large-scale review of force protection policies by each of the services.
Additionally, Carter called for the services to work more closely with local law enforcement agencies and install improved mass warning systems by April.
"These measures that DOD components have taken thus far, along with those approved by this memorandum, will mitigate the risk we face," Carter wrote in a memo dated Oct. 2. "There is no such thing as perfect security, but we can and must improve the safety of our people at thousands of sites."
FBI director James Comey announced the agency's decision about Chattanooga at a police event Wednesday in New York. He said while it was difficult to determine what specific terrorist propaganda inspired Abdulazeez to act, the case had been investigated from the beginning as a terrorist act and "in my mind there's no doubt" that it was an act of terrorism that took the lives of the five servicemembers, Comey said in a speech at the event.
The FBIdecision was the final criteria needed toawardthe Purple Heart, Secretary of the Navy Ray Mabus said in a prepared statement.
"Although the Purple Heart can never possibly replace this brave Sailor and these brave Marines, it is my hope that as their families and the entire Department of the Navy team continue to mourn their loss, these awards provide some small measure of solace. Their heroism and service to our nation will be remembered always,"Mabus said.
copp.tara@stripes.com Twitter: @TaraCopp dickstein.corey@stripes.com Twitter: @CDicksteinDC
---
---
---
---