Purple Hearts found: Families of fallen servicemembers are reunited with lost medals
by
Carlos M. Vazquez II
August 12, 2019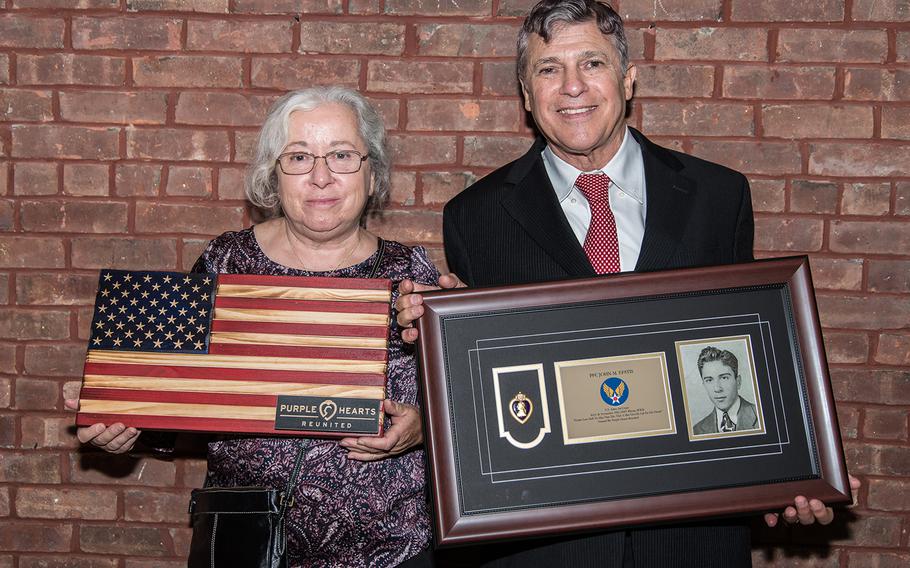 Families of warriors who were injured or died while serving during World War II and Vietnam were reunited with lost Purple Heart medals on a day dedicated to the U.S. military's oldest award during a ceremony in New York.
The nonprofit foundation Purple Hearts Reunited returned the medals, which included a misplaced Navy Cross, during a ceremony Wednesday at the New York City Fire Museum.
"Every medal and every military item we have returned is different and has a unique story," Vermont Army National Guard Capt. Jessica Jaggars, operations director for Purple Hearts Reunited, told Stars and Stripes in an email.
Past items the organization has returned to servicemembers and their families have been found in locations such as Broadway shows, within furniture and buried in backyards, Jaggars said.
During the ceremony at the museum, Helen Patton, granddaughter of the famed Army Gen. George Patton, presented one of those unique missing military items to the family of Army Pfc. Calvin Morris.
Morris fought in WWII and left behind a footlocker after spending the night in a halfway house on Christmas Eve 1944. The footlocker was found by Patton's friends, Daniel Le Bulot and Laurent Oliveira in Rheims, France, according to a statement released by the organization.
Morris, born in Brooklyn, N.Y., survived the war and went on to serve in fire departments in the New York City and Mayer, Ariz. He died from a heart attack while responding to a gunshot victim on Aug. 16, 1992.
Seven other servicemembers — six dating to WWII and one to Vietnam — had their misplaced, lost or stolen medals brought back to their families during Wednesday's event.
Army Air Corps Pfc. John Efstis lost his life aboard HMT Rohna when it was sunk off the coast of North Africa by a German bomber on Nov. 26, 1943.
A stranger turned his Purple Heart, in its original case, to the Veterans Administration Medical Center in Shreveport, La. It was returned to Efstis' niece and nephew, David Algranti and Joyce Bailey, both California residents.
"I believe that Johnny, who was a radio operator in the Army Air Corps, would be happy that his and their sacrifice is finally being remembered some 75 years after the Rohna was sunk — with the loss of 1,015 American lives — and that the public is being educated about this incident," Algranti told Stars and Stripes in an email. "The returned medal means that our uncle has finally received the recognition and honor he so richly deserved for making such a sacrifice for our country."
A stolen medal was recovered by the Minnetonka Police Department in Minnesota during a drug interdiction mission and returned by Officer Dustin Stenglein to the nephew of then-19-year-old Navy Seaman 1st Class David Evidon who served aboard the submarine USS Pickerel.
Evidon was declared killed in action on Aug. 10, 1945, after the submarine was presumed sunk by a depth charge attack on April 3, 1943, off Honshu, Japan, according to the organization.
Army Air Corps Staff Sgt. Mark Miller, of Morristown, N.J., was a gunner aboard a B-29 Superfortress shot down during WWII after the plane endured three direct anti-aircraft hits during a bombing mission over Tachikawa, Japan, on Aug. 8, 1945.
Miller's Purple Heart was rescued from eBay after being sold for $520 and returned to his grandson, retired Army Sgt. Maj. Mark Baylis.
A medal found in a storage auction in Washington belonged to Army Air Corps Cpl. Howard Ellis, who served aboard a B-17 bomber that was shot down on Feb. 8, 1942, while on a mission to bomb a Japanese-occupied airport. The medal was returned to his niece, Toni Thompson, of Inchelium, Wash.
"It was just a good feeling to know it would be back with our family," she told Stars and Stripes in an email. "It drives home the seriousness of the medal's importance to mend hearts and bring some peace to the families."
Marine Corps Pfc. Robert Ross died at age 19 on May 10, 1967, after he was severely wounded eight days prior while serving in Vietnam as a mortarman with 1st Battalion, 1st Marine Regiment, 1st Marine Division. His niece received the medal after it was discovered inside a home once rented by Ross' deceased wife.
Army Staff Sgt. Milton Coslite's family has been on a tireless journey to find his medal but were unsuccessful in the hunt for the missing Purple Heart. A replacement was awarded at Wednesday's ceremony, according to Purple Hearts Reunited.
During the event, the group returned a Purple Heart and a Navy Cross, the nation's second-highest award for valor, to the family of a Navy ensign who lost his life in WWII.
Ensign Rubin Keltch, a native of New York, died while searching for survivors in the engine room of the patrol gunboat USS Plymouth. A German U-boat torpedo hit the ship during an escort convoy from New York to Florida on Aug. 5, 1943.
Keltch's medals resurfaced in Vermont in a collection of flea market purchases. His family intends to donate the awards to be displayed at the Navy Operational Support Center in the Bronx, N.Y., according to the organization.
Purple Hearts Reunited has visited 42 states and rescued 1,050 medals — so far returning 640 of them, according to the organization's website.
"Our history cannot be forgotten, the names of our heroes need to be spoken for generations to come," Jaggars said. "Our organization will not stop until we bring these medals home."
vazquez.carlos@stripes.comTwitter: @StripesCarlos