Public memorial for Spc. Vanessa Guillen set for Friday at Houston high school
by
Rose L. Thayer
August 11, 2020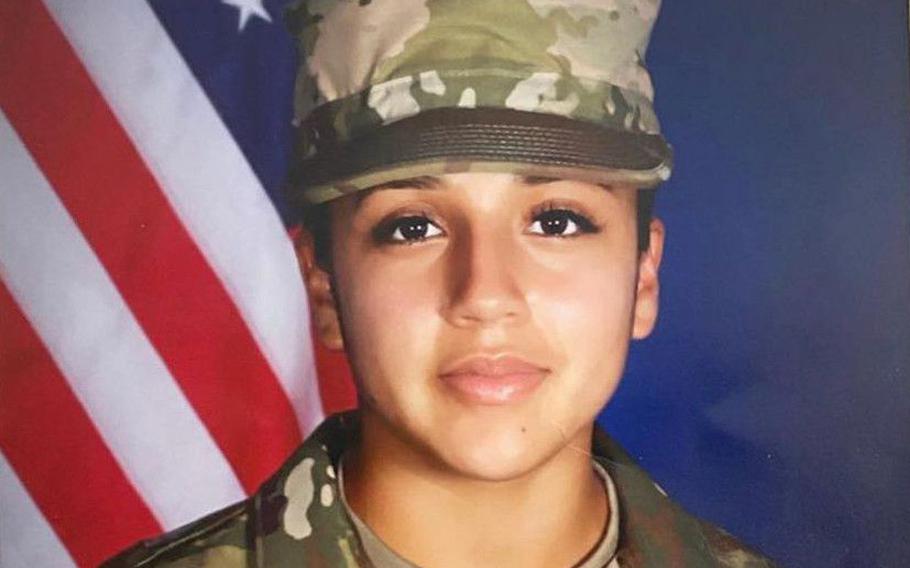 AUSTIN, Texas — An eight-hour public memorial service in honor of slain Army Spc. Vanessa Guillen will take place Friday at the Houston high school soccer field where she competed as a student just over two years ago.
Hundreds are expected to pay their condolences to 20-year-old Guillen, who was slain by a fellow soldier at Fort Hood, Texas, on April 22. Her burned and dismembered body was found more than two months later buried near the Leon River in Bell County, about 20 miles from the central Texas Army base.
The memorial begins at noon at Cesar E. Chavez High School soccer field, said Natalie Khawam, attorney for the Guillen family. The event will include a Catholic memorial service, speakers and visitation. It will end at 8 p.m.
The soccer field is a place where "Vanessa and her friends shared countless memories playing together throughout high school and beyond," according to a news release about the service. Those attending in person are asked to wear masks and practice social distancing to prevent the spread of the coronavirus.
A live broadcast of the service will be available on the Find Vanessa Guillen Facebook page.
A private funeral for the Guillen family is scheduled for 11 a.m. Saturday at the Holy Name Catholic Church, Khawam said. Burial will follow at 7 p.m. Saturday at Forest Park Lawndale Cemetery. She will be buried in an elaborately decorated casket donated to the family. It features the flags of Mexico and the United States, and the Virgin of Guadalupe.
The Texas Rangers delivered Guillen's remains to an area funeral home Monday, Khawam said. During a visit to the White House last month, the Guillen family said they had faced delays in receiving the soldier's body because of the ongoing criminal investigation and asked President Donald Trump to help expedite the process. He followed through with that, Khawam said.
"We're grateful that President Trump has expedited Vanessa's remains to be with her family so they can properly bury her this Saturday in her hometown of Houston," Khawam said on behalf of the Guillen family. "We appreciate all the love, support and prayers we received through this very difficult process."
Guillen enlisted in the Army in June 2018, shortly after graduating high school, and became a small arms repairer. She arrived at Fort Hood's 3rd Cavalry Regiment in December 2018.
On April 22, Guillen did not respond to her family's calls and texts, so her sister, Mayra Guillen, drove the three hours from Houston to Fort Hood to check on her. By April 24, the Army Criminal Investigation Command called on the public's help in locating the soldier, who had last been seen in an armory room of the Regimental Engineer Squadron.
After a highly publicized search, Guillen's remains were found June 30. That day the soldier accused of killing Guillen, Spc. Aaron Robinson, 20, "absconded" from the base, where he had been confined to the barracks, according to federal court documents. When confronted by local law enforcement, Robinson shot himself in the head and died. His girlfriend and alleged accomplice in mutilating Guillen's body, Cecily Aguilar, 22, was detained on federal charges for tampering with evidence.
Guillen's family has said that before her death, the soldier told her mother and sister she faced sexual harassment at work. Those claims, as well as demands from Congress and the public that the Army review its handling of Guillen's disappearance, have led to three investigations into the base's command climate, culture and implementation of the Army's sexual harassment and assault program. The criminal investigation into Guillen's disappearance is ongoing.
Khawam is working with members of Congress to introduce legislation that would overhaul how the Army takes reports of and investigates sexual harassment and assault. Titled the #IamVanessaGuillen Bill, it pulls its name from a social media campaign in which hundreds of veterans shared their stories of sexual harassment and assault during their service. Many of those veterans claim their reports were not managed appropriately by the Army.
"We hope that Congress will pass the #IamVanessaGuillen Bill so that this will never happen again to another soldier or their family," Khawam said.
Thayer.rose@stripes.com Twitter: @Rose_Lori