Praise for special ops forces in al-Baghdadi raid and Conan the dog is introduced in the House
by
Rose L. Thayer
November 1, 2019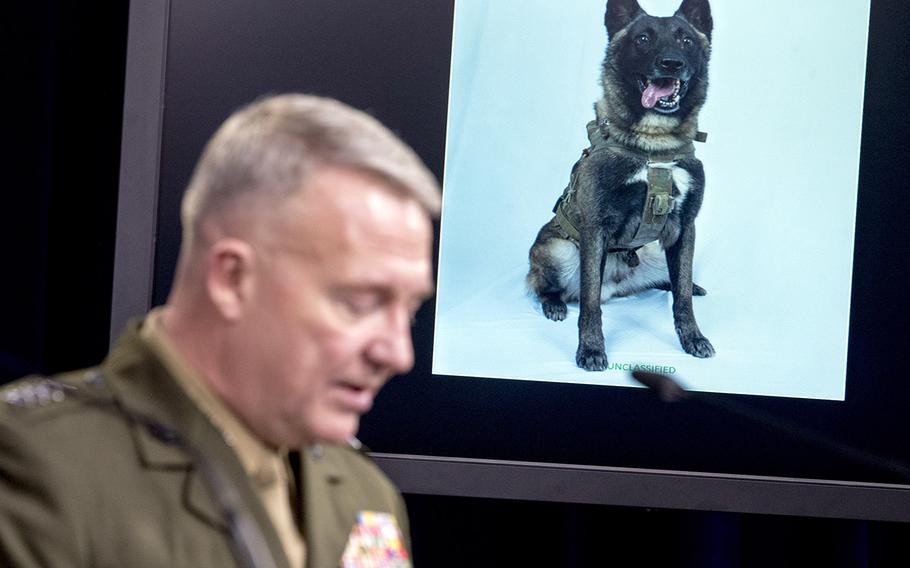 A Kansas congressman introduced a resolution Friday to commend the efforts of the U.S. special forces and the military dog who raided a Syrian compound and hunted down Islamic State leader Abu Bakr al-Baghdadi.
Rep. Ron Estes, R-Kan., said the dog, named Conan, should be honored because she has "captured the hearts" of Americans and people around the world.
The U.S. raid on Oct. 26 sent roughly 100 Delta Force soldiers in eight helicopters through hostile territory to the compound about 4 miles south of Turkey's border in the Idlib province in Syria. During the raid, al-Baghdadi had attempted to flee the compound but he was chased into a dead-end tunnel by Conan before the terrorist set off an explosive vest, killing himself, two children and wounding the dog.
"The special operations forces and accompanying military working dog deserve our nation's thanks and respect for taking out one of the world's most dangerous terrorists," Estes said in a prepared statement. "By highlighting the heroic actions of the working dog and the special forces who took down Abu Bakr al-Baghdadi, this resolution honors all service members and military working dogs defending and protecting our country around the globe."
Conan and two service members were injured by exposed electrical wires during the explosion that killed al-Baghdadi, The New York Times reported. They have since returned to duty.
The resolution comes a day after President Donald Trump tweeted his intentions to bring Conan to the White House next week. Trump identified the dog's name as Conan but did not offer additional details of the visit. Officials had previously declined to release the name of the Belgian Malinois because it works with a classified unit.
It remains unclear if Trump will eventually meet some of the troops who took part in the risky operation, The Associated Press reported.
Marine Gen. Kenneth McKenzie, commander of U.S. Central Command, said during a news conference that Conan is a four-year veteran of the U.S. Special Operations Command K-9 program that has participated in about 50 combat missions.
Estes' resolution states the House recognize "the immeasurable value of military working dogs, honors the military working dog assigned to the raid of Abu Bakr al-Baghdadi for assisting in the elimination of an enemy of the United States from the world, and honors and celebrates the actions of the United States special operations forces on Oct. 26."
thayer.rose@stripes.com Twitter: @Rose_Lori