Police offer $10,000 reward in search for Marine deserter wanted for killing mom's boyfriend
by
Corey Dickstein
November 14, 2019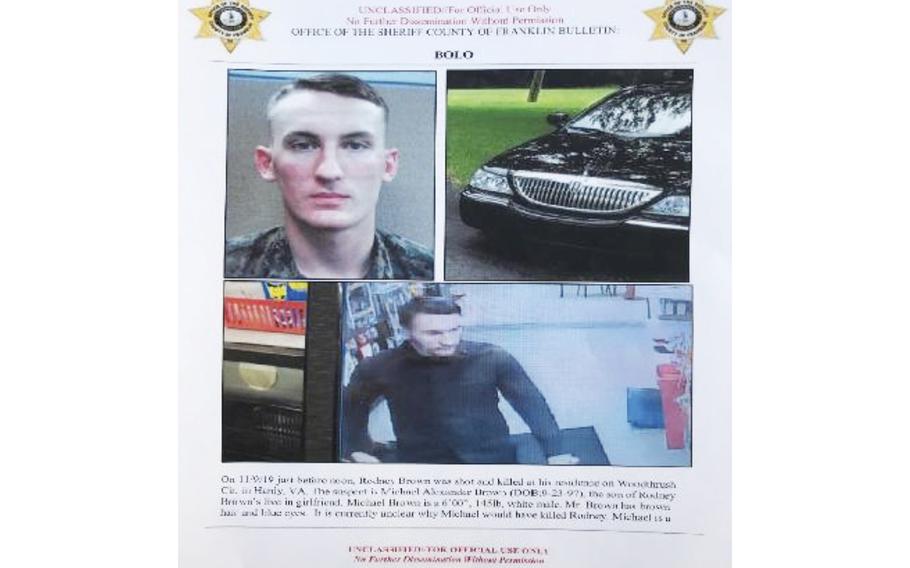 WASHINGTON — The U.S. Marshals Service is offering a $10,000 reward for direct information leading to the capture of a missing Marine corporal wanted for the shooting death of his mother's boyfriend last week.
Officials said Thursday that they believe Cpl. Michael Alexander Brown was near Roanoke, Va., and closed area schools, urging residents to remain indoors following a report the wanted Marine was spotted in the city about 4 a.m., Roanoke Police Chief Tim Jones said.
Brown, 22, is wanted on charges including second degree murder in the Nov. 9 killing of 54-year-old Rodney Brown in nearby Hardy, Va.
Jones said Brown might have initially fled to South Carolina after the shooting, but law enforcement officials were convinced he was in the Roanoke area Thursday after they discovered a recreation vehicle linked to him. Jones and other officials said they were uncertain what Brown's motives were for killing the elder Brown, who has been described as the longtime, live-in boyfriend of the Marine's mother.
The Marine Corps upgraded Brown's status this week from absent without leave to deserter after determining that he was unlikely to return to duty, said Capt. Robert Vachon, a Marine spokesman. He was first listed as AWOL after failing to report for duty Oct. 24 at Camp Lejeune, N.C., where the combat engineer was stationed with the 8th Engineer Support Battalion.
The Marines and the Naval Criminal Investigative Service are supporting the investigation. Other local and federal law enforcement agencies, including the FBI, are involved in the manhunt.
Jones warned Thursday that Brown was likely moving through the Roanoke area on foot and was believed armed with a "high-capacity" rifle. Brown might be looking for a vehicle to steal, Jones added, urging locals not to leave cars running or to offer rides to any strangers.
"Mr. Brown may be seeking alternative forms of transportation at this time," Jones said. "He is navigationally savvy. He knows how to maneuver around. He's not afraid to change his location. He's not afraid to change his look."
The police chief said law enforcement officials reached out to some Marines who Brown might have known for information, but they believe the suspect is acting alone. Jones added family members have urged Brown to surrender.
"We have reason to believe he continues to be armed and dangerous, and if he is confronted or pushed into a position where he feels he has no other alternative, he may use force," Jones said. "This is a very dynamic situation because at this point in time we do not know where Mr. Brown might be."
dickstein.corey@stripes.com Twitter: @CDicksteinDC