Phone records implicate two JBLM soldiers charged with murder, prosecutor says
by
Rose L. Thayer
June 9, 2020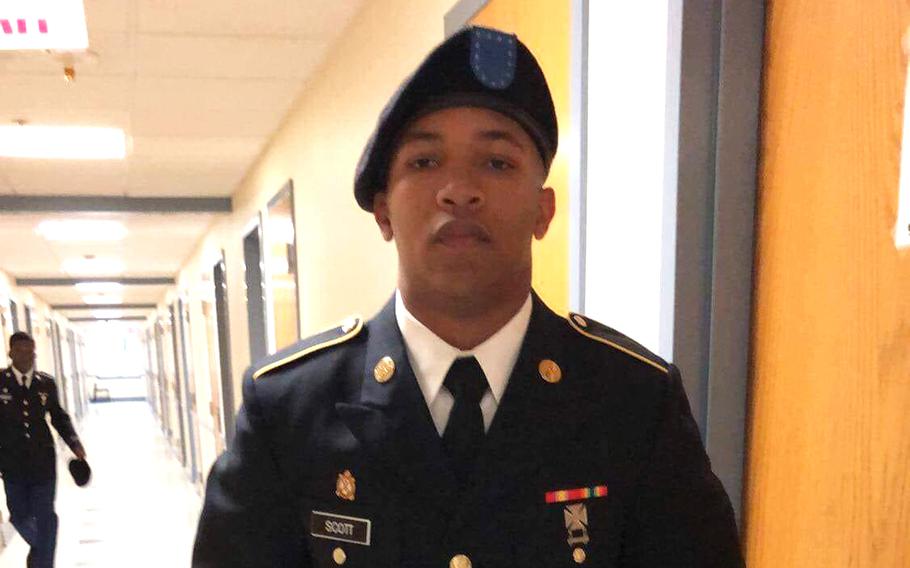 This story has been updated.
A second Joint Base Lewis-McChord soldier arrested in April for the death of an Army veteran now faces a murder charge after records showed his cellphone was at the scene of the crime, according to court documents filed Monday by a Washington state prosecutor.
Pvt. Raylin D. James, 20, received the new charge of first-degree murder in Kittitas County Superior Court, a charge that Pvt. Joshua Gerald, 20, pleaded not guilty to last month. Both soldiers were arrested in April in connection with the death of former Army Pvt. Leroy Joseph Scott III, 20, whose body was found April 25 off a rural road in Kittitas County, according to the county sheriff's office.
Craig Juris, the state prosecutor in the cases, asked a judge Monday during a pretrial hearing to review the new charges and approve them. James was originally charged with rendering criminal assistance in the first degree and released on bail in May.
James of Shreveport, La., and Gerald of Olanta, S.C., attended a 20th birthday party for Scott in Ellensburg on April 24, according to court documents. Both are assigned to the 555th Engineer Brigade, of which Scott was a member until December when he was discharged.
A video recorded at about 1:04 a.m. April 25 shows Gerald and James wrestling at the birthday party, which was held at Hadassah Fisch's apartment in Ellensburg, according to court documents filed Monday. Fisch, 20, was also arrested in Scott's death and charged with rendering criminal assistance in the first degree.
Six minutes after the video was taken, records show that cellphones belonging to Gerald, James and Scott leave Fisch's apartment and arrive at about 1:27 a.m. to the location where Scott's body was found about 10 miles outside of town. At 1:55 a.m., records show Gerald and James' phones travelling back toward Ellensburg.
Scott's badly beaten body was spotted by passersby later that day in a creek just off the road, according to police. Scott's phone never left the area, according to the court document.
In previous interviews with police, James told investigators that he went to sleep at Fisch's apartment, and when he woke up, he noticed that Fisch, Gerald and Scott had left and Scott did not return.
The cellphone records do not show Fisch's phone leaving her apartment. On June 4, she provided a statement to police that corroborated the records of the cellphone, according to the court documents.
"Haddie states that she was not forthcoming in the beginning with investigators because she was scared. She was scared because she knew that Joshua or Raylin and or both had killed her friend," Juris wrote in an affidavit based on the police investigation.
When the three men left together, Fisch told investigators that she was concerned because "she knew they had issues with Leroy according to what Leroy had told her."
James told police that "had fingered both he and Gerald for a drug incident" in November or December and "he didn't believe as of a couple months ago that Gerald was over what happened between them."
Juris also requested Monday that James' bail be increased to $1.5 million from its original $15,000. His bail now matches Gerald's amount and he was returned to Kittitas County Corrections Center after the hearing along with Gerald.
James had previously made bail and was living at Lewis-McChord, located about 130 miles west of Kittitas County, and under the supervision of a captain, said Guy Zimmerman, the attorney for James.
Juris told the judge that the Army is in the process of discharging both men. Base officials declined to comment on this, citing privacy concerns.
Joint Base Lewis-McChord is located near Tacoma and has about 38,000 active-duty personnel under the command of I Corps, which also oversees activities in the Pacific, Hawaii, Alaska and Japan. Units stationed at the base include the 7th Infantry Division, 1st Special Forces Group and the 2nd Battalion of the 75th Ranger Regiment.
Thayer.rose@stripes.com Twitter: @Rose_Lori