Pentagon to send Patriot battery to Saudi Arabia to help protect against further attacks
---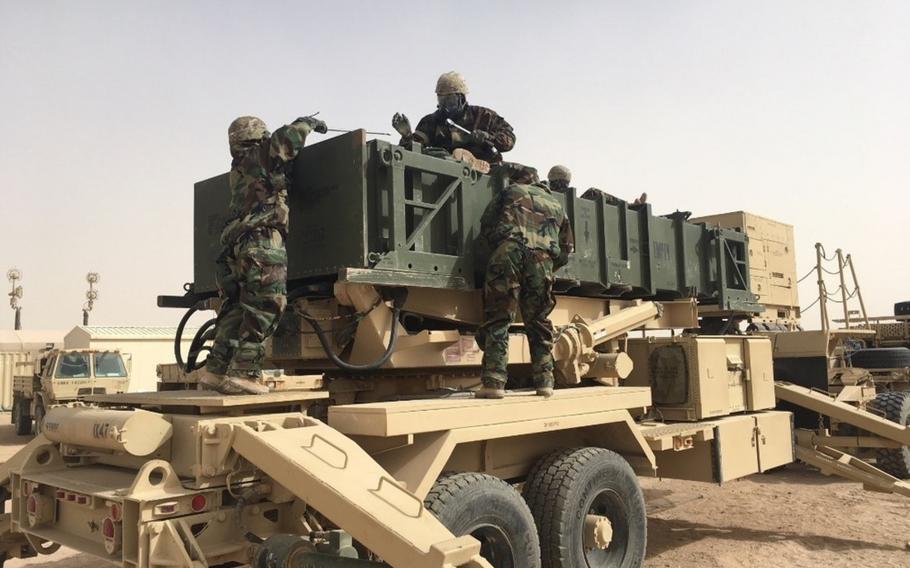 WASHINGTON — The Pentagon will deploy a single Patriot Missile battery with roughly 200 troops to Saudi Arabia to bolster its defense in the wake of a debilitating attack on two key Saudi oil facilities, which the United States and other nations have blamed on Iran.
The Defense Department announced the deployment Thursday, about one week after the Pentagon's top civilian and military officer announced more troops would be sent to the Middle East as a direct result of the Sept. 14 drone and cruise missile attack on Saudi Arabia. In an unusual televised briefing on the evening of Sept. 20, Defense Secretary Mark Esper called the attacks a "significant escalation of violence" by Iran.
Jonathan Hoffman, the Pentagon's chief spokesman, said Thursday that the deployment would include four Sentinel radar systems and "support personnel." The additional troops and equipment were designed to help the Saudis defend themselves, he emphasized.
"This deployment will augment the Kingdom's air and missile defense of critical military and civilian infrastructure," Hoffman said in a statement. "This deployment augments an already significant presence of U.S. forces in the region."
There are some 60,000 to 80,000 American troops serving now in the U.S. Central Command area of responsibility, which includes the Middle East and southwest Asia. That includes about 14,000 troops in Afghanistan, some 5,200 in Iraq and about 1,000 in Syria, according to defense officials.
A Patriot Missile battery typically includes about 100 soldiers who operate six Patriot missile launchers, which shoot defensive surface-to-air missiles designed to protect against short-range ballistic missiles, cruise missiles and aircraft. The Sentinel is an Army-run, 3-D radar system that detects short-range threats, according to the service.
Pentagon officials on Thursday did not rule out further deployments to the Middle East in response to the most recent Iranian attacks.
Esper also approved a request to place two additional Patriot batteries on prepare-to-deploy orders, Hoffman said. He also approved the potential deployment of a Terminal High Altitude Area Defense, or THAAD, system, which is another Army-run anti-missile system used to destroy short-, medium-, and intermediate-range ballistic missiles as they near their target.
Marine Gen. Joseph Dunford, the chairman of the Joint Chiefs of Staff, said last week that the new deployments would be "moderate" in size and were unlikely to number in the thousands of troops. Pentagon officials have worked this week to balance a U.S. response to bolster Saudi defenses while also rallying allies to provide troops or equipment to the cause.
Esper in recent days has spoken to his counterparts in the United Kingdom, France and Germany asking them to provide support, a defense official who spoke on the condition of anonymity said Thursday. Those nations have all joined the United States this week in blaming Iran for the oil facilities attacks.
Hoffman said Thursday that the United States expected other countries to provide assets to reinforce Saudi defenses.
Iran has repeatedly denied it was behind the attack. Iranian President Hassan Rouhani warned this week at the U.N. General Assembly in New York that the Middle East was "on the edge of collapse," blaming the United States and warning that "a single blunder can fuel a big fire."
The Pentagon declined to identify where the Patriot battery would be deployed in Saudi Arabia, but it was expected to be used to protect against attacks from the north. Much of the Saudi air defenses — including U.S.-produced, Saudi-operated Patriot missile launchers — are to the south to protect against threats from Yemen. Houthi rebels from Yemen have launched rocket and missile attacks into Saudi Arabia, and the Iran-backed group has claimed responsibility for the Sept. 14 attacks.
U.S and Saudi officials have said the Houthis are unlikely to have been capable of conducting such sophisticated strikes as the ones on the Saudi oil sites. They have also said evidence shows the attacks were not launched from Yemen.
Pentagon officials have said additional steps could be in the works to respond to Iran following the latest provocations. But they have also said repeatedly the United States was not seeking conflict with Iran.
"It is important to note these steps are a demonstration of our commitment to regional partners, and the security and stability in the Middle East," Hoffman said.
dickstein.corey@stripes.com Twitter: @CDicksteinDC
---
---
---
---