Pentagon to send more troops to Middle East amid 'significant escalation' from Iran
by
Caitlin M. Kenney Corey Dickstein
September 20, 2019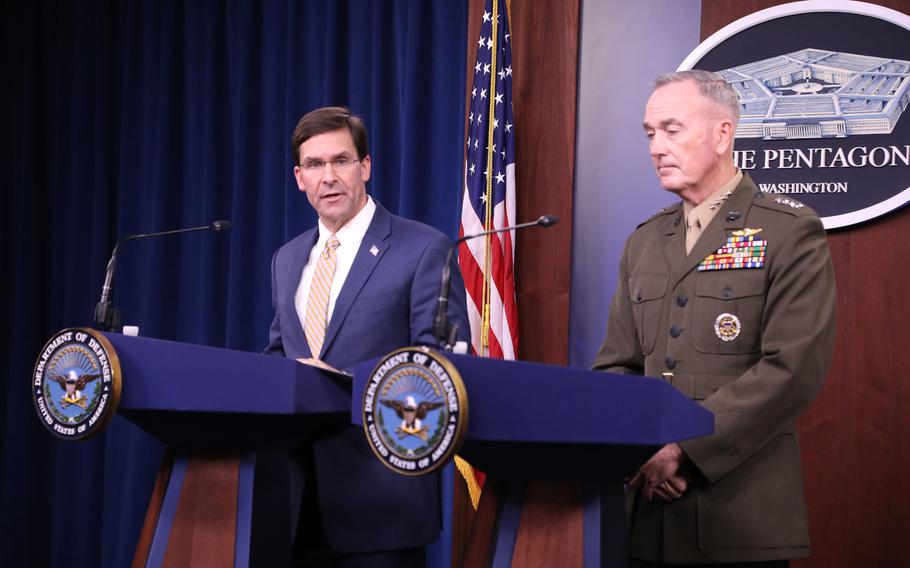 WASHINGTON — The Pentagon will deploy new forces into the Middle East to bolster the United States' ability to defend its personnel and its allies in the region, Defense Secretary Mark Esper said Friday evening, citing a recent "significant escalation of violence" by Iran.
Esper said intelligence clearly indicated Iran was responsible for a drone and cruise missile attack Sept. 14 on two key Saudi Arabian oil facilities, which made significant impacts on the global market. He described the new troops as "defensive in nature" and he said they would primarily provide additional air and missile defense capabilities.
Esper and Marine Gen. Joseph Dunford, the chairman of the Joint Chiefs of Staff, made the announcement of President Donald Trump's decision to deploy new forces to the Middle East late Friday in a rare briefing at the Pentagon. They called on Iran to return to the negotiating table with American diplomats, saying the United States had exercised restraint in its responses to the escalation of violent acts by Iran and its proxy forces across the Middle East.
"As the president has made clear, the United States does not seek conflict with Iran," Esper said Friday. "That said, we have many other military options available should they be necessary. We urge the Iranian leadership to cease their destructive and destabilizing activities and to move forward on a peaceful diplomatic path."
The secretary also asked other nations to "stand up and condemn these attacks" and to contribute defensive capabilities to the region.
It was not immediately clear Friday evening how many troops or what equipment would be sent to the Middle East or when they would be deployed. Their destinations appear likely to include Saudi Arabia and the United Arab Emirates, both of which Esper said requested support following the Sept. 14 attacks. The United States maintains a small military footprint in both of those nations.
Dunford described the planned deployment as "moderate" in size, saying it would not number in the thousands of troops. The general said specific units had not been selected for deployment as of Friday, and promised to release additional information next week.
Yemen's Houthi rebels, an Iranian-backed militia, claimed responsibility for the Sept. 14 attack. However, Secretary of State Mike Pompeo disputed their claims Saturday on Twitter, saying it was Iran who carried out the attack and it did not originate from Yemen. Esper repeated those assertions Friday, after the Pentagon on Thursday declined to directly finger Iran for the attacks.
Saudi Arabian officials said this week that the attack on the oil facilities used advanced drones and cruise missiles that were Iranian-made. The Kingdom has said Iran or one of its proxies was behind the attack.
The attack comes after months of tensions in the region between the United States, its allies and Iran. The United States has accused Iran of being behind attacks on oil tankers in the Strait of Hormuz in June and for downing a U.S. Navy RQ-4A Global Hawk surveillance drone.
In response to these incidents, the Pentagon has kept an aircraft carrier in the region and deployed about 2,500 additional troops, as well as air defense and advanced F-22 Raptor stealth fighter jets.
In an interview with CNN on Thursday, Iran's foreign minister Javad Zarif denied Iran was behind the attack and he said there would be "all-out-war" if the United States or Saudi Arabia conducted military strikes on Iran.
Jonathan Hoffman, the chief Pentagon spokesman, told reporters Thursday at the Pentagon that Iran was in some way responsible for the attack, but they were waiting for Saudi Arabia to make their own conclusion. The Pentagon's goal is to deter conflict with Iran, Hoffman said, and to bring them back to diplomatic talks.
Hoffman called the attack "a dramatic escalation of what we've seen in the past."
"It was very sophisticated, coordinated and it had a dramatic impact on the global market," he said.
Esper on Friday indicated additional deployments could follow. He also declined to rule out a future military strike on Iran or its proxies if further provoked.
"This is the first step we're taking with regard to responding to these attacks," he said.
dickstein.corey@stripes.com Twitter: @CDicksteinDC
kenney.caitlin@stripes.com Twitter: @caitlinmkenney