Pentagon to continuously monitor, restrict travel for foreign service members training at US bases
by
Corey Dickstein
January 17, 2020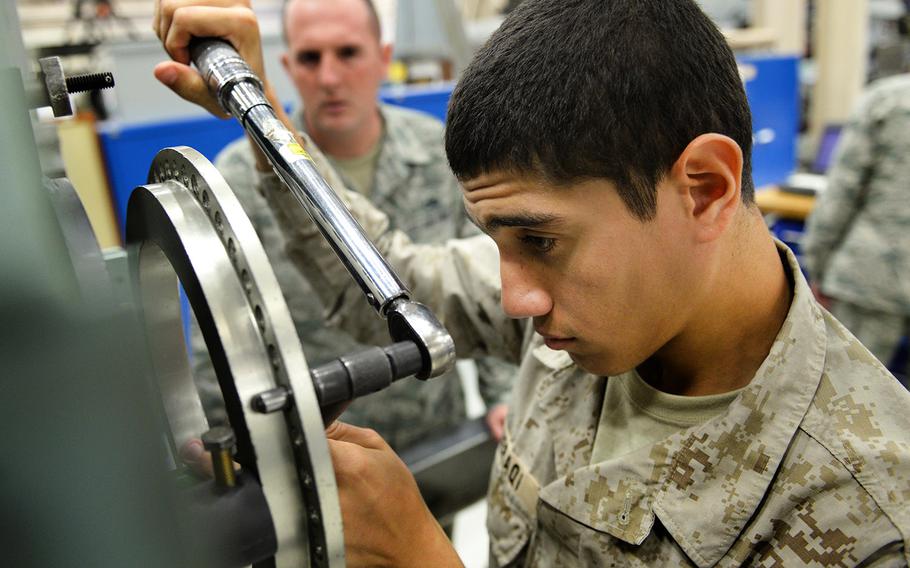 WASHINGTON – Foreign military students in the Pentagon's U.S.-based training programs will face continuous monitoring of their activities and new restrictions on off-duty travel in the wake of a deadly shooting last month at Naval Air Station Pensacola in Florida, defense officials said Friday.
The new constraints on the thousands of military students from U.S.-allied and partner nations also include measures meant to bar them from purchasing firearms in the United States and additional training on detecting potential security threats, said Garry Reid, the Pentagon's defense intelligence director. The new policies follow a massive review of security procedures initiated after a Saudi Air Force officer in aviation training killed three Navy sailors and wounded eight others in a Dec. 3 attack at the Pensacola base. The Department of Justice announced this week that they had determined the incident was a terrorist act.
The Pentagon determined none of the other Saudi or other foreign military troops in the United States contributed to or knew of the attack, but the Defense Department said better vetting procedures and the newly announced security procedures could have helped thwart the shooting.
"We will never forget those that perished in this attack," Reid said Friday. "As we honor their memory, so must we plan to resume our military training missions at Pensacola and around the country. But, getting back to work does not mean getting back to business as usual."
An FBI investigation determined the shooter, Saudi 2nd Lt. Mohammed Saeed Alshamrani, had posted anti-American, anti-Israeli and jihadist messages on social media ahead of the shooting. As a result of that review, the United States also expelled 21 other members of the Saudi military who were found to have "derogatory information" that fell short of the bar for federal prosecution. Those troops were later removed from the Saudi military, officials said this week.
Once the new security procedures are in place at installations that host foreign troops throughout the United States, the programs can then restart. The foreign military training programs have all been stalled since the shooting last month. Senior defense officials, who spoke on the condition of anonymity, said they had no estimate of when the procedures would be in place, allowing the training programs to resume. It could vary greatly from installation to installation, they said.
"All current and future students will be required to acknowledge their willingness to abide by these [new] standards, committing to full compliance with all U.S. laws on- and off-duty, as a condition of their enrollment," Reid said.
Defense Secretary Mark Esper is scheduled to visit the Pensacola base next week, according to the Pentagon.
The Defense Department hosts more than 5,000 foreign military troops as part of its training programs, which vary from flight training to language training to participation in specialized schools, including the elite Army Ranger School. More than 150 countries have military students in training programs in the United States. Saudi Arabia is one of the largest contributors of military students, with some 850 students in Defense Department programs.
The Pentagon will use a biometric system as part of its efforts to better track foreign military students, and it will conduct regular reviews to ensure the students are not involved in inappropriate or criminal activity, including online, one of the defense officials said Friday. It also will restrict their access to military and other government installations -- allowing them access only to locations that they are required to visit for their training.
The new restrictions, approved this week by Esper, will also block a loophole that allowed Alshamrani – who was killed in the attack – to purchase a firearm. In most cases, foreigners on temporary, nonimmigrant visas are barred from purchasing guns, but Alshamrani legally bought a handgun by acquiring a hunting license. That would no longer be permitted for foreign troops under the new measures announced Friday, officials said.
Another new measure would allow base commanders to restrict how far from post foreign military trainees can travel while off duty. Officials did not provide specific information about how commanders would make that determination.
One of the officials said it was important to get the security measures in place quickly and resume the training, which was described as vital to U.S. national security.
The training programs allow the United States to better work with its allies and partners around the world, the officials said, noting the Pensacola attack was the first major security incident that resulted in an American's death in the program's history.
Some 1 million foreign troops have trained in the U.S. programs during last 11 years, the official said.
dickstein.corey@stripes.com Twitter: @CDicksteinDC