Pentagon: Several service members await test results to determine whether they have coronavirus
---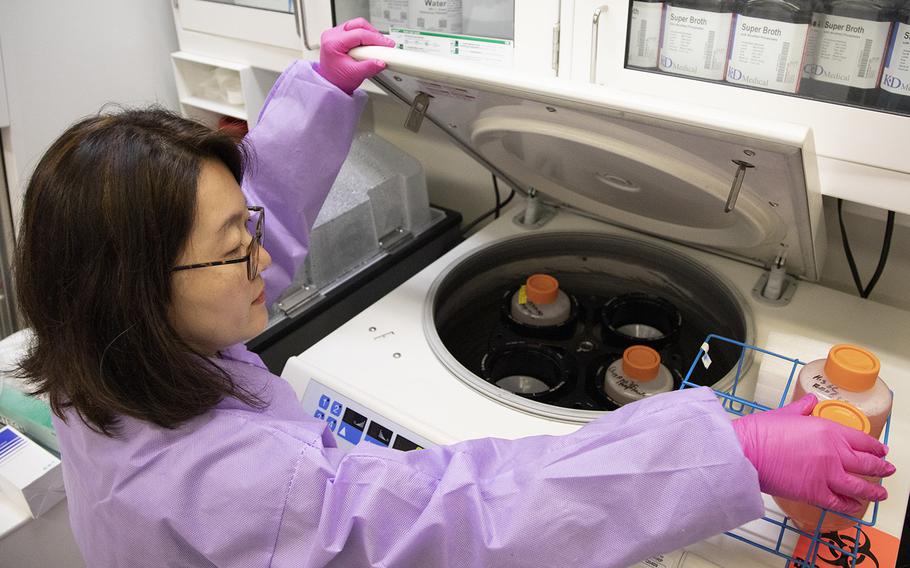 • Read more coronavirus stories here.
WASHINGTON — Seven active-duty service members have been tested to determine whether they have contracted coronavirus, a Pentagon official said Monday.
The service members are suspected of having the virus, officially called COVID-19, and they are waiting for their first test to confirm whether they have the virus, Air Force Brig. Gen. Paul Friedrichs told reporters at the Pentagon.
Friedrichs, Joint Staff surgeon, did not say where the seven service members are stationed or their branches of service.
Two other service members are in the "presumptive positive" category, which means they have had one positive lab test for the virus and they are waiting for a second lab to confirm it, he said. One is a sailor in Naples, Italy, and the other is a Marine who lives at Marine Corps Base Quantico in Virginia.
One of the service members showed gastrointestinal symptoms such as nausea and vomiting, which is unusual for the virus, with only 2% to 3% of cases having such issues, Friedrichs said. Most cases show cold-like symptoms, such as fever and cough. He would not say which case had the unusual symptoms.
In addition, a soldier in South Korea also tested twice was confirmed to have contracted the virus.
As of Thursday, 23 tests have been performed at Defense Department laboratories, Friedrichs said.
The numbers of cases can change ever few hours, he said, emphasizing the total numbers are low.
"The immediate risk to our force remains low across the force," Friedrichs said. "And I want to be very clear about that. We've had a handful of cases around the world. No one is seriously ill at this point. Everyone who has been diagnosed is being appropriately treated, getting the care that they need."
A spouse of a service member assigned to Joint Base Lewis-McChord in Washington state tested positive Saturday with coronavirus, the base announced via a Facebook post. The spouse lives off base and has not visited the installation in several months. The service member to whom the spouse is married is being tested and both are self-quarantined in their off-base home, according to the social media post.
Four military bases in the United States have been selected to assist the Department of Health and Human Services in a quarantine of passengers from the Grand Princess cruise ship, which has been floating off the coast of California because some people aboard have contracted coronavirus. The quarantine is scheduled to last 14 days.
The bases areTravis Air Force Base and Marine Corps Air Station Miramar, both in California, as well as Lackland Air Force Base, Texas, and Dobbins Air Reserve Base, Ga. HHS and the Centers for Disease Control and Prevention are overseeing the evacuation and care of the people in quarantine at the bases, Robert Salesses, the deputy assistant secretary of defense for homeland defense integration, told reporters at the Pentagon.
---
---
---
---