Pentagon sends home all active-duty troops deployed near DC
by
Corey Dickstein
June 5, 2020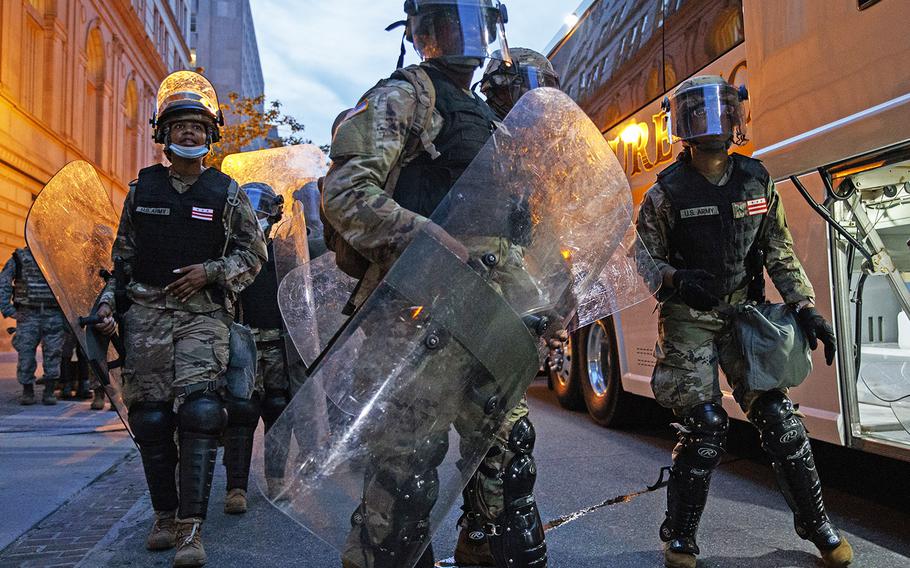 WASHINGTON — The Pentagon on Friday sent home the remaining 900 active-duty soldiers that it had rapidly deployed to the Washington region this week in response to large protests in the city, the Army said.
Those military police officers from Fort Drum, N.Y., and Fort Bragg, N.C., were on alert at Joint Base Andrews, Md., all week, but they never entered Washington before they were ordered home Friday, Army Secretary Ryan McCarthy said. They follow the roughly 700 soldiers of the 82nd Airborne Division who were sent back to Fort Bragg on Thursday.
The Army will leave a small contingent of the 3rd U.S. Infantry Regiment, known as the Old Guard, on alert status to respond in case demonstrations in the coming days grow violent, McCarthy said. The active-duty unit, based at Joint Base Myer-Henderson Hall in Arlington, Va., primarily serves ceremonial purposes, including providing sentinels for the Tomb of the Unknown Soldier at Arlington National Ceremony, which is guarded at all times.
"It is our intention to turn that off as quickly as possible," McCarthy said of those soldiers serving on alert status.
He said Esper made the decision to end the deployments after four consecutive nights without violence on Washington's streets, where more than 5,000 National Guard troops from the city and at least 10 states were on duty to aid law enforcement efforts during demonstrations. The mostly peaceful protests against police brutality and institutional racism were sparked by the May 25 killing of a handcuffed black man, George Floyd, by a Minneapolis police officer. That officer has since been fired and faces charges, including second-degree murder in Floyd's death.
"We are in a very good posture because we've been able to generate enough personnel from the National Guard standpoint to support operations at present," McCarthy said.
But Washington's mayor has called for Guard troops from outside of D.C. to return home.
Mayor Muriel Bowser on Thursday sent a letter to Trump demanding removal of those troops and federal law enforcement officers deployed from outside the city.
She said violence in the city has dropped and local police force and federal law enforcement agencies in Washington were "well equipped to handle large demonstrations and First Amendment activities."
National Guard troops in recent days have been photographed working alongside federal law enforcement officers and guarding national monuments, including the Lincoln Memorial, which was vandalized over the weekend.
The vast majority of the National Guard troops have not been carrying firearms, Pentagon officials have said. The Washington Post on Friday reported Esper had ordered none of those troops carry such weapons in a signal of "de-escalation," citing an unnamed U.S. defense official.
dickstein.corey@stripes.com Twitter: @CDicksteinDC