Pentagon's top civilians 'separated' from each other as coronavirus cases in DOD reach 37
---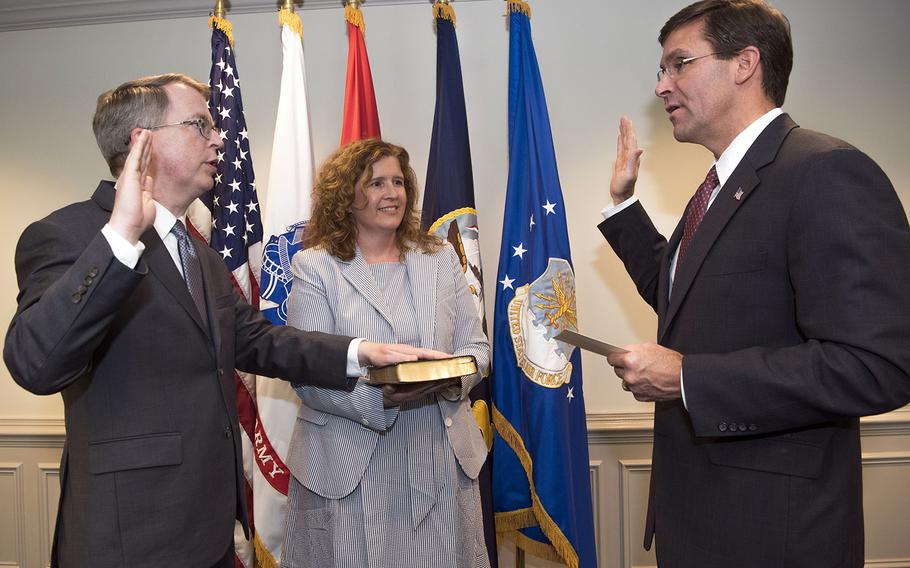 Read more Stars and Stripes coronavirus coverage.
WASHINGTON – The Pentagon on Monday said at least 37 members of the Defense Department community worldwide have tested positive for the coronavirus as the department takes step to mitigate the impact of the fast-spreading illness, including keeping its top two officials separated from each other.
Defense Secretary Mark Esper and Deputy Defense Secretary David Norquist on Monday began limiting the number of people with access to their offices, screening people who enter them, and communicating with each other exclusively via teleconference, according to Jonathan Hoffman, the Pentagon's chief spokesman.
"We are attempting to put, for lack of a better term, a bubble around the two of them," Hoffman told reporters at the Pentagon.
As of Monday, no person who works in the Pentagon has tested positive for the virus, he said. But officials determined they needed to take serious measures to protect Esper, Norquist and others considered essential to national security.
The Pentagon has halted most visitors from entering the building including foreign officials on business. Officials have also stressed that people who can work from home are encouraged to do so.
Members of the military community who tested positive for coronavirus as of Monday morning included 18 service members, 13 military dependents, three Defense Department civilians and three defense contractors, Hoffman said. U.S. military cases have been reported in South Korea, Germany, Italy and in several U.S. states including Washington, California, Georgia and Virginia.
Military cases have increased since last week. Pentagon officials on March 12 reported 13 confirmed cases of coronavirus within its communities – six service members and seven dependents.
The pandemic has cause the military, like other institutions worldwide, to take extraordinary measures in an effort to slow the spread of the virus, including placing restrictions on travel within the United States for military personnel. Late Friday, Pentagon officials announced service members were not to travel far away from their local areas unless approved for trips deemed "mission essential, for humanitarian reasons or warranted due to extreme hardship."
Hoffman said Monday that service members should speak to their supervisors or commanders to determine whether planned travel met any of those criteria. He said the guidance was intentionally vague to give commanders "a lot of flexibility."
The Defense Department has tested nearly 500 people across its installations and posts worldwide, including service members in Iraq and Afghanistan, where no troops have tested positive for the coronavirus, more formally known as COVID-19, said Air Force Brig. Gen. Paul Friedrichs, the Joint Staff's surgeon.
Others have been tested by other entities, including a sailor stationed at Naval Support Activity Naples in Italy who was confirmed to have contracted coronavirus, the Navy said Monday. The individual, the second sailor at the base to test positive, was tested by local Italian health officials, a Navy official said.
Meanwhile, the Pentagon is developing plans for responding if states or other federal departments request help in mitigating the crisis.
More than 1,500 National Guard members in at least 15 states had been activated to aid in the response to the coronavirus as of Monday, officials said. Those troops were largely expected to aid with logistics and to help clean and sanitize public spaces.
Active-duty troops have been largely kept out of the coronavirus response thus far. Hoffman said the department had not received official requests from states or other federal agencies for active-duty troops or to build temporary health facilities as of Monday.
Pentagon officials also downplayed the impact their medical facilities would have on dealing with the virus.
The military has the capability to build field hospitals with several hundred beds rapidly, but those facilities are designed to respond to traumatic injuries following emergencies but not contagions, Friedrichs said.
"The challenge is, if we build a 200 bed or a 25 bed trauma hospital to take care of people with the coronavirus that's not really a great solution to the coronavirus challenge," the general said. "We don't have any 500 bed hospitals designed for infectious disease outbreaks."
Nonetheless, Hoffman said the Pentagon is developing plans if it is asked to establish hospital facilities.
"DOD is ready, willing and able to support civilian authorities to the greatest extend possible at the direction of [President Donald Trump]," he said. "We just want to make sure that the conversation we have is informed by the facts of what is possible and what is not, and what the trade-offs are."
dickstein.corey@stripes.com Twitter: @CDicksteinDC
---
---
---
---