Pentagon's halt on travel to be extended as DOD leaders try to ramp up coronavirus testing
---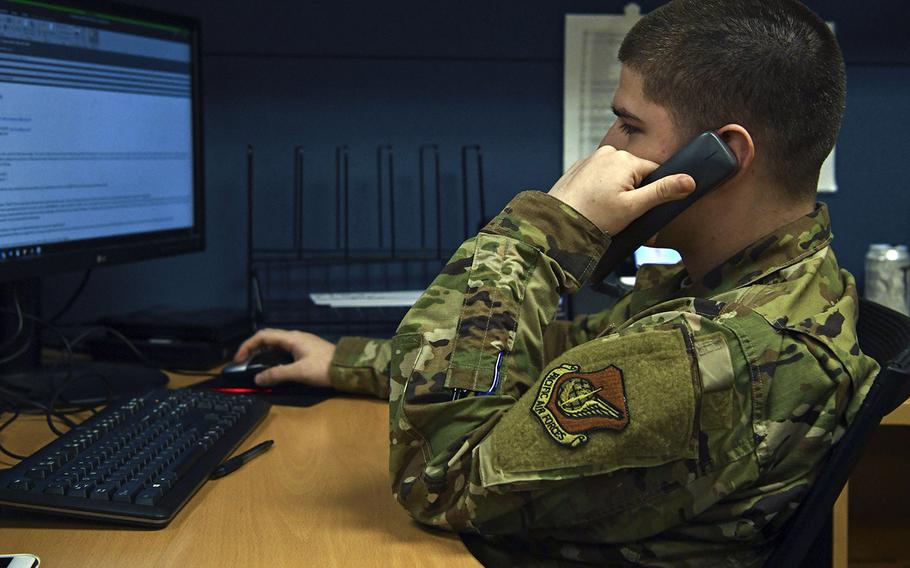 Stars and Stripes is making stories on the coronavirus pandemic available free of charge. See other free reports here. Sign up for our daily coronavirus newsletter here. Please support our journalism with a subscription.
WASHINGTON — Defense Department restrictions barring troops, their families and civilian workers from nearly all official travel will not be lifted May 11 when the initial orders were set to expire, Defense Secretary Mark Esper said Tuesday.
The worldwide travel halt has stopped thousands of military moves and has forced some deployed units to remain overseas longer than expected. Esper did not announce immediately how long he expected the stop-movement order to last. But a new target date to end the restrictions meant to help thwart the coronavirus spread could be announced this week, he said.
"At this point in time, since the expiration of the first stop-movement order expires on May 11, we want to give our folks sufficient time to make adjustments and to socialize with them that we are going to be extending beyond that May 11," Esper told reporters during a video news briefing from the Pentagon. "While I understand the impact this has on our troops and our families, this is a necessary measure to keep our people safe and our military ready to act."
Service members and their families have been barred from all official domestic travel, including permanent-change-of-station moves, since Esper's first stop-movement order was issued March 16. On March 25, the defense secretary extended those restrictions to all overseas personnel, as well.
Esper's decision to lengthen the orders comes as confirmed coronavirus cases among American troops worldwide surpassed 3,000 on Tuesday, according to Pentagon data. Cases of the fast-spreading virus that has paralyzed movement in the U.S. and dozens of other nations continued to climb within the U.S. military as it works to expand testing.
In addition to the 3,022 U.S. service members who had tested positive for the coronavirus, including two who died from complications caused by the disease, another 1,474 DOD civilian workers, contractors and military dependents had been diagnosed with the virus, the Pentagon said. That tally included 14 deaths among those non-uniformed, DOD-affiliated individuals.
Army Gen. Mark Milley, the chairman of the Joint Chiefs of Staff, said Tuesday that the Pentagon is looking to drastically expand its ability to test troops. The Defense Department has the capability now to conduct about 8,700 tests each day, but Milley wants to see that expand to 65,000 per day within 45 days.
"Our desire, our determination is to expand testing, especially for groups that are going to probably be in tighter quarters — [submarine] crews, bomber crews, basic trainees, things like that," Milley said alongside Esper. "Hopefully we'll get after that here in the next 45 days — rapidly increasing the amount of testing."
The military has learned a great deal about the virus from its largest outbreak, aboard the now-sidelined nuclear aircraft carrier USS Theodore Roosevelt, Milley said. That outbreak has seen 589 sailors test positive for the virus in the weeks since the first case was reported March 14.
But among those cases, only 213 coronavirus-infected sailors have displayed any symptoms of the disease, Milley said. Four of the ship's sailors are now hospitalized and one died Monday of complications of the virus, Navy officials said.
The military has tested about 93% of the Roosevelt's nearly 5,000 crew members, the Navy said.
The presence of so many asymptomatic carriers of the virus has convinced senior Pentagon leaders that it would be useful to test more than just those suspected of having the disease. Milley said it would include service members in the nation's most elite special operations units and others responsible for nuclear weapons. It also could include units preparing to deploy, if they are approved to move out despite the travel-halting orders.
Esper said the next iteration of the stop-movement order would be somewhat modified to direct more clearly which individuals should be exempted from the policy. The initial orders allowed service members to move to their next assignments only if they could convince top leaders that they faced substantial hardships if they did not move immediately.
Esper did not provide specific examples of the modifications that he would include. However, the defense secretary said travel restrictions and other measures implemented to mitigate the virus' impacts would be reviewed every 15 days.
That will allow him "to see if we can curtail it sooner or if we need to extend it further," he said.
Top defense officials have said internal tracking has suggested the coronavirus outbreak in the U.S. could extend into the summer months. Gen. David Goldfein, the Air Force chief of staff, said he expected the stop-movement orders would be extended into July.
"June seems to be about where we're going to level, and then July and August look to be — potentially — recovery months," Goldfein said April 6. "I could be totally off, but that's what we're planning for right now."
dickstein.corey@stripes.com Twitter: @CDicksteinDC
---
---
---
---