Pentagon reverses policy, will not disqualify anyone hospitalized by coronavirus from serving
by
Corey Dickstein
May 21, 2020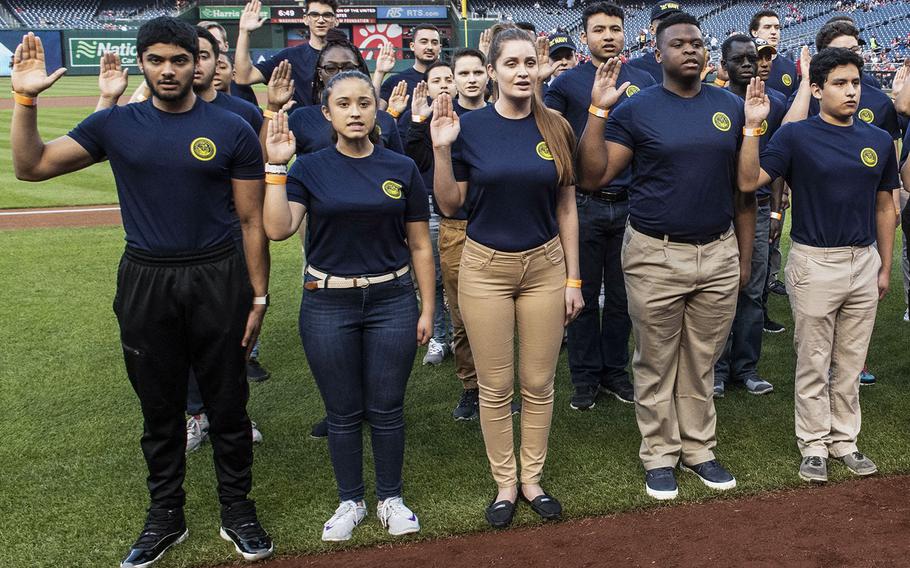 Stars and Stripes is making stories on the coronavirus pandemic available free of charge. See other free reports here. Sign up for our daily coronavirus newsletter here. Please support our journalism with a subscription.
WASHINGTON — The Pentagon's top official for personnel issues said Thursday that he has canceled an order that seemed to bar individuals from military service if they were hospitalized with complications from the coronavirus.
Matthew Donovan, the undersecretary of defense for personnel and readiness, told reporters that the Pentagon no longer had a specific policy instructing the services on how to handle recruits who have been previously diagnosed with the virus. Donovan's announcement — at least the third adjustment to the policy in recent weeks — came during a Pentagon news briefing in response to questions about a May 6 order, which temporarily stopped the services from enlisting potential recruits who spent time in the hospital with a coronavirus diagnosis.
"I have rescinded that," he said.
The military will continue to halt recruits now experiencing symptoms or who test positive for the coronavirus from shipping to initial entrance training until they recover, Donovan said. He said he briefed some Senate Armed Services Committee members on the changes recently.
The coronavirus pandemic has led the Pentagon to halt most nonessential travel for its troops worldwide since March and forced services to severely cut the number of new recruits they send each week to basic training. Military officials have expressed confidence they would be able to make up for those recruit shipping shortfalls once restrictions are lifted.
Donovan said people who have suffered from the coronavirus will be examined by a doctor, just as any other individual attempting to enter the military would. Some of those individuals could require additional screening to ensure they did not suffer long-term effects from the virus.
Pentagon medical officials and researchers are studying the potential for the virus to cause permanent damage to the lungs and other organs, Donovan said. That research could be completed in the near future.
But Donovan said Thursday that he canceled the May 6 order, at least in part, because of its wording, which would initially bar anyone who faced any period of hospitalization from coronavirus symptoms from military service. Under that order, individuals who had been hospitalized by the virus could apply for a waiver exempting them from the policy.
"Using a term like hospitalization — that could be a doctor who kept them overnight for observation all the way to someone who was in a medically induced coma for three weeks," he said. "That's why it has to be taken on each individual case."
Jonathan Hoffman, the Pentagon's chief spokesman, likened any restrictions on past coronavirus victims to those who suffer other underlying conditions such as asthma.
"Asthma's not an automatic-disqualifier, but you look at what the impact is — can the person perform the mission when they join?" Hoffman said during the same Thursday briefing. "Like any other disease or underlying condition … they would have to be examined by a physician who would make a determination whether or not they could meet the standards for the force."
The May 6 order canceled by Donovan had replaced an even more stringent draft leaked to the news media days earlier that sought to "disqualify permanently" all individuals ever diagnosed with the coronavirus from military service.
Pentagon officials at the time confirmed the authenticity of the guidance, but they also said it was never meant to be made public.
To date, the Pentagon reported a total of 8,859 cases of coronavirus diagnoses within the military community, which includes service members, Defense Department civilian employees, military dependents and defense contractors.
Military troops made up the bulk of those cases, with 5,888 having tested positive by Thursday. Among them, 3,023 have since recovered, 129 faced hospitalization at some point, and two died of complications caused by the virus.
In addition to the two service members who died, 15 DOD civilian workers, five military dependents and eight defense contractors have died from coronavirus complications, Pentagon officials reported. Two of those deaths were reported since Monday.
dickstein.corey@stripes.com Twitter: @CDicksteinDC
---
---
---