Pentagon releases list of construction projects at risk of losing funds to help build border wall
---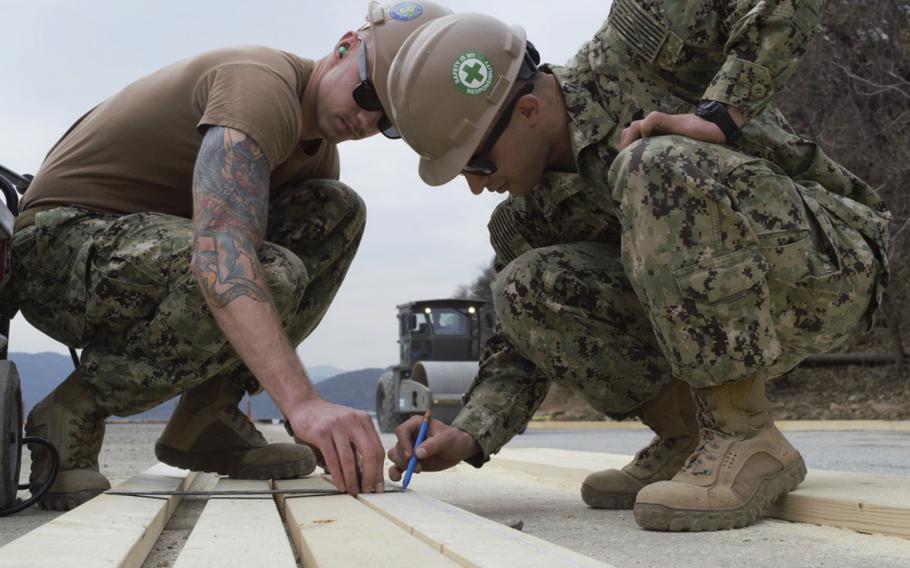 A child development center at Joint Base Andrews in Maryland, a middle school at Fort Campbell in Kentucky, and an addition to the ambulatory care center at Camp Lejeune in North Carolina are some of the hundreds of military construction projects at risk of losing funds to help build a wall along the U.S. border with Mexico.
More than a month after President Donald Trump declared a national emergency to contend with migration from Central America, the Pentagon on Monday released a list of projects that could be delayed to divert funding to build a southern border wall.
The 21-page list outlines $12.9 billion for more than 400 projects approved by Congress dating back to fiscal year 2015 that have not been awarded contracts as of Dec. 31. The projects span the country, overseas and every branch of military service.
A fact sheet provided with the list states no decisions have been made about which projects could lose funding.
The list was created in response to Trump's Feb. 15 declaration of a national emergency, ordering the use of up to $3.6 billion in military construction funds to build a wall there. Since then, Pentagon officials have said they are working to identify projects that can be delayed to divert funds to the construction of the wall.
The Defense Department will use the following criteria to reduce the list to projects that could be delayed: it will eliminate projects that have contracts awarded, it will eliminate projects related to housing, barracks or dormitories, and it will only look at projects with award dates after Sept. 30, which ends the fiscal year.
Based on that criteria, Mark Cancian, a senior adviser with the Washington think tank Center for Strategic and International Studies, said only about half the projects listed are at risk, leaving about $6.5 billion to divert to the wall.
Cancian said he doesn't see this sitting well with lawmakers.
"They've now alerted a large number of members of Congress that something in their district is vulnerable. And therefore, built a lot of opposition that's unnecessary," he said. "They've published a list and half of which they've said they're not going to take," Cancian said Tuesday.
Sen. Tammy Duckworth, D-Ill., released a statement Tuesday in response to the list because it includes $55 million for military facilities in her state. At-risk projects include a communications facility at Scott Air Force Base, an automated record fire range for the Illinois Army National Guard in Marseilles and a new crash and rescue facility in Peoria.
"This is a reckless and irresponsible proposal that will hurt military readiness and undermine our ability to respond to real national security threats," she said. "To be clear, Donald Trump is proposing stealing funding that Congress appropriated for critical national defense projects in Illinois and across the country in order to fund a vanity project that he promised Mexico would pay for. This is a monumental waste of taxpayer dollars that is downright harmful to our nation."
The list became a heated topic last week during acting Defense Secretary Pat Shanahan's visit to Capitol Hill to discuss the proposed Pentagon budget. During a Senate Armed Services Committee hearing Thursday, senators — Jack Reed, D-R.I., Tim Kaine, D-Va., and Angus King, I-Maine, most notably — grilled Shanahan about the list.
At the onset of the hearing, Shanahan said the list was not ready to share, but after further questioning, he promised Reed that he would deliver it by the end of that day. That did not happen.
Later on Thursday, the Senate voted to revoke the president's national emergency declaration, sending the bill to Trump's desk. Trump vetoed the bill Friday. Congress now plans to vote in each chamber to override the veto. House Democrats plan to vote March 26.
Now with the list in hand, Reed said Monday in a statement that he hopes Congress will take into consideration what is at stake in their home states before voting to override the president's veto.
"What President Trump is doing is a slap in the face to our military that makes our border and the country less secure," said Reed, a U.S. Military Academy graduate and former Army Ranger. "He is planning to take funds from real, effective operational priorities and needed projects and divert them to his vanity wall. That may help shore up his political base, but it could come at the expense of our military bases and the men and women of our armed forces who rely on them.
Over the weekend, Kaine questioned whether the plan to deliver the list after a Senate vote to rebuke the president's emergency declaration, which was scheduled for Thursday as well, was politically motivated.
He further outlined his frustrations on CBS News' Face the Nation on Sunday morning.
"This is not the secretary of defense in my view, this is the White House wanting to hold the list back because they worry that if senators and House members saw the potential projects that were going to be ransacked to pay for the president's wall, they would lose votes. And I think they're going to try to hide the list until that veto override vote occurs in the House and then in the Senate," he said.
Cancian said he expects more members of Congress to ask questions about their state's vulnerability. One location that appears particularly vulnerable is Puerto Rico, where the National Guard is still struggling to rebuild from Hurricane Maria in 2017.
Nearly 80 percent of the Army National Guard's $574 million in construction funding on the list is in this U.S. territory. Those projects include a maneuver area training equipment site, a readiness center and a power substation at Camp Santiago. There are similar projects at risk in the Virgin Islands.
"My guess is, that because of what's going on there, it's been very slow to award contracts," Cancian said.
Final decisions on projects won't happen until the Department of Homeland Security provides the Defense Department with the list of border-barrier projects that it wants completed. Then the military will determine which ones would support the use of the armed forces, according to the Pentagon project's list fact sheet. Once that is determined, the Pentagon will know exactly how much it needs to divert from its military construction budget.
Pentagon officials have been adamant that no projects will be canceled, only delayed. Should the proposed Defense Department budget for fiscal year 2020 pass on schedule as requested, nothing will be delayed, according to the fact sheet.
The Defense Department's $718 billion proposed budget includes $3.6 billion in an emergency fund to back fill money taken from 2019 construction projects for the wall as well as an additional $3.6 billion marked for potential new construction at the southern border.
Stars and Stripes reporter Caitlin Kenney contributed to this report.
thayer.rose@stripes.com Twitter: @Rose_Lori
---
---
---
---