Pentagon panel will study, implement Trump's transgender ban
by
Corey Dickstein
August 30, 2017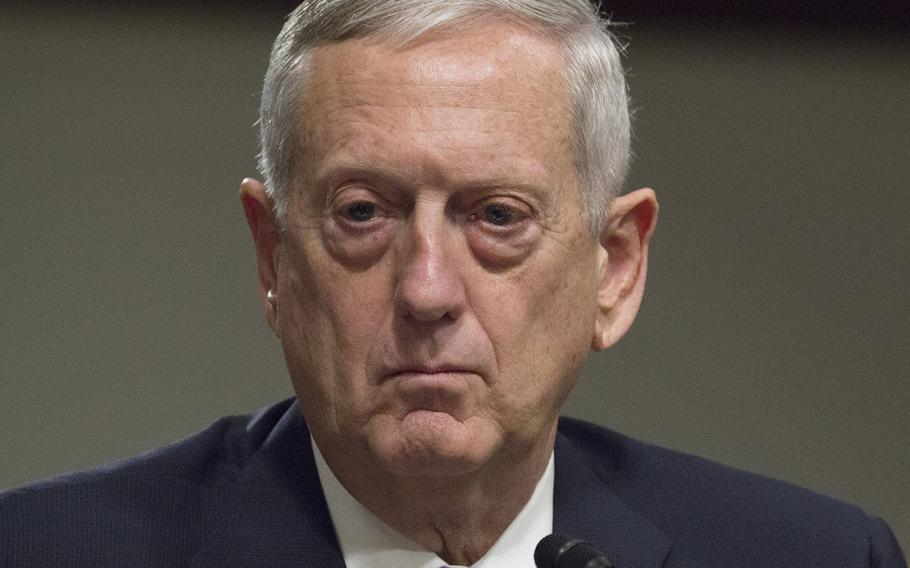 WASHINGTON — A committee of senior Pentagon civilians will examine the operational impact that transgender servicemembers have on the military as the Defense Department attempts to implement President Donald Trump's ban on them, Defense Secretary Jim Mattis said Tuesday.
The White House on Friday provided the Pentagon its official policy that indefinitely bans transgender men and women. However, the policy gives Mattis leeway to determine whether he should discharge servicemembers who have identified themselves as transgender since the ban was lifted more than a year ago.
In a statement released late Tuesday, Mattis said transgender servicemembers would not be dismissed until the new panel thoroughly analyzes the issue. The White House order gave Mattis until Feb. 1 to present Trump a plan implementing the ban.
"Once the panel reports its recommendations and following my consultation with the secretary of Homeland Security, I will provide my advice to the president concerning implementation of his policy direction," Mattis said in the statement. "In the interim, current policy with respect to currently serving members will remain in place."
The panel, which will include soon-arriving political appointees, will look at the impact of transgender troops and whether the military should consider opening recruiting to more transgender individuals. The Pentagon had already been studying the issue before Trump's abrupt Twitter announcement July 26 that transgender people would no longer be allowed to serve "in any capacity."
Mattis said the panel's focus will be on how transgender troops impact combat readiness, lethality and unit cohesion.
"Our focus must always be on what is best for the military's combat effectiveness leading to victory on the battlefield," Mattis' statement read. "…Panel members will bring mature experience, most notably in combat and deployed operations, and seasoned judgment to this task."
Mattis has previously signaled he would be open to allowing serving transgender individuals to remain in uniform under some conditions. The defense secretary told reporters Aug. 14 at the Pentagon that he did not foresee a direction "that would indicate any harm to anybody right now."
The ban has been admonished by lawmakers on both sides of the political aisle. Sen. Kirsten Gillibrand, D-N.Y., vowed to introduce legislation to block any ban on transgender people serving in the military and Sen. John McCain, R-Ariz., called the move "a step in the wrong direction."
On Tuesday, more than 140 House Democrats sent Trump a letter urging him to reconsider his ban that they wrote would be "detrimental to our national security, ill-advised, and contrary to the values upon which our nation was built."
"There is no place for discrimination in our armed forces or indeed anywhere else in American society," the letter read.
Others in Congress have signaled support for the ban, including Rep. Vicky Hartzler, R-Mo., who had lobbied to ban the Pentagon from paying for transgender troops' medical expenses.
"Military service is a privilege, not a right," Hartzler said Friday in a statement. "I'm pleased to see the president putting military readiness first and making sure our defense dollars are spent keeping us safe."
dickstein.corey@stripes.com Twitter: @CDicksteinDC