Pentagon orders reviews of Air Force One, F-35 vs. Super Hornet
by
Tara Copp
January 27, 2017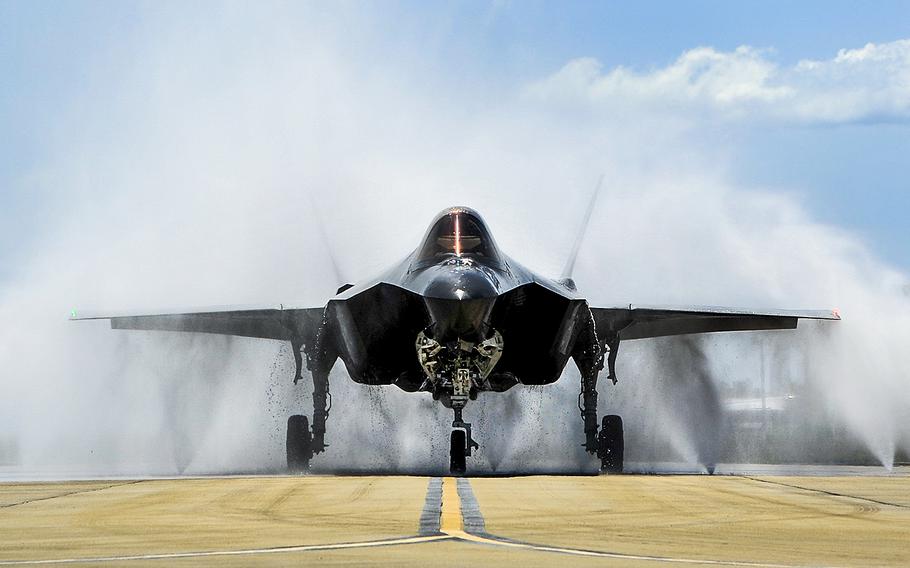 WASHINGTON – The White House and Pentagon will review the cost and requirements of two major Air Force programs: the presidential plane and the F-35 Joint Strike Fighter, the Pentagon announced Friday.
Both programs were early targets of President Donald Trump, who questioned their costs in tweets that he posted before taking office.
"Boeing is building a brand new 747 Air Force One for future presidents, but costs are out of control, more than $4 billion. Cancel order!" Trump tweeted Dec. 6.
On the Joint Strike Fighter, Trump tweeted: "The F-35 program and cost is out of control. Billions of dollars can and will be saved on military (and other) purchases after January 20th," he tweeted Dec. 12.
In two signed letters Thursday, Secretary of Defense Jim Mattis directed reviews of both programs. On Air Force One, Mattis directed Deputy Defense Secretary Bob Work, a senior defense official under President Barack Obama who was asked to remain by Trump, to "identify specific areas where costs can be lowered" on the presidential aircraft, including potentially its cooling, survivability and power generation systems.
That review will be coordinated with the White House Military Office, according to the memo.
The contract to build the next Air Force One is expected to cost $4 billion with planes in service by 2024.
The F-35 Joint Strike Fighter has been widely criticized for cost overruns and program delays but had begun in the last year to reduce costs and get its first squadrons out to the military. The total costs of the program are estimated to top $1 trillion to produce 2,457 planes, according to the Government Accountability Office.
In the letter instructing Work to conduct a review to reduce the cost of the F-35, Mattis also requested a review that compares the Air Force variant of the Joint Strike Fighter, the F-35C, to the Navy's F/A-18E/F Super Hornet.
The review will determine whether additional improvements could create an "advanced" Super Hornet that would "provide a competitive, cost-effective fighter aircraft alternative," according to the second memo.
The Super Hornet is an upgraded Navy fighter jet that the service is looking to replace with the F-35. High levels of operational wear and tear on the Navy's Super Hornet fleet has required a plan for overhauls of the aircraft sooner than expected. The Marines do not fly the Super Hornet. They already employ the F-35 and recently deployed an operational squadron to Japan.
Copp.tara@stripes.com Twitter:@TaraCopp