Pentagon OKs special, incentive pay for troops who can't meet requirements during pandemic
by
Corey Dickstein
April 9, 2020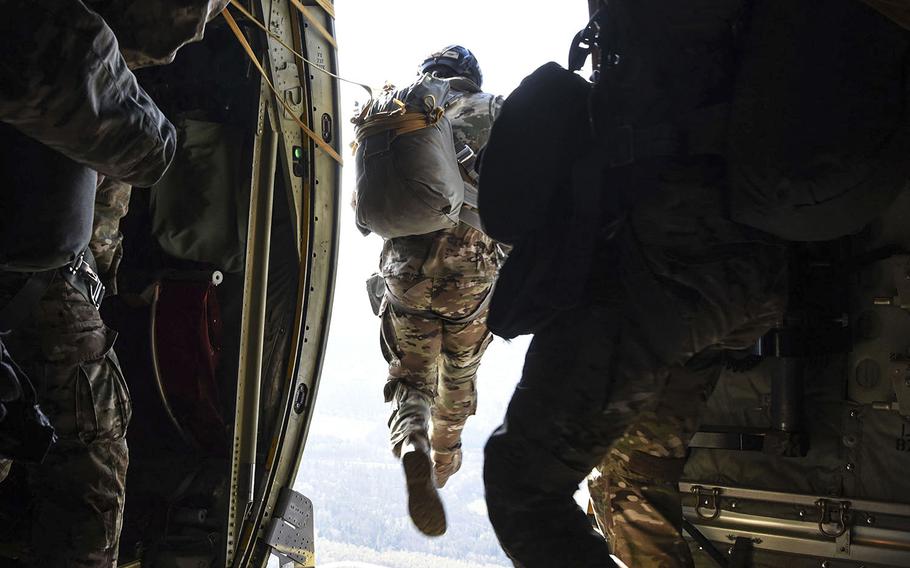 Stars and Stripes is making stories on the coronavirus pandemic available free of charge. See other free reports here. Sign up for our daily coronavirus newsletter here. Please support our journalism with a subscription.
WASHINGTON — The Pentagon will allow service members who typically receive some special monthly pay, such as incentives for dangerous duties, to continue collecting those payments even if they cannot complete requirements due to the coronavirus pandemic, the Defense Department said Thursday.
The new guidance will allow top commanders to waive the requirements service members must complete to receive those special and incentive payments for troops who are "unable to perform the required duties through no fault of their own" amid the ongoing pandemic that has locked down most military movement globally. The guidance also allows service members to receive free Defense Department-supplied meals as part of an on-post, coronavirus-related isolation, and it grants some reservists and National Guard members the ability to complete monthly training via telework.
Pentagon officials issued the new guidance Thursday with a memorandum to the force, which stated top leaders within each service had the power to apply the exemptions. The memo said those policy exemptions are, in part, meant to minimize financial risks to service members and their families.
Special and incentive pay impacted by the guidance includes programs such as Hazardous Duty Incentive Pay and Aviation Incentive Pay, according to the memo.
Hazardous duty payments, for example, are doled out to service members who perform functions including parachuting from airplanes, the demolition of explosives, or handling toxic fuel. Paratroopers typically receive a $150 monthly hazardous-duty payment — often called jump pay — as long as they meet the requirements for it, which includes jumping from an airplane at least once every three months.
The new policy will allow service members who typically receive that payment to go up to one year without jumping, if they are stopped from doing so by the military's wide-spread travel restrictions or other complications of the ongoing pandemic, officials said.
The memo also stated service members who have been confined to government housing "for self-monitoring, to protect the health of our personnel and their families, or to assure essential mission function capability" will not have to pay for government-provided meals during their isolation. Typically, service members would have to pay for such meals out of their Basic Allowance for Subsistence payment.
The Pentagon memo also cleared the way for National Guard and reserves commanders to approve telework or "alternate places of duty" to conduct monthly drills, so their troops can continue to be paid.
That policy exemption is only meant to be used in local areas impacted by the coronavirus, the memo states. It also warns not all units or service members will be able to conduct their training in such a manner and leaves it to commanders to determine when telework can be implemented.
Pentagon officials also Thursday said they were looking at ways to ensure service members who are unable to use personal leave days after canceling vacations amid the pandemic can retain those use-or-lose days at the end of the fiscal year, which is Sept. 30.
Air Force Chief Master Sgt. Ramon Colon-Lopez, the military's top enlisted service member, said during a town hall event from the Pentagon that officials were working to "make sure that our service members do not lose that entitlement."
dickstein.corey@stripes.com Twitter: @CDicksteinDC