GALLERY
Pentagon marks POW/MIA day with joint U.S.-British parachute jump
by
Corey Dickstein
September 21, 2019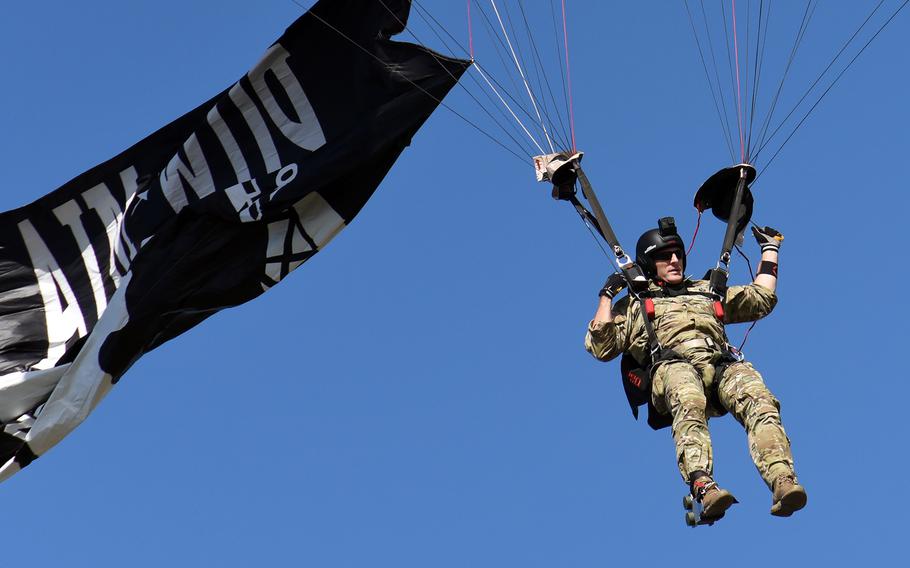 WASHINGTON — Army Master Sgt. Chris Malone admired the Washington skyline Friday afternoon as he jumped 6,000 feet from a UH-Black Hawk and displayed the black Prisoner of War/Missing in Action flag for the crowd gathered on the Pentagon parade grounds.
Malone, a paratrooper with the Army Special Operations Command's Black Daggers parachute demonstration team said it was an honor to participate in the Pentagon's annual National POW/MIA Recognition Day. The ceremony honors the more than 140,000 American servicemembers who have served in POW camps and the tens of thousands more who have gone missing in wars fought in foreign lands.
"I absolutely could not pass up the opportunity to pay homage to those who have served and sacrificed," Malone, a native of the D.C. suburb Fairfax, Va., said after making the jump. "It was an amazing feeling to get to honor the POWs and those missing in action, and … to see this area from the point of view today — just awesome."
The ceremony featured a brief speech by Deputy Defense Secretary David Norquist and the event was attended by several former POWs and their family members.
dickstein.corey@stripes.com Twitter: @CDicksteinDC