Pentagon increases restrictions at all military bases as coronavirus cases continue to rise
---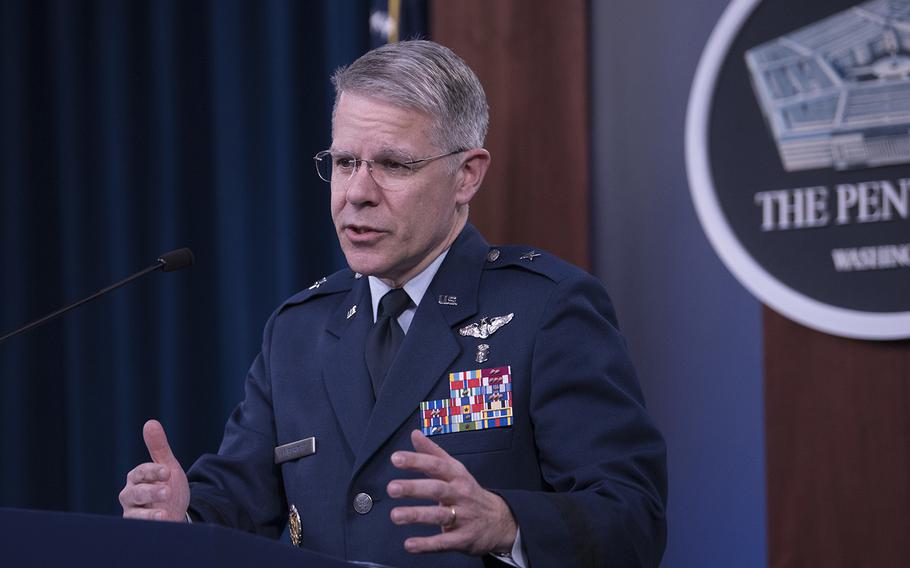 Stars and Stripes is making stories on the coronavirus pandemic available free of charge. See other free reports here. Sign up for our daily coronavirus newsletter here. Please support our journalism with a subscription.
WASHINGTON — Defense Secretary Mark Esper increased health protection measures Wednesday at all defense installations as the military continues to report dozens of new cases of the coronavirus.
"Our curve is not flattening," Air Force Brig. Gen. Paul Friedrichs, the Joint Staff surgeon, said Wednesday to reporters during a Pentagon news briefing. He also said he expects military cases of the virus to continue to increase.
To try to control the growing rate of cases, the Pentagon has ordered all military installations to Health Protection Condition Charlie, Friedrichs said, which includes restrictions on large gatherings and temperature checks for personnel at building access points.
"We think the best way to limit that growth or mitigate that growth are the measures that we've been talking about," he said. "I don't think there's a great deal of value in speculating on a particular date [when this will subside]."
The Defense Department said Wednesday that 227 service members have the coronavirus, an increase of 53 cases in one day. Three more cases also have been hospitalized.
In addition, of the 435 cases in total within the Defense Department community, 81 are civilian workers, 67 are military dependents and 40 contractors have contracted the virus. One person — a contractor — has died.
Even with the restrictions, a commander's instinct is still involved, Friedrichs said, because they are responsible for balancing the well-being of service members with the defense of the country.
"There's always commander's discretion. There is always a requirement for this nation to be prepared to defend itself. And our responsibility is to balance that as appropriately as we can," he said.
President Donald Trump said Tuesday that he wants to ease the social distancing guidelines for large parts of the country by Easter, which is less than three weeks away.
"I think that would be a great thing for our country, and we're all working very hard to make that a reality," Friedrichs said.
However, the general said Pentagon data is only able to forecast the virus outbreak for roughly three weeks because conditions are changing rapidly.
On Tuesday, Pentagon leaders predicted restrictions could last much longer.
Army Gen. Mark Milley, the chairman of the Joint Chiefs of Staff, urged the U.S. military community to prepare to maintain health protection measures into the summer months.
"You're looking at probably late May, June, maybe something as late as July," Milley said during a virtual town hall broadcast with Esper. "But we will get through it."
Friedrichs said he hopes the United States will start to see the same success that South Korea has had with mitigation measures to stop the spread of the virus, but it could take weeks to find out for certain.
"This is a pandemic," he said. "This is a significant infectious disease outbreak, and it is going to be weeks, not days. It's going to take intensive measures, as we are implementing, to mitigate it."
---
---
---
---