Pentagon finds flaws in reporting of readiness of ships that are crucial in a crisis
by
John Vandiver
January 27, 2020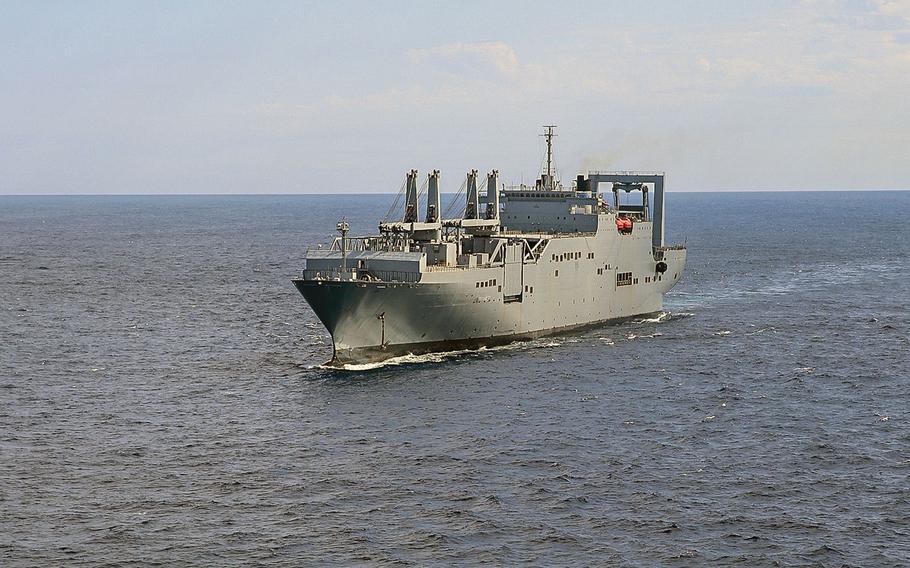 The Military Sealift Command inaccurately reported the readiness of reserve transport ships, which are crucial for moving large volumes of combat gear in a crisis, a report by the Defense Department Inspector General has found.
The flawed reporting of surge sealift ship readiness means commanders could base crisis decision-making and planning on bad information, the IG said in a report released Friday.
"As a result of the MSC's inaccurate ship readiness reporting, the [U.S. Transportation Command] assessment of surge sealift capability was unreliable and could lead geographic combatant commanders to make incorrect assumptions about the initial availability of equipment and resupply of critical items," the report said.
Surge sealift provides 90% of cargo space needed to meet combatant commanders' operational plan requirements, the report said. In the event of a large conflict, the fleet would likely be called upon to move weaponry and supplies.
"The inability of a single ship to perform its mission could result in an armored brigade combat team's equipment not being delivered when expected," the IG said.
The U.S.'s aging transport fleet has been an area of growing concern for the military, particularly as it focuses on threats posed by China and Russia.
About 60 government-owned transport ships are part of the military's sealift reserves. In September, dozens of those ships were ordered to sea to determine if reserve transport vessels were able to respond on short notice. U.S. Transportation Command, which launched the "Turbo Activation" drill, said in a report afterward that only about 40% of the ships had left port without issues.
The inaccuracies in reporting the seaworthiness of reserve ships may have arisen from MSC not having sufficient procedures in place to ensure accurate inspection reports, the IG said.
Part of the problem was that, while MSC officials relied on captains to assess their ships, the findings were never verified or reconciled with other records.
Much of the IG report was redacted, including sections that provided a detailed breakdown of which ships weren't available because of deficiencies. However, the IG found "32 instances in which the MSC or U.S. Coast Guard inspectors identified major or no-sail deficiencies that required Category 4 casualty reports," which means an equipment failure was found.
Between 2017 and 2018, MSC inaccurately reported the readiness of 15 of its ships, the IG said.
The Defense Department spent $477.8 million between 2016 and 2018 on maintenance and repairs for 35 Maritime Administration surge sealift ships, and plans to spend an additional $843.9 million through 2022, "without verification that the surge sealift ships are being maintained at the levels expected and will be mission ready when required," the IG said.
The Maritime Administration, which maintains the National Defense Reserve Fleet, should standardize criteria for ship assessments and develop a plan to verify readiness, the IG recommended.
vandiver.john@stripes.com Twitter: @john_vandiver