Pentagon: Expect more cases of coronavirus in the military
---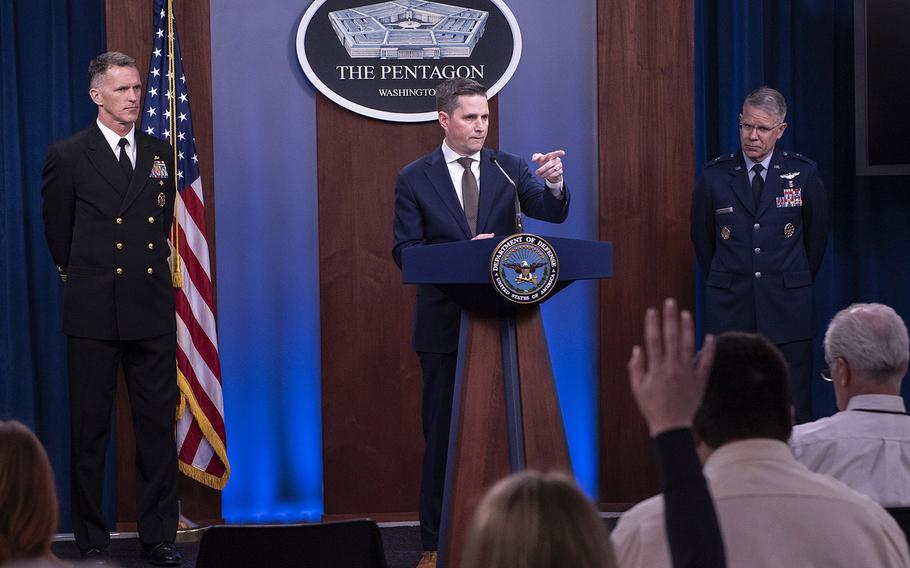 • See more coronavirus coverage from Stars and Stripes.
WASHINGTON — A Pentagon official said Tuesday that it is likely there are more cases of coronavirus in the Defense Department than has been reported so far.
"We're still learning how easy it is to spread this, how many people could be able to spread the virus before they actually have symptoms of the infection," Air Force Brig. Gen. Paul Friedrichs told reporters at the Pentagon.
So far, nine people associated with the Defense Department have tested positive for the virus, including one Navy civilian and one contractor, said Friedrichs, the Joint Staff surgeon. He said it is likely, based on the spread around the world and the number of Defense Department personnel serving overseas, that there are more people who are infected. However, he said it would be guessing to say what that actual number could be.
The latest coronavirus case is a civilian employee at the Navy's Bureau of Medicine and Surgery in Falls Church, Va., the service announced Tuesday. The employee was being cared for at a hospital in Northern Virginia and is waiting for confirmation on the positive test result from the Centers for Disease Control and Prevention.
The civilian does not work with patients and the building where he or she works is a headquarters building and does not provide clinical services, said Cmdr. Denver Applehans, a spokesman for the Navy Bureau of Medicine. The employee's co-workers who have had close contact with the person have been identified and self-quarantined in their homes.
A majority of personnel in the military are young, and they are more likely to have symptoms usually associated with a mild cold or flu-like illness, Friedrichs said, causing the coronavirus to go undiagnosed.
"That's one of the challenges and that's why I think it's likely higher. This is the flu season, so people have the flu, they say it's the regular flu. But could have also been coronavirus and they got better and went about their business," he said.
Friedrichs said three active-duty service members have been confirmed to have contracted coronavirus: a soldier in South Korea, a sailor in Naples, Italy, and a Marine in Virginia. Four dependents have also been positively confirmed to have the virus.
Six people are still being evaluated for the virus. However, Friedrichs said he is not certain whether all six people are categorized as "presumptive positives," with one positive test result waiting for a confirmation, or they are still just waiting for their initial result. He also did not know the breakdown of the group, whether it was service members or dependents.
The service member assigned to Joint Base Lewis-McChord, Wash., who has been reported as receiving a preliminary positive test result, is in the group of six being investigated, Friedrichs said. The service member's spouse is counted in the confirmed positive group of dependents.
Defense Department laboratories have conducted 143 tests for the coronavirus as of Monday, Friedrich said.
Kenney.Caitlin@stripes.com Twitter: @caitlinmkenney
---
---
---
---