Pentagon establishes Space Command, lobbies for Space Force with eyes on Russia, China
by
Corey Dickstein
August 29, 2019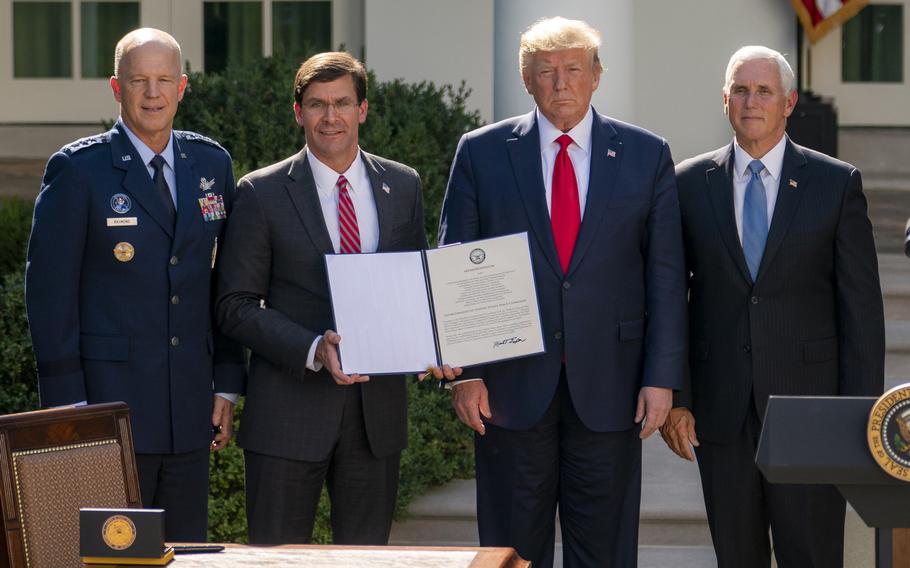 WASHINGTON — The Pentagon on Thursday established a new combatant command responsible for controlling the military's operations in space, a step meant to counter Russian and Chinese advances in space power that could threaten long-held U.S. supremacy in that domain.
Air Force Gen. Jay Raymond, who took the reins of the new U.S. Space Command during a White House ceremony Thursday afternoon, fingered those two nations as specific threats to the U.S. military's vast space enterprise, which is instrumental in how troops move, communicate and target enemies on the battlefield. He told reporters Thursday morning at the Pentagon that SPACECOM's primary mission would be to deter Russia, China and other powers from challenging American space assets or operations.
"Space is a warfighting domain just like land, air, sea and cyber," Raymond said during a briefing at the Pentagon ahead of the White House ceremony in the Rose Garden. "… There is nothing we do in the joint and coalition force that isn't enabled by space. Zero. At the same time, our adversaries have had a front-row seat to our many successes of integrating space [into warfighting] and they are developing capabilities to negate our access to space."
Trump touted the creation of Space Command as a "big deal" during the brief Rose Garden ceremony, at which Defense Secretary Mark Esper signed documents officially establishing the command.
"This is a landmark day — one that recognizes the centrality of space to America's national security and defense," he said. "Those who wish to harm the United States, to seek to challenge us in the ultimate high ground of space — it's going to be a whole different ballgame."
Trump officially ordered the establishment of SPACECOM in December, a move long-embraced by top Pentagon officials who have pushed for more focus on protecting American space assets. The president's other high-profile, space-related proposal to build a Space Force as a sixth uniformed military service, drew initial criticism including by some top Pentagon officials. But in recent months, Trump's plan has been embraced by top brass and appears likely to be backed by Congress, which could approve its establishment in the fiscal year 2020 National Defense Authorization Act. That bill is expected to be debated once the Senate and House return from their recess in September.
SPACECOM will initially be based at Peterson Air Force Base in Colorado with a headquarters staff of 287 personnel. The Air Force has said Peterson is one of six finalists to eventually house the new command permanently, but officials have not said why the decision has not been finalized. The other bases under consideration are Buckley Air Force Base, Schriever Air Force Base and Cheyenne Mountain Air Force Station, all in Colorado; Redstone Arsenal in Alabama, and Vandeberg Air Force Base in California.
SPACECOM is the 11th U.S. combatant command — the top level, 4-star led units responsible for commanding and control troops and military assets — and joins five other geographic commands and six functional commands, such as U.S. Strategic Command and U.S. Special Operations Command.
In reality, the activation of SPACECOM is a reactivation of a command that previously existed within the military from 1985 through 2002, when it was shuttered among the reshuffling of government organizations following the 9/11 terrorist attacks.
The new version of Space Command will have a very different and more sharply defined mission from its predecessor as the space domain has transformed dramatically since 2002, Raymond said.
"To ensure the protection of America's interests in space, we must apply the necessary focus, energy and resources to the task, and that is exactly what Space Command will do," Defense Secretary Mark Esper said Wednesday. "As a unified combatant command, the United States Space Command is the next crucial step toward the creation of an independent Space Force as an additional armed service."
Among the top concerns of the Pentagon are Russia and China's proven GPS jamming capabilities. China has also displayed the ability to hit satellites with missiles and Russia has vowed to develop space-based laser weaponry.
SPACECOM will command and control most of the about 18,000 servicemembers and Defense Department civilians working on space operations. If Space Force is established, it will rely heavily on SPACECOM for troops and it is planned to be built within the Air Force Department, much as the Marine Corps is within the Navy Department.
However, the existing military branches are expected to maintain some space forces even if U.S. Space Force is established, Steve Kitay, the deputy assistance secretary of defense for space, said Thursday. Those services would provide their own forces to SPACECOM, which would focus on integrating space operations into their normal operations — such as the Army's soldiers fighting on the ground with satellite-enabled communications and intelligence devices, for example.
Currently, the Air Force has responsibility for the vast majority of the Pentagon's space operations — including operating 77 of the military's more than 100 satellites. It remains unclear precisely how much of the Air Force's space program would be moved into the Space Force.
Trump said Thursday that he was confident the Space Force would be approved soon by lawmakers, saying it would be "another great chapter in the extraordinary history of the United States military."
dickstein.corey@stripes.comTwitter: @CDicksteinDC