Pentagon deploys ships, aircraft and troops to Caribbean, eastern Pacific to help stop drug traffickers
by
Caitlin M. Kenney
April 2, 2020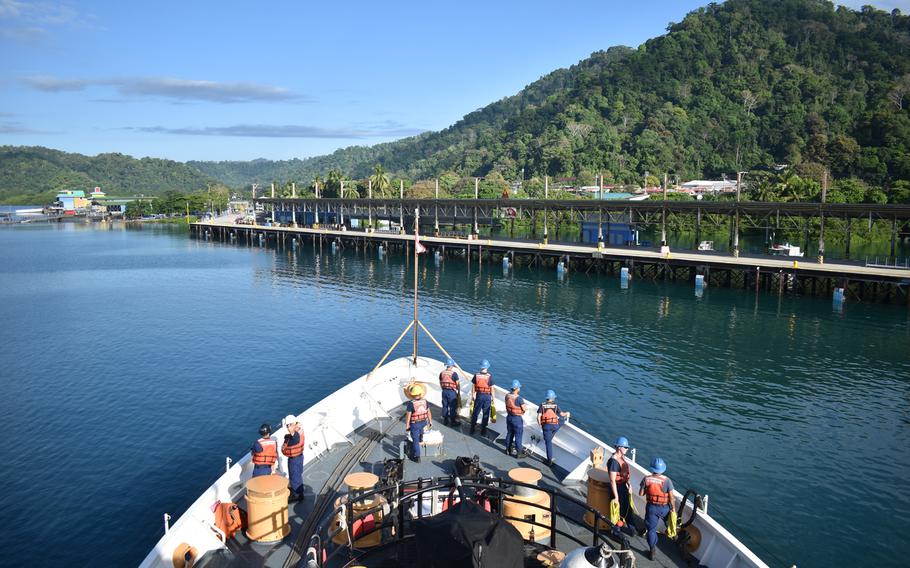 WASHINGTON — The Pentagon has deployed several ships, aircraft and thousands of troops to strengthen counter-narcotics operations in the Caribbean Sea and eastern Pacific Ocean and help prevent drugs from coming into the United States, Defense Secretary Mark Esper announced Wednesday.
Esper made the announcement at the White House alongside President Donald Trump, Gen. Mark Milley, chairman the Joint Chiefs of Staff, Adm. Michael Gilday, the chief of naval operations, and Adm. Karl Schultz, the Coast Guard commandant.
The operation, which started Wednesday, is being conducted as part of the U.S. government's efforts to stop the flow of drugs into the country, Esper said.
"We came upon some intelligence some time ago that the drug cartels, as a result of [the coronavirus], were going to try to take advantage of the situation and try to infiltrate additional drugs into our country," Milley said.
Thousands of personnel from the Navy, Marines, Air Force, Army, and Coast Guard are now under the leadership of Adm. Craig Faller, the commander of U.S. Southern Command, for the operation, Milley said. Ships and aircraft involved in the operation include several Navy destroyers, littoral combat ships, Coast Guard cutters and P-8 Poseidon patrol aircraft. Some of the personnel, ships, and aircraft have already arrived in the Caribbean.
"This is the United States military, you will not penetrate this country, you will not get past Jump Street, you're not going to come in here and kill additional Americans and we will marshal whatever assets are required to prevent your entry into this country to kill Americans," Milley said.
Esper pointed to Venezuelan leader Nicolás Maduro's government for using the illicit drug trade to keep hold of its power.
"These enhanced counter-narcotic operations that are now underway will further disrupt the flow of illicit drugs to America, deny our adversaries the financial resources they depend on and build the capacity of our partner nations throughout the region," he said.
The operation also involves 22 partner nations who are assisting the United States with stopping the drug cartel organizations, Esper said, without naming the countries.
Drug cartels are taking advantage of the United States focus on responding to the coronavirus outbreak, Trump said, and America needs to return to stopping the flow of drugs.
"I don't think we're losing ground, but we don't want to lose ground. That's why we're doing it. I don't want to lose ground. It's a big fight," Trump said.
Esper would not say how long the operation would last, only that it would be run "for some matter of time."
kenney.caitlin@stripes.com Twitter: @caitlinmkenney