VIDEO
Pentagon: 105 missiles successfully struck 'heart' of Syria's chemical weapons operation
by
Corey Dickstein
April 14, 2018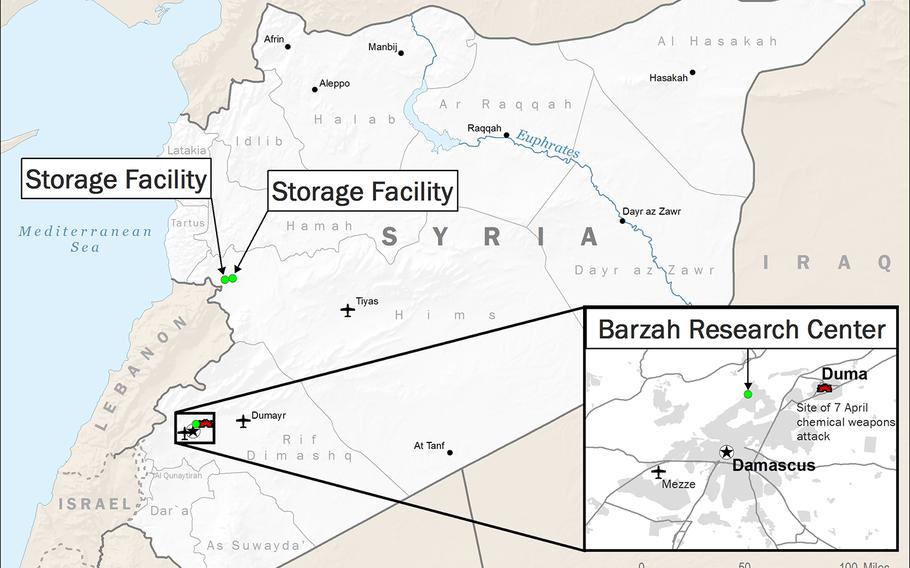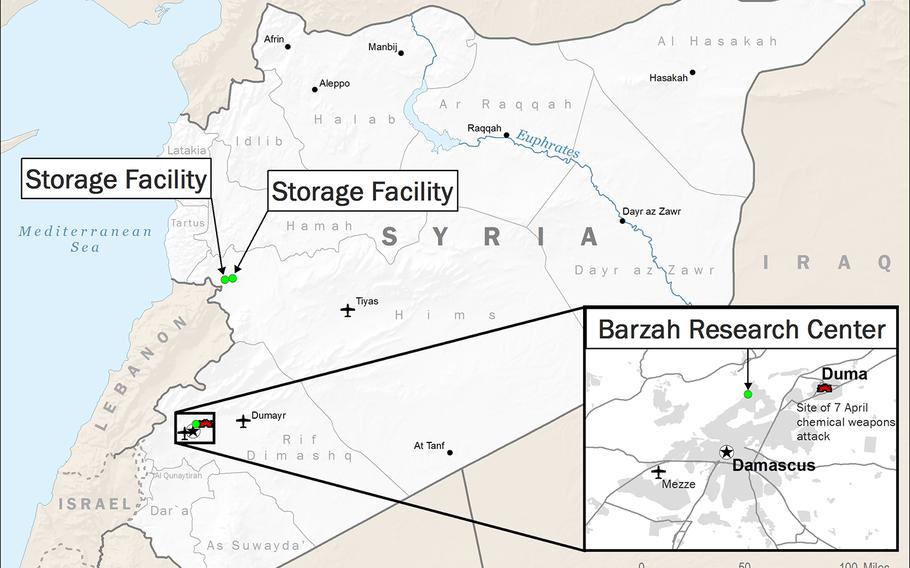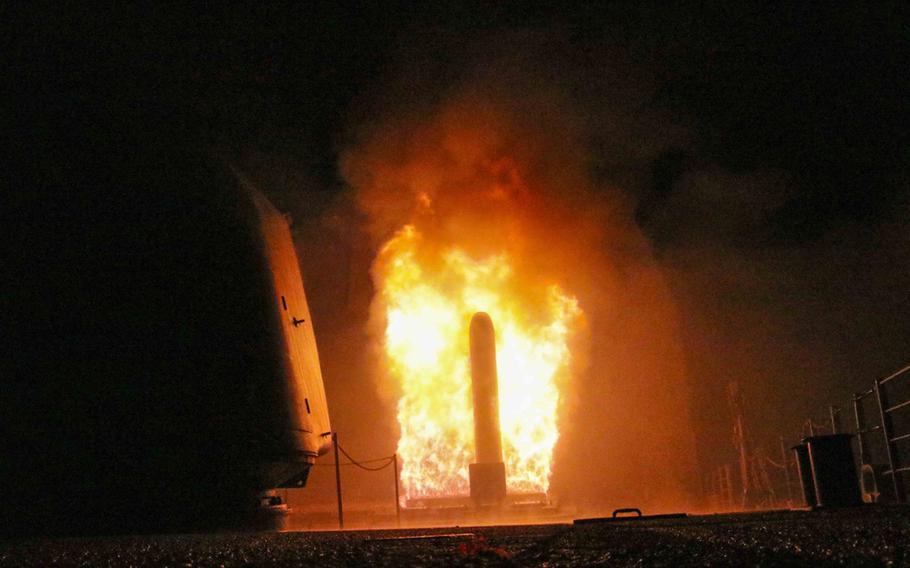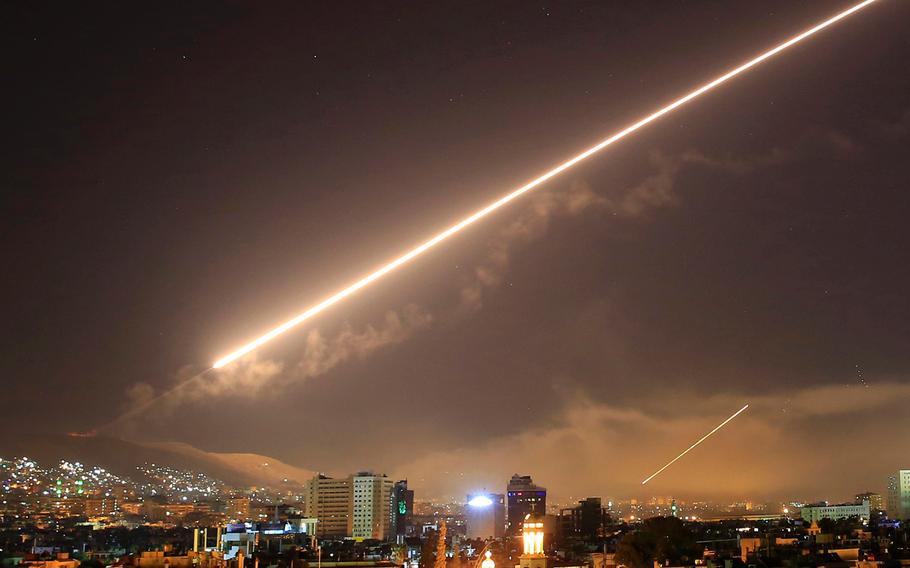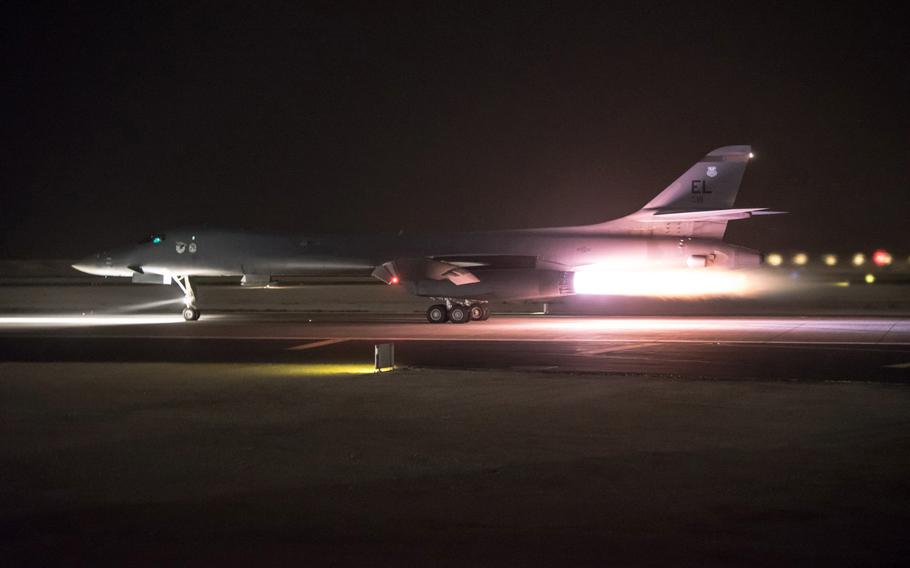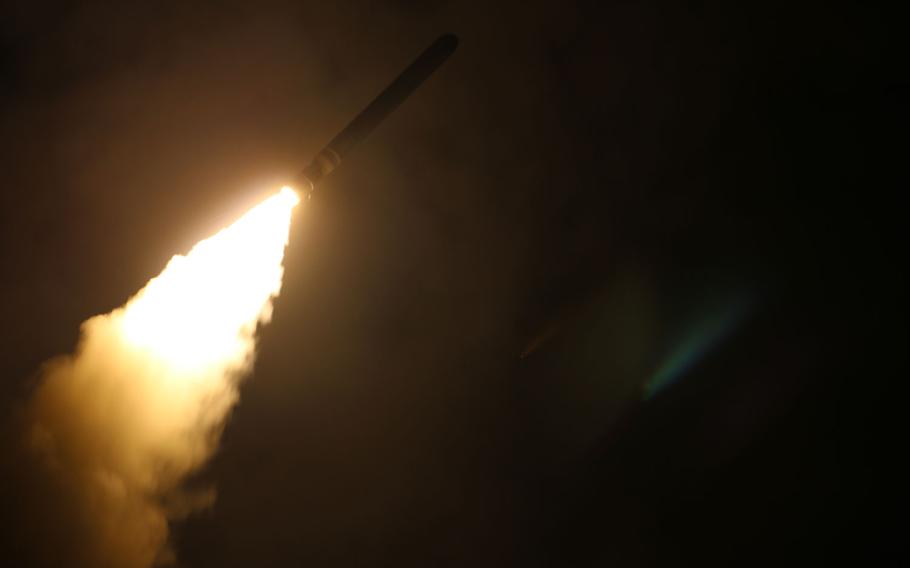 WASHINGTON — American, British and French air and sea forces launched 105 missiles at three Syrian facilities late Friday, striking at "the heart" of President Bashar Assad's ability to produce the chemical weapons that he has used repeatedly against civilians, Pentagon officials said Saturday.
The Pentagon's initial assessments of the highly anticipated strike indicated all of the missiles fired into Syria struck their targets about 4 a.m. local time, destroying a key chemical weapons research and manufacturing facility in metropolitan Damascus and two chemical weapons stockpiles outside Homs, Marine Lt. Gen. Kenneth McKenzie, the director of the Joint Staff, said at a news briefing at the Pentagon.
"I'd use three words to describe this operation: precise, overwhelming and effective," he said. "This is going to set the Syrian chemical weapons program back for years."
President Donald Trump ordered the strikes after securing support from British and French allies in the effort to punish Assad's repeated use of banned chemical weapons against civilians. It was the second time that Trump ordered a single round of strikes against the Syrian regime for their use of banned chemical agents.
"This massacre was a significant escalation in a pattern of chemical weapons use by that very terrible regime," Trump said in a television address to the nation Friday evening just as the missiles were set to hit their targets. "The evil and the despicable attack left mothers and fathers, infants and children, thrashing in pain and gasping for air. These are not the actions of a man. They are crimes of a monster, instead."
The attack on Syria came from multiple directions as the coalition launched missiles from warships in the Red Sea, the Mediterranean Sea and the Persian Gulf while a pair of American B-1 Lancer conventional bombers and French and British fighters struck from the air, McKenzie said.
The U.S. fired 69 cruise missiles, launched from a pair of guided missile destroyers, one cruiser and one nuclear-powered fast attack submarine, McKenzie said. The Lancers fired 19 Joint Air-to-Surface Standoff Missiles, or JASSMs, the first use of the long-range missiles in a combat operation.
The bombers did not enter airspace in range of Syrian anti-air systems, a defense official said Saturday. The JASSMs used were the extended-range version that can strike targets from about 600 miles away.
The British attacked with eight Storm Shadow missiles from Tornado and Typhoon aircraft, while the French launched three SCALP missiles from a frigate in the Mediterranean and nine more from fighters during the operation, McKenzie said.
Seventy-six of the missiles struck Syria's Bazrah research-and-development center in greater Damascus, leveling three buildings in an area known to be heavily defended from air attacks, the general said Saturday. He identified that facility as "the heart" of Assad's chemical weapons program.
A storage facility near Homs, where illegal sarin gas was produced, was bombarded with 22 missiles and another weapons storage facility and command post near that northern Syrian city was struck with seven missiles, McKenzie said.
Those targets were selected carefully to avoid collateral damage and the risk of hitting Russian or Iranian troops, an act that Pentagon officials worried could draw the U.S. into a brutal face-off with near-peer enemies.
"Targets that were struck and destroyed were specifically associated with the Syrian regime's chemical weapons program," Marine Gen. Joseph Dunford, the chairman of the Joint Chiefs of Staff, said Friday just after the mission was completed. "We also selected targets that would minimize the risk to innocent civilians."
McKenzie said the Pentagon had not received reports of civilian casualties in the attack Saturday morning. He did not detail how many Syrian troops might have been killed in the barrage.
The strikes were not meant to incur maximum casualties nor to draw the U.S. or its allies into the Syrian civil war, said Dana White, the Pentagon press secretary. She emphasized the U.S. policy is not to push for regime change in Syria.
"We do not seek conflict in Syria, but we cannot allow such grievous violations of international law," she said Saturday at the Pentagon. "Our goal in Syria remains defeating ISIS … but (the U.S.) will not stand by passively while Assad, backed by Russia and Iran, ignores international law."
While Syrian and Russian officials reported shooting down more than 70 cruise missiles in the attack, McKenzie said the Pentagon was confident none was intercepted successfully. No American servicemembers were injured during the attack nor were any aircraft damaged, he said.
The Syrians fired some 40 surface-to-air missiles, he said, but most were launched after all of the coalition's missiles already had struck their targets.
McKenzie said the Russians had not appeared to employ their more sophisticated air-defense systems during the attack. The U.S. still was conducting a more detailed damage assessment Saturday.
"The Syrian response was remarkably ineffective in all domains," McKenzie said. "They had no material impact on the strike."
Much like Trump's first strike ordered against Assad's forces last April, Dunford indicated Friday night that this attack was a one-off action. However, he, Defense Secretary Jim Mattis and Trump all indicated the U.S. and its allies were committed to punishing the Assad regime with more attacks if it uses chemical weapons again.
"The purpose of our actions tonight is to establish a strong deterrent against the production, spread and use of chemical weapons," Trump said. "Establishing this deterrent is a vital national security interest of the United States."
Friday's attack comes just more than a year after the president ordered a strike against a Syrian air field. That attack also was in retaliation for a chemical attack on civilians in a rebel held town by Assad's forces.
The U.S. military on April 7, 2017 launched 59 Tomahawk cruise missiles into Shayrat air base from the guided-missile destroyers USS Ross and USS Porter from the Mediterranean Sea.
The U.S. military took special care to avoid hitting any Russian aircraft or personnel in that strike, Pentagon officials said at the time. It resulted in the destruction of some 20 Syrian warplanes and killed seven Syrian troops, U.S. and Syrian officials said at the time.
Pentagon officials said Friday's strike was signicantly larger than the one launched last year in attempt to send a clear message to Assad and the rest of the world that chemical weapons use will not be accepted.
But the strike did not eliminate all of Assad's chemical weapons, McKenzie said.
"I believe we took the heart of it out with the attacks we launched last night," he said. "I'm not going to say they're going to be unable to continue to conduct a chemical attack in the future. I suspect, however, they'll think long and hard about it after the activities of last night."
Unlike the 2017 strike, in which U.S. officials alerted Russia that missiles were incoming, the U.S. and its allies did not alert Moscow of the impending attack Friday, Dunford said.
In fact, Trump took direct aim at the roles of Russia and Iran in aiding the Assad regime, calling the chemical attack and the retaliatory strikes the "direct result of Russia's failure" to ensure Assad did not use chemical weapons.
"To Iran, and to Russia, I ask: What kind of a nation wants to be associated with the mass murder of innocent men, women, and children?" Trump said. "The nations of the world can be judged by the friends they keep. No nation can succeed in the long run by promoting rogue states, brutal tyrants and murderous dictators."
Assad and his Russian backers have denied responsibility for the April 7 attack, which the World Health Organization concluded killed dozens of people. However, reports vary of how many people were killed. Some Syrian aid groups reported 45 deaths in the attack, while the Union of Medical Care and Relief Organizations said 70 people – mostly women and children – died. Russia's Defense Ministry on Friday accused the United Kingdom of staging the attack, according to The Associated Press.
Mattis on Friday said he had seen enough evidence to conclude definitively that Assad's forces were behind the attack. On Thursday, he told lawmakers the U.S. had not yet reached that conclusion.
"I am confident the Syrian regime conducted a chemical attack on innocent people last week," he said. "Absolutely confident. We have the intelligence level of confidence we need."
But Mattis said the U.S. had not determined precisely what chemical was used in the attack.
"We are very confident chlorine was used," he said. "We are not ruling out sarin."
Assad has a pattern of denying the use of banned weapons. He denied his military was responsible for the sarin attack last April, but groups including the United Nations and The Hague-based Organisation for the Prohibition of Chemical Weapons concluded his regime was responsible.
In 2013, Assad reached an agreement with former President Barack Obama to turn over his chemical weapons to international bodies and to join the Chemical Weapons Convention, an international agreement that prohibits the development, production, acquisition, stockpiling, retention or transfer of chemical weapons. But his regime has been accused multiple times since then of using such weapons.
In a statement attributed to Russian President Vladimir Putin, Moscow condemned the attack, labeling it "illegal" and "destructive."
The U.S. largely has refrained from interfering in Syria's seven-year civil war. The Pentagon has some 2,000 troops in Syria, but they are focused on fighting Islamic State militants in areas in eastern Syria that Assad's government does not control.
On Friday night, Trump, who in recent weeks has mulled the pullout of American troops from Syria, lauded their efforts against ISIS.
"In Syria, the United States with but a small force being used to eliminate what is left of ISIS, is doing what is necessary to protect the American people," he said.dickstein.corey@stripes.com Twitter: @CDicksteinDC