Parade, MOH stamp unveiling highlight DC Memorial Day events
---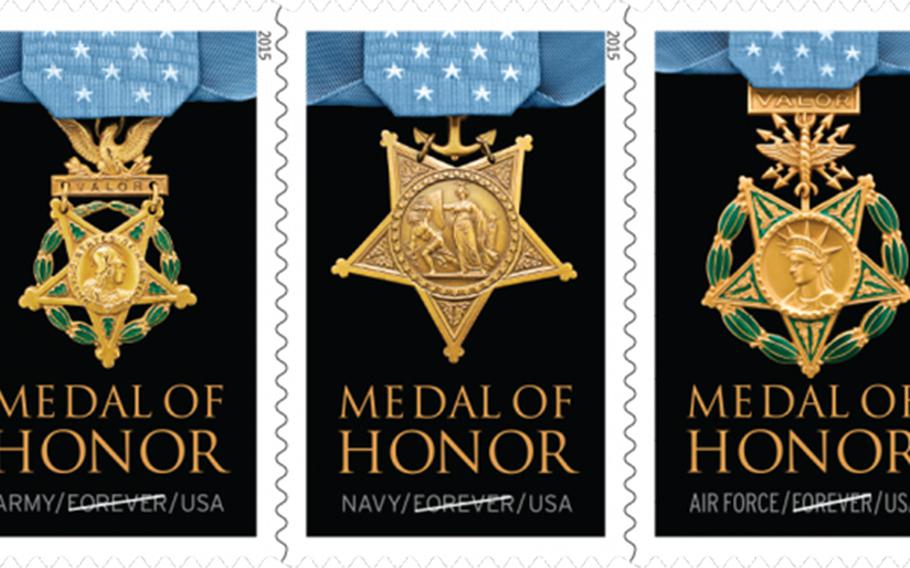 WASHINGTON — Ten years ago, the National Memorial Day Parade was revived after an absence of so many years that no one seemed to know why — or even when — it ceased to exist.
The spark that brought back the event that will take place in the nation's capital beginning at 2 p.m. on Monday was the 2004 dedication of the National World War II Memorial, according to Tim Holbert, executive director of the American Veterans Center. His group had been asked to organize a parade for the many WWII vets who were in town on Memorial Day weekend that year.
"We had that parade, and we looked around and said 'wait a minute, where's the normal Memorial Day parade?'" Holbert recalled. "Because you'd figure if any town in the country would have one, it would be Washington. That's when we looked into it and saw there hadn't been one in many decades, and Mayor Anthony Williams at the time said 'this is something you should be doing every year,' and we said 'yes, sir' and brought it back in 2005 as the National Memorial Day Parade, and it's grown ever since."
For 2015, the AVC — which also hosts an annual conference and an oral history project, among many other things — is focusing on the 70th anniversary of the end of World War II as a central theme. While in past years the grand marshal has usually been an individual like actor Mickey Rooney or Iraq vet J.R. Martinez, this year the honor will go to "several dozen" World War II vets representing "a number of the more recognizable units from the war ... the Tuskegee Airmen, the Band of Brothers, the Montford Point Marines, the (Japanese-American) 442nd Regimental Combat Team ... really, just across the board," Holbert said.
Another honored guest will be Army veteran Chris Melendez, who lost most of his left leg in an IED attack in Baghdad in 2006 but has gone on to be a featured performer with TNA Impact Wrestling.
"I'm excited," said Melendez, "because it's going to be a different perspective being there as a veteran, looking out from the float.
"We'll all be there contributing to the cause" of remembering the sacrifices made by the fallen and making the public aware of what Memorial Day is all about, Melendez added. "Veterans of all generations, regardless of age ... we all wore the uniform, we all come together as brothers in arms again on that day."
Other celebrities on hand for the parade include actors Gary Sinise and Joe Mantegna, celebrity chef Robert Irvine, Miss America Kira Kazantsev, and American Idol winner Caleb Johnson. Music will be provided by Billy Corgan and Jeff Schroeder of The Smashing Pumpkins, whose song, "Drum + Fife," deals with the issue of Post Traumatic Stress Disorder.
"We try to make this a dignified commemoration" with a "tone of reverence and respect," Holbert said, "while at the same time having a family-friendly event that everyone can come out to and honor those who have made the ultimate sacrifice throughout our history."
Another notable event on Memorial Day will be a 1:00 p.m. ceremony at the Vietnam Veterans Memorial, where postage stamps honoring Medal of Honor recipients will be unveiled. Several of those who earned the nation's highest military honor during the Vietnam War will be in attendance; one of them, retired Army Col. Jack Jacobs, will deliver the keynote address.
Other Memorial Day weekend events in the nation's capital include:
• The National Memorial Day Concert, hosted by Sinise and Mantegna, Sunday from 8:00 to 9:30 p.m. on the west lawn of the Capitol.
• The annual Memorial Day ceremony and wreath-laying at the National World War II Memorial, at 9:00 a.m. on Monday.
• The Arlington National Cemetery wreath-laying at 11:00 a.m. on Monday, with President Barack Obama honoring the fallen. The Memorial Day Flowers Foundation will provide roses for visitors to place on headstones at Arlington throughout the day.
• A wreath-laying ceremony featuring the U.S. Navy Band and Ceremonial Guard, and a Veterans Writing Project presentation, starting at 1:00 at the U.S. Navy Memorial on Pennsylvania Ave., near the parade starting line.
---
---
---
---