Pacific commander picked as next top Air Force general would be first black military service chief
---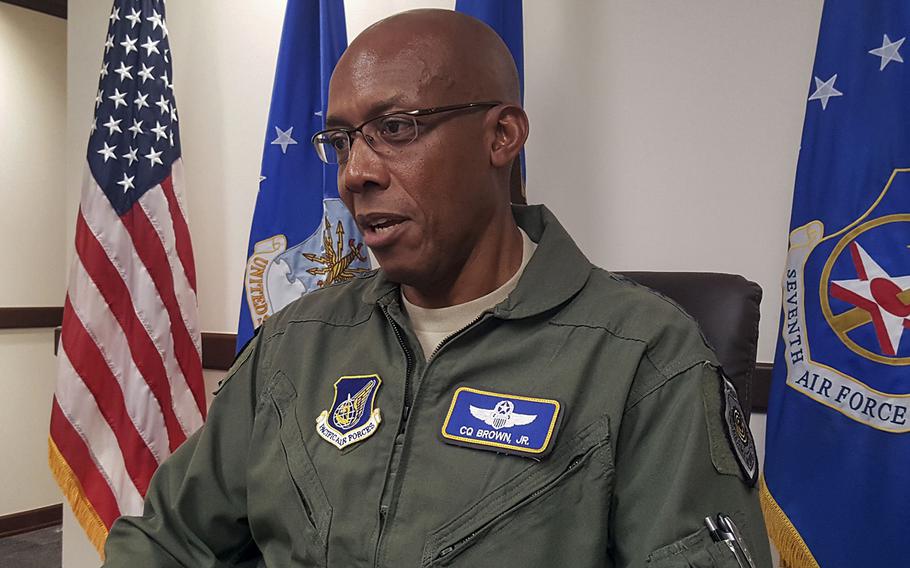 WASHINGTON — Gen. Charles Q. Brown Jr. was nominated Monday to become the next Air Force chief of staff, a selection that would make him the first African American to serve as the top uniformed leader of a U.S. military service.
Brown would replace Gen. David Goldfein, the current Air Force chief of staff, who is expected to retire in the summer. Brown, known as "CQ," now commands U.S. Air Forces Pacific, which is responsible for Air Force operations in the U.S. Indo-Pacific Command area of operations.
Brown is a battle-tested fighter pilot who commanded air forces operating in the Middle East — against the Islamic State in Iraq and Syria — and Afghanistan.
Goldfein tweeted his congratulations to Brown on Monday after his nomination was announced.
"He's led worldwide — in the Pacific, Europe, the Middle East and Africa," the Air Force chief said of Brown. "When it comes to global, operational savvy, there's nobody stronger — one of the finest warriors our [Air Force] has ever produced."
Brown has long been rumored to be among the top candidates to replace Goldfein, who has served as Air Force chief since July 2016. Brown is an F-16 pilot with nearly 3,000 flight hours, including some 130 in combat, according to the Air Force. During his 34 years in the military, he has piloted more than a dozen other aircraft, including bombers, helicopters and Osprey tilt-rotor aircraft, according to his official biography.
Brown is a 1984 graduate of Texas Tech University and was commissioned through the school's ROTC program. He has commanded a fighter squadron, the U.S. Air Force Weapons School, two fighter wings, and served as an adviser to past top Air Force uniformed and civilian leaders. He served as the No. 2 general for U.S. Central Command from July 2016 to July 2018, according to his biography.
If confirmed by the Senate, Brown would become the 22nd Air Force chief. He would also become the first black military service chief. Retired Army Gen. Colin Powell served as chairman of the Joint Chiefs of Staff from 1989 to 1993, but he was never Army chief of staff.
Air Force Secretary Barbara Barrett said Brown's skills would be particularly useful as the Pentagon works to speed up its implementation of the 2018 National Defense Strategy, which places power competition with China and Russia above other national security issues, such as international terrorism emanating from the Middle East and Afghanistan.
"The [Air Force] will be well served by the formidable talents of CQ Brown," Barrett tweeted. "He has unmatched strategic vision [and] operational expertise. His leadership will be instrumental as the service continues to focus on the capabilities [and] talent we need to implement the National Defense Strategy."
dickstein.corey@stripes.com Twitter: @CDicksteinDC
---
---
---
---