GALLERY
On Medal of Honor Day, a nation's military heroes honor courageous civilians
---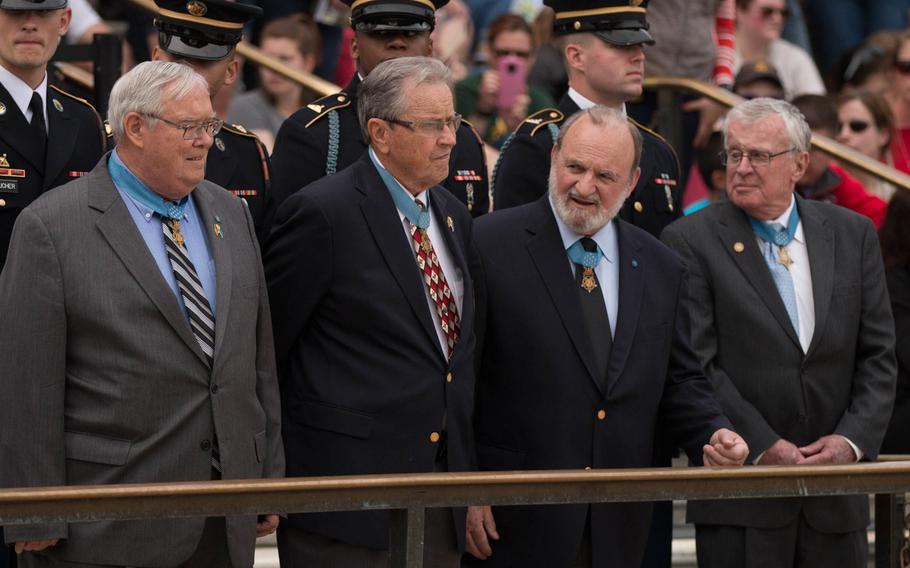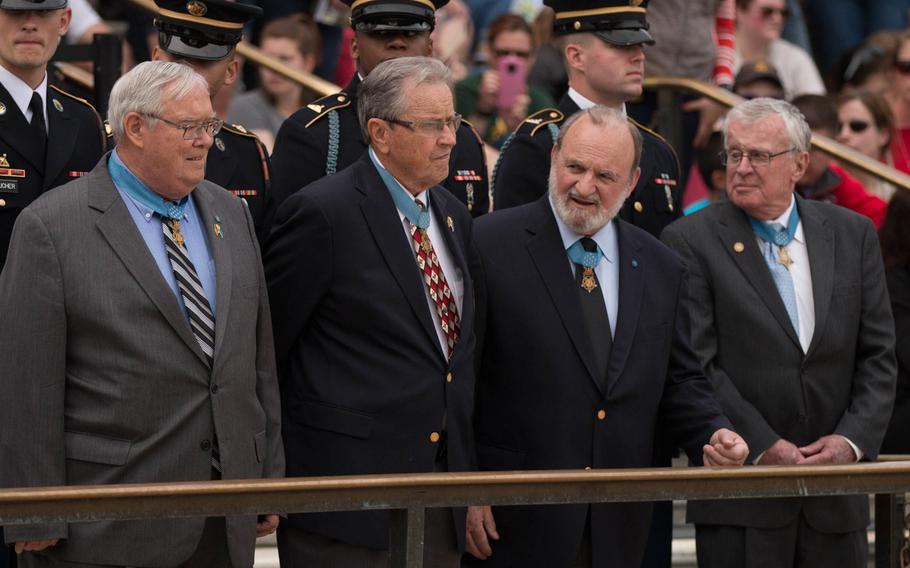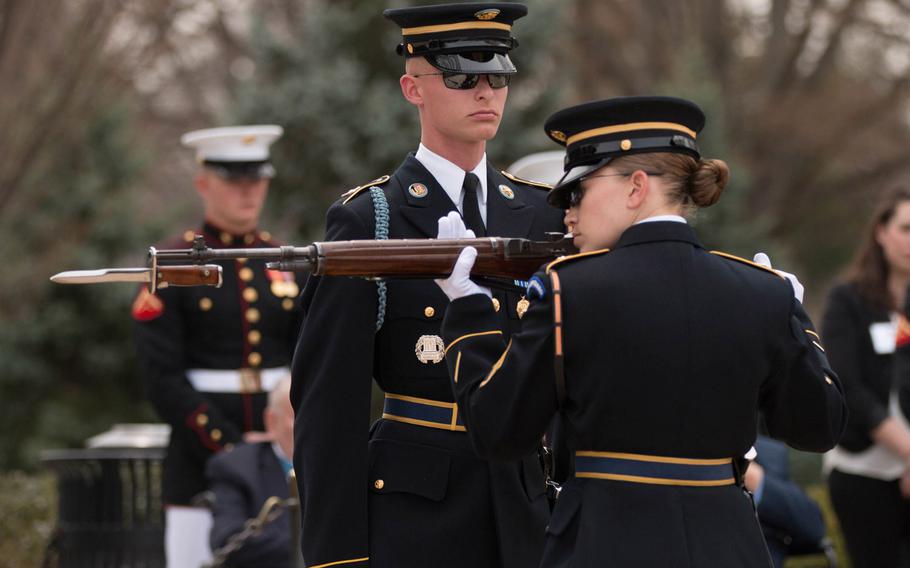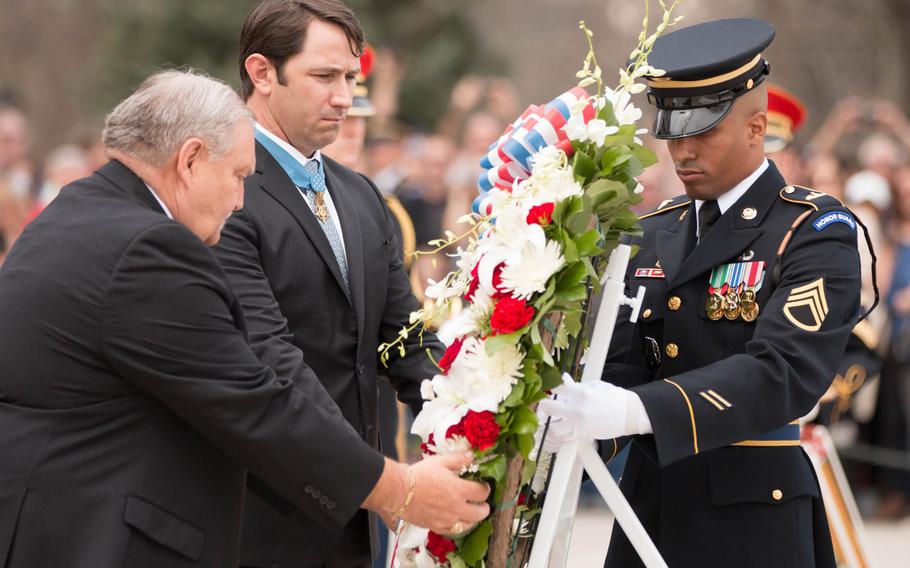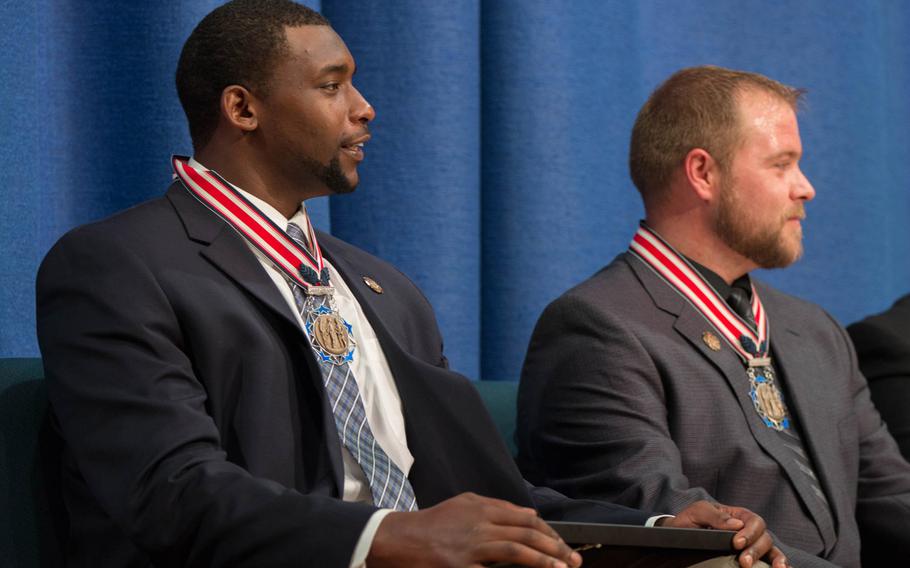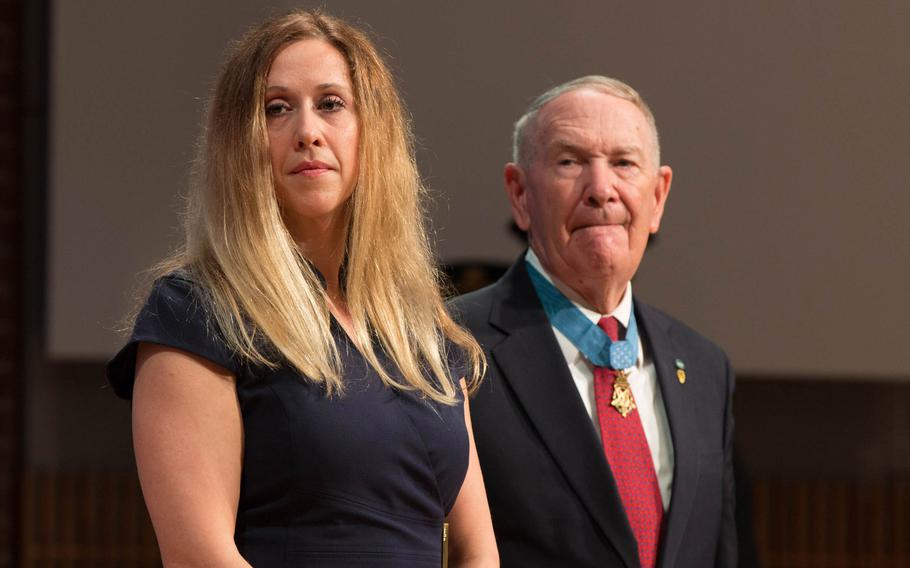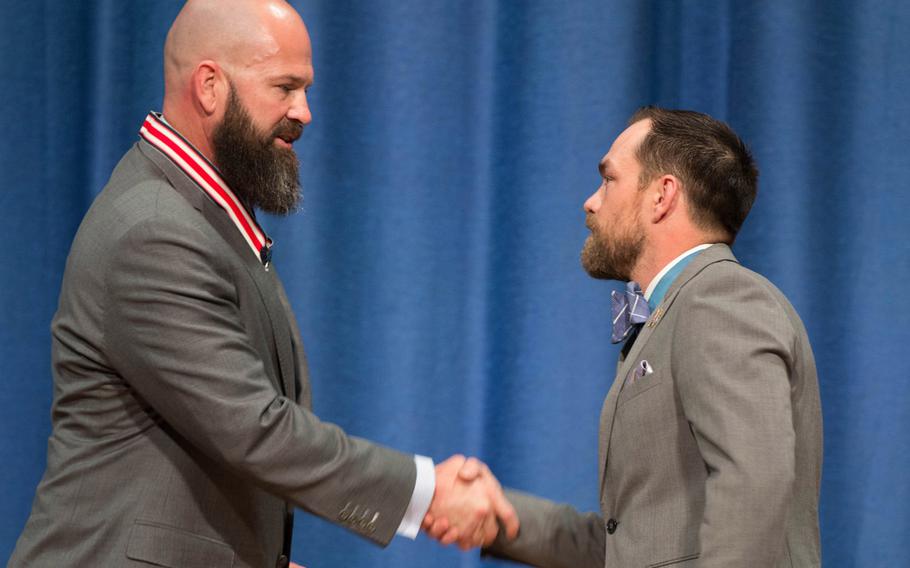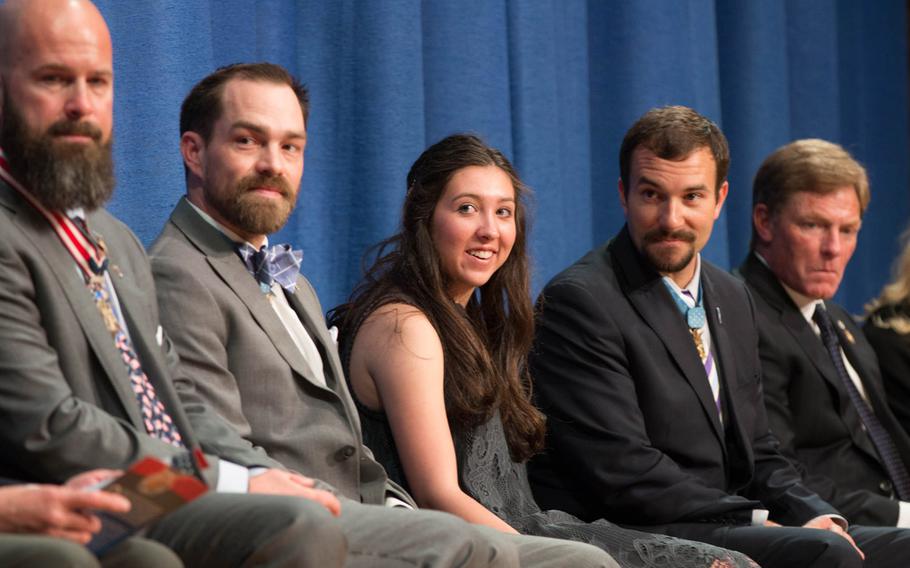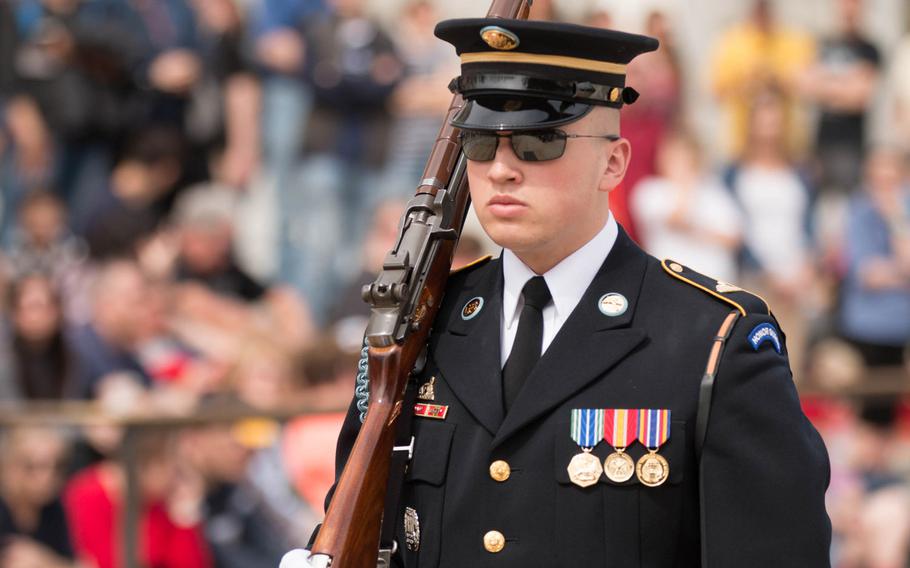 ARLINGTON, Va. – Always a select group, the number of living recipients of the nation's highest military award for valor continues to dwindle. Many of the 75 living Medal of Honor recipients are Vietnam War veterans in their 70s and 80s. Traveling for them isn't as easy as it used to be, so it's a special event, indeed, that can bring so many of them together.
More than 20 of those honorees gathered Saturday in the shadow of the Tomb of the Unknown Soldier at Arlington National Cemetery, where they watched two of their number — Mike Fitzmaurice and Will Swenson — lay a wreath at the base of that famous monument to soldierly sacrifice. They did so in commemoration of National Medal of Honor Day, a day set aside to celebrate heroism.
But to hear them tell it, the men gathered not to be honored, but to instead to pay their respects to men long since passed.
"Going to the Tomb of the Unknown Soldier, to Arlington, [it] is a very spiritual, moving place," said Roger Donlon, the first Medal of Honor recipient from the Vietnam War. "We all reflect about our lives — certainly about our parents, teachers and coaches that raised and taught us. And then we reflect on those that made the ultimate sacrifice."
Those reflections are numerous in Donlon's case. As a captain with the U.S. Army Special Forces Detachment A-726 at Camp Nam Dong, he risked his life time and time again to save the lives of his men during a pitched battle against a determined Viet Cong force in May, 1964. Many men died that day, but many more would have not for Donlon's actions.
Ceremonies like the one held at Arlington on Saturday also take a more personal turn for Donlon, whose wife Norma wears a gold star of her own. Hers isn't for combat valor; rather, it's the gold star of a relative of a fallen servicemember. In this case it represents John Irving, her first husband, a casualty of the same war in which Donlon served.
"When I met her, she was wounded deeply," Donlon said. "I was moved just to care for her and help console her. That turned into a great and lifelong love.
"And that's the bottom line behind all the actions on the battlefield – the mortal battlefield of combat and the other battlefields of life – [that] in my mind, in my heart, were driven by love."
Donlon has turned that selfless nature into continued community service. He's part of the Congressional Medal of Honor Society, the nonprofit organization that was the driving force behind Saturday's remembrance.
After the wreath-laying ceremony, the focus of both the Society and the Medal of Honor recipients turned to honoring men, women and one unique teenager who have served their communities in different ways.
Jacob Ellis, Adam Brunk, Molly Hudgens, Travis Ellis, Katelyn Ibarra and representatives from the Fisher House Foundation – a group that provides housing for military families involved in lengthy medical proceedings – were presented with some of the society's citizens awards.
"Service has never been about camouflage and guns, it's been about giving of yourself to others selflessly," said Salvatore Giunta, who received the Medal of Honor in 2010, making him the first living recipient of the award since the Vietnam War. Giunta has, in the past, helped select the honorees for the Citizens Honors Award.
"They come from all over across the country, they come from all ages, from little kids to older folks," Giunta said. "You see just the spirit of America in their stories."
Stories like those belonging to Hudgens, a school counselor at Sycamore Middle School in Tennessee, who prevented a school shooting by talking down the already-armed student. Or Ellis, who has spent a lifetime working with Shepherd's Men, a nonprofit that combats PTSD and traumatic brain injury. Or Katelyn Ibarra, this year's Youth Hero Award recipient for saving the lives of vehicle accident victims with skills she picked up in the Girl Scouts.
These individuals, along with Ellis and Brunk — who also saved the lives of vehicle accident victims with their quick and decisive action — were singled out on Saturday by some of the military's most celebrated heroes.
"When I look at the recipients of the Congressional Medal of Honor, I see what children should aspire to be," Hudgens said. "Just meeting them, yesterday and then again today .. is an honor that I cannot explain, it's something I'm so grateful for, to be a part of."
---
---
---
---