Obama visits Phoenix VA, set to announce advisory group
by
Heath Druzin
March 13, 2015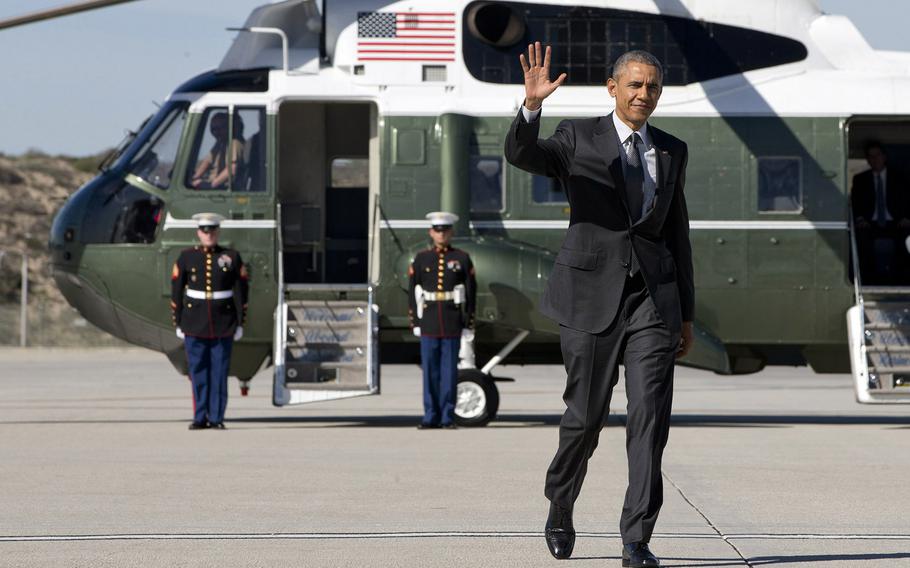 On the day President Barack Obama visited a scandal-ridden Phoenix veterans hospital, a prominent VA whistleblower says "absolutely nothing has changed" in the culture of retaliation that helped fuel a nationwide health care scandal, though she's cautiously optimistic that a new advisory group could lead to improvements.
"The VA has been stuck in its own dogma for a long time and having some fresh eyes on the problems may help," said Dr. Katherine Mitchell, whose revelations about the Phoenix Veterans Affairs Healthcare Center helped uncover systemic problems throughout the VA.
Mitchell, who met with VA Secretary Bob McDonald in Phoenix ahead of Obama's appearance, said she still gets calls every week from VA employees who are frightened to speak out about improprieties for fear of retaliation. She said VA leadership needs to do more than promise whistleblower protections.
"Their talk has not been translated into action," said Mitchell, who has testified to Congress about veterans' health-care problems.
She spoke to Stars and Stripes on Friday, hours before Obama visited the Phoenix VA with McDonald. Both were in Arizona to announce a new advisory group of government and private sector leaders that will focus on how to improve the agency's reform program, dubbed MyVA.
"The success of MyVA will be Veterans who are better served by VA, so the work of this committee is incredibly important," McDonald said in a released statement. "The collective wisdom of our committee members is invaluable and each of them understands that VA must improve customer service and focus the Department on the needs of our Veterans."
Rep. Jeff Miller, chairman of the House Committee on Veterans Affairs, was supportive of Obama's visit but expressed frustration at what he called "bureaucratic bungling" and the lack of a permanent inspector general to investigate the VA.
"Anytime the president devotes his time and personal attention to the issues plaguing the Department of Veterans Affairs, it's a good thing," he said in a released statement. "But I'm concerned the administration's decision to convene an advisory committee composed of outside experts to help improve VA services is a duplicative step that misses the mark."
Sen. John McCain, R-Arizona, was less conciliatory.
"Our veterans community in Arizona has been deeply disappointed by the Obama Administration's slow implementation of the bipartisan VA reform legislation passed last year," he said in a released statement.
The VA has been embroiled in controversy for the past year, since whistleblowers like Mitchell stepped forward to reveal a pattern of deception, retaliation and poor medical care throughout the system, problems that cost former VA Secretary Eric Shinseki his job.
The scandal has only deepened since McDonald replaced Shinseki in July, with fresh reports of over-prescription of opiates and other drugs and new examples of possible retaliation, including an employee at the Phoenix VA who says he was suspended from his job after expressing concerns about the treatment of suicidal patients. McDonald has increasingly been under fire for what some see as not being aggressive enough about firing administrators connected to malfeasance.
Veterans advocacy groups have taken a cautious approach to Obama's visit and advisory group plans.
"The VFW remains hopeful that the VA will right what's wrong, hold employees appropriately accountable for their actions or inactions, and restore the faith that veteran must have in their VA," Veterans of Foreign Wars spokesman Joe Davis said in a statement.
druzin.heath@stripes Twitter: @Druzin_Stripes