Obama: US will send up to 300 military advisers to Iraq
---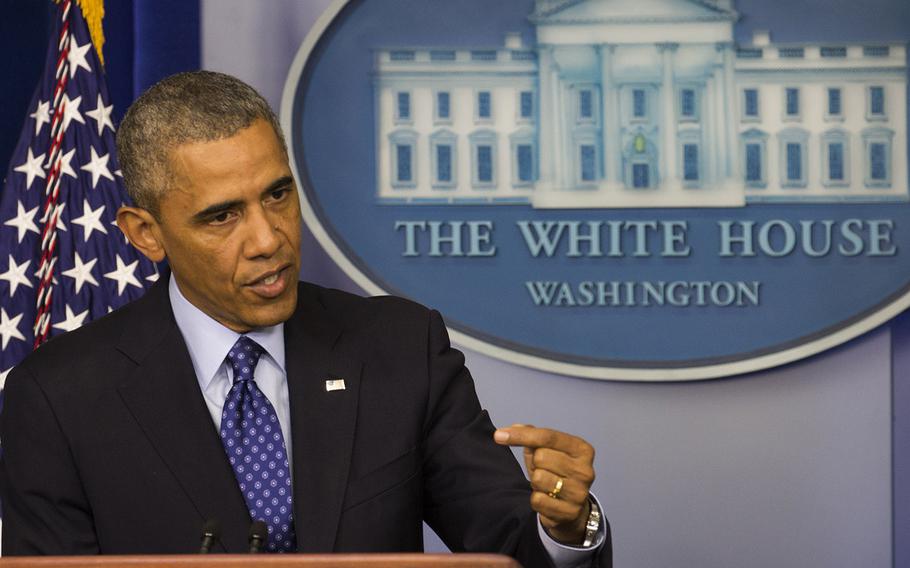 WASHINGTON — More than two years after pulling all U.S. combat troops out of Iraq, President Barack Obama said Thursday said he would send up to 300 military advisers to train Iraqi forces in response to an extremist insurgency that has overrun large swaths of the country.
The president who swept into office on a platform of ending the war also made a promise:
"American forces will not be returning to combat in Iraq," he said. "But we will help Iraqis as they take the fight to terrorists who threaten the Iraqi people, the region and American interests as well."
Obama also said the United States would continue to intensify an intelligence, surveillance and reconnaissance mission that has ramped up considerably in recent days with manned and unmanned surveillance flights crisscrossing Iraq.
And with more robust intelligence about the activities of fighters for the Islamic State in Iraq and the Levant, the U.S. might engage in "targeted and precise" military strikes if necessary, Obama said.
"If we do, I will consult closely with Congress, and leaders in Iraq and in the region," he said.
ISIL has seized major cities in northern Iraq in recent weeks, including the metropolis of Mosul, and sent larger and better-armed Iraqi army forces running. Although the insurgents have slowed in their advance toward Baghdad as resistance from Iraqi forces stiffened, they were battling government forces Thursday for control of the country's largest oil refinery.
Obama previously ordered 275 additional troops to Iraq and the surrounding region to provide embassy security, and deployed the aircraft carrier USS George H.W. Bush and other ships to the Arabian Sea for potential operations.
Obama said that beyond the need to defend Iraq — where more than 4,400 American troops died between 2003 and 2011 — from ISIL's brutal assault, the United States is not taking sides in the region.
"[T]he United States will not pursue military options that support one sect inside of Iraq at the expense of another," he said. "There's no military solution inside of Iraq, certainly not one that is led by the United States. But there is an urgent need for an inclusive political process, a more capable Iraqi security force, and counterterrorism efforts that deny groups like ISIL a safe haven."
Asked if Iraqi Prime Minister Nouri al-Maliki, a Shiite who frequently has been blamed for stoking tensions with the country's Sunni population, is able to lead the entire effectively, Obama said the United States cannot choose Iraq's leaders. But whoever runs Iraq must engage all citizens, he said.
"We've said it publicly that whether he is prime minister, or any other leader aspires to lead the country, that it has to be an agenda in which Sunni, Shia and Kurd all feel that they have the opportunity to advance their interests through the political process," Obama said. "And we've seen over the last two years, actually dating back to 2008, 2009 — but I think worse over the last two years — the sense among Sunnis that their interests were not being served."
Troop presence
Several 12-person teams of military advisers composed of Army Special Forces troops will be the initial "tranche" that enters Iraq, embedding at high-level headquarters and perhaps at brigade headquarters in Baghdad and potentially elsewhere, administration officials who spoke to reporters on the condition of anonymity said following the president's remarks.
Officials would not provide a time line, but said the first groups, who are likely already deployed in the region, would enter Iraq "very soon."
"The mission of these advisers is going to be to assess and to advise Iraq security forces as they confront ISIL, and of course what we believe to be a very complex security situation on the ground," an administration official said. "They're also going to help give us better visibility into that situation on the ground and to provide information and intelligence that we need to make any follow on potential decisions regarding military options inside Iraq."
Officials said the teams would not fight alongside Iraqi troops, but will have the same right to self-defense as all U.S. troops.
Officials also said that because of the size of the potential advisory force, no new status of forces agreement, or SOFA, would be needed to assure U.S. troops immunity from Iraqi prosecution. The withdrawal of U.S. troops in 2011, which some observers say contributed to the current security breakdown, was precipitated by the failure to reach agreement on a SOFA.
But some U.S. troops already stationed in Iraq have immunity through the U.S. Embassy in Baghdad.
"They have the protections necessary for them to be there," an administration official said. "And we are confident that these additional forces would have the necessary protections and authorities to be there, particularly as the Iraqis have requested them."
Obama was wise to commit a small number of U.S. troops rather than default to airstrikes against ISIL, said Anthony Cordesman, a national security analyist at the Center for Strategic and International Studies.
"It gives the United States the kind of direct contact with Iraqi forces that allows them to judge their strengths and weaknesses, and act as a check on sectarian abuses, as well as help funnel U.S. aid to the units that will use it against ISIL and other extremist forces, rather than encourage sectarian attacks and civil war," he said in a written statement. "It keeps up the right kind of pressure on Maliki and any successor, and still helps Iraq deal with an all-too-real threat of extremism."
Such a small commitment may be appropriately cautious, given previous misadventures in Iraq, but it also may not be very effective, said Gordon Adams, a Professor of International Relations, American University.
"300 US advisers will not be able to quickly turn around an Iraqi military that has folded like a cheap suit," he wrote in an emailed statement.
House Armed Services Committee Chairman Buck McKeon, R-Calif., said Obama has let Iraq fester since U.S. troops withdrew in 2011, saying, "Any course the President chooses involves risk. In many ways that is the cost of years of disengagement, and this half-step won't mitigate it."
Sens, John McCain, R-Ariz., and Lindsay Graham, R-S.C., said they welcomed Obama's decision to send advisers, but said more help is needed. Obama needs to drop his insistence on an inclusive political process for now, they wrote in a joint statement.
"[A] key lesson of recent history in Iraq is that it is extremely difficult for Iraqis to make political progress when the security situation is deteriorating rapidly, as it is currently," they wrote. "ISIS is on the march. Radical Shia militias are gathering strength. Iraq's Security Forces are struggling and, in places, failing. The country is descending into sectarian conflict. And Iraq's dependence on Iran is deepening."
carroll.chris@stripes.com Twitter: @chriscarroll_
---
---
---
---