Obama at Pentagon: US must do more to counter Islamic State online recruiting
---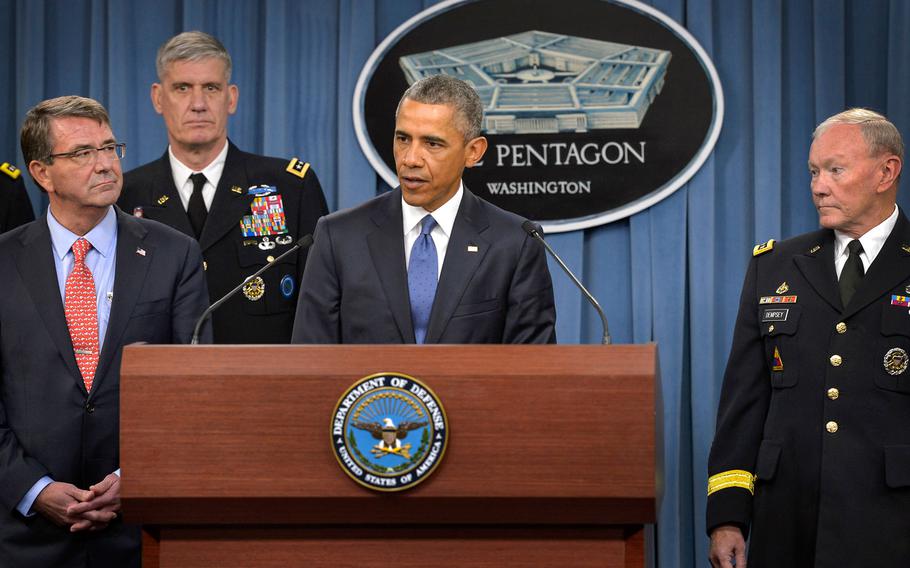 WASHINGTON — Following a rare visit to the Pentagon to meet with his top military advisers, President Barack Obama said Monday the U.S. must do more to combat the Islamic State's successful online recruiting campaign and said there are no plans to send more American troops to Iraq.
Flanked by Secretary of Defense Ash Carter and Chairman of the Joint Chiefs of Staff Gen. Martin Dempsey, Obama reiterated the U.S. commitment to fighting the extremist group that controls large swaths of Iraq and Syria. But he stopped short of saying the roughly 3,500 American troops in Iraq would expand their role beyond the base walls. He stressed the importance of local militia fighters, whom the U.S. is training and arming.
"When we've had an effective partner on the ground, ISIL can be pushed back," he said, using an acronym for the Islamic State.
While Obama said there are no current plans to send more troops to Iraq, he left the door open to increases, saying he would do "what's necessary to protect the homeland."
Noting lone-wolf attacks around the world, including a gunman who killed dozens of people on a Tunisian beach on June 26, Obama said, "we're going to have to pick up our game" to counter Islamic State online recruiting and propaganda.
"Ideologies are not defeated by guns, they are defeated by better ideas," he said. He said Americans must be vigilant about combating extremism without targeting Muslims simply because of their religion.
"The threat of violent extremism is not restricted to any one community," he said.
Those also attending the Pentagon meeting included the combatant commanders of regions most directly threatened by the Islamic State — Gen. David Rodriguez of the U.S. Africa Command and Gen. Lloyd Austin of the U.S. Central Command.
Monday's meeting came after a weekend of airstrikes in Syria and Iraq aimed at Islamic State fighters. In Syria, the U.S.-led military coalition launched 26 airstrikes centered on an area in the north where Kurdish fighters have been making gains against the Islamic State, including 18 in and around the Islamic State's self-proclaimed capital, Raqqa.
The Pentagon also reported a dozen strikes across northern Iraq, where the Iraqi army and militiamen, backed by U.S. advisers and airpower, are having a difficult time rooting out Islamic State militants.
There were reports from both Islamic State supporters and anti-IS groups that civilians had been killed in some of the Syria strikes.
On Monday, Obama noted that the anti-Islamic State military coalition has launched more than 5,000 airstrikes in Iraq and Syria and warned that the U.S. is in a "long-term campaign." "ISIL is opportunistic and it is nimble," he said. "In many places in Syria and Iraq it's dug in among innocent civilian populations."
Perhaps buoyed by recent reports that the regime of Syrian President Bashar al-Assad was losing ground, Obama also said any negotiated settlement to that country's brutal civil war must have a political transition that does not include Assad, an outcome that just a few weeks ago seemed unlikely.
druzin.heath@stripes.com Twitter: @Druzin_Stripes
---
---
---
---