No more funding for Afghanistan in DOD budget as White House mulls sending extra troops
by
Corey Dickstein
May 23, 2017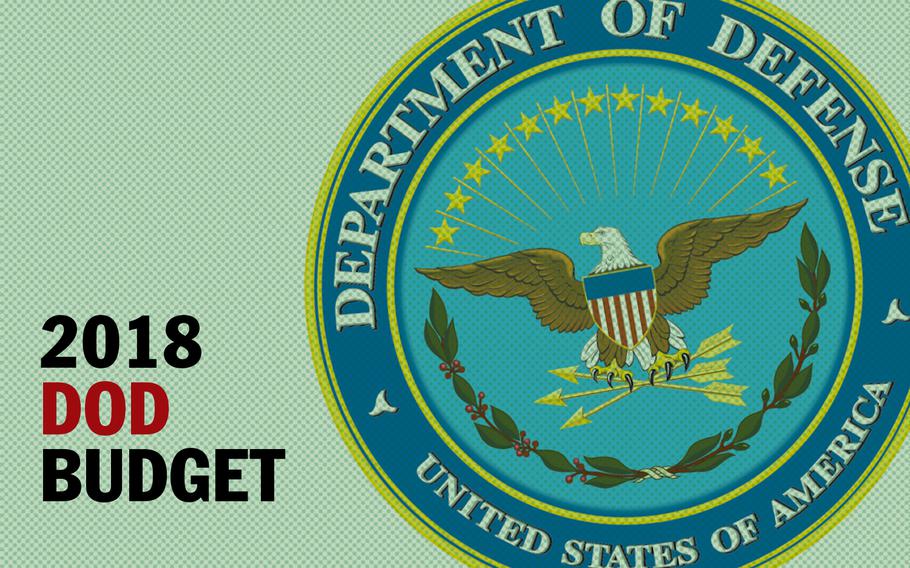 WASHINGTON — A group of lawmakers called for halting American funding for the war in Afghanistan, a day after President Donald Trump unveiled a Pentagon budget proposal that included no money for the additional U.S. troops that the White House might send there.
Trump's $639.1 billion Pentagon budget proposal was unveiled Tuesday and calls for a pay raise for troops and a modest increase to the size of the active-duty force. However, the spending plan lacks funding for an expanded role in Afghanistan that top U.S. officials are considering.
The proposal, Trump's first Pentagon budget, includes spending $574.5 billion to increase the sizes of the active Air Force and Navy each by about 4,000 troops and hike servicemembers' base pay by 2.1 percent. The Defense Department's separate $64.6 billion wartime spending account, known as Overseas Contingence Operations fund, would increase funding for operations to deter Russian aggression in Eastern Europe, but it would not provide additional money for either the counter-Islamic State campaign in Iraq and Syria nor for the 16-year war in Afghanistan.
Yet, the Pentagon and White House are considering plans that could add up to 5,000 U.S. troops to its force of 8,400 in Afghanistan now to bolster the NATO-led train, advise and assist mission for Afghan forces. That decision could come at any time, as Trump meets this week with leaders from other NATO nations at the alliance's headquarters in Brussels.
"Once those plans are approved, we'll have to take a look at this and reassess what the resource requirements might have to be," said John Roth, who is performing the duties of Pentagon comptroller.
But if a bipartisan group of lawmakers in Congress have their way, the Pentagon will not receive any additional funding to pay for an increase in American military operations there -- at least not until the merits of America's longest-ever war is debated on a national stage.
"My frustration and that of my colleagues is that we have not had a debate on a new [war authorization law] for Afghanistan for 16 years," Rep. Walter Jones, R-N.C., told Stars and Stripes on Wednesday ahead of a Capitol Hill news conference later in the day alongside Rep. John Garamendi, D-Calif. "After 16 years, we need to have a new debate on Afghanistan. Three hundred members of Congress right now were not here in 2001."
Jones and Garamendi introduced legislation in March that would halt all funding for U.S. military operations in Afghanistan, effectively ending within a year the American war effort there, which Jones said has "no endpoint."
"What are we trying to accomplish there? I've had Marines as recently as two Saturdays ago tell me they've been to Afghanistan five, six times and nothing's changed," said Jones, who represents areas that include Camp Lejeune. "I am sick and tired of the waste in Afghanistan that could be used back home to help the sick and the tired."
Key Republicans unimpressedJones was joined by other lawmakers in criticizing the Trump administration's first budget request, which if approved by Congress would take effect Oct. 1.
Despite campaign trail rhetoric calling for a dramatic boost to defense spending to fund, among other things, a much larger, more modern military, Trump's Pentagon budget fell short, according to some key lawmakers including the Republican chairmen of the Senate and House armed services committees.
The request, which includes a $52.4 billion boost over President Barack Obama's final Defense Department funding request last year, was described as an "Obama approach" by Rep. Mac Thornberry, R-Texas, the chairman of the House committee. His counterpart, Sen. John McCain, R-Ariz., called the request "inadequate" and "dead on arrival."
"After years of budget cuts amid growing threats around the world, this budget request fails to provide the necessary resources to restore military readiness, rebuild military capacity, and renew our military advantage with investments in modern capabilities," McCain said in a statement.
The Pentagon proposal only intends to begin Trump's vow to rebuild military readiness eroded by 16 years of continuous war, Roth told reports Tuesday at the Pentagon.
"We're asking for a pretty significant increase," he said, noting the request would require an elimination or adjustment of defense spending caps instituted by the Budget Control Act of 2011. "And we're not done… We're not going to solve the readiness problem in one year."
Future Pentagon budgets, beginning with the Fiscal Year 2019 request, will be built around the ongoing review of the National Defense Strategy and would likely ask for more money for boosting the size of the military and modernizing its equipment, Roth said.
More troops, pay raises, planes and shipsThe Fiscal Year 2018 budget request aims to increase the active military by about 8,000 troops. That includes an increase of 4,000 sailors to an active Navy of 327,900 and an increase of 4,000 airmen to an active Air Force of 325,100. The active Army would remain at 476,000 and the Marines would retain 185,000 on active duty.
Under Obama, the Pentagon had been cutting the size of the active-duty force, with plans for it to fall to roughly 1.25 million troops by 2018. Trump's budget calls for nearly 1.3 million active servicemembers. The plan would also add about 1,900 reservists – 1,000 Navy reservists and 900 Air National Guardsmen.
Under Trump's request, servicemembers would receive a 2.1 percent increase in military base pay, which would be the same pay boost they received last year. But that represents a smaller raise than the 2.4 percent increase mandated by current law, which requires the Pentagon provide troops pay raises equal to annual increase in private sector wages and salaries as measured by the Bureau of Labor Statistics Employment Cost Index.
Military Officers Association of America criticized the small pay raise in a statement Tuesday. Retired Air Force Lt. Gen. Dana Atkins, the organization's president and CEO, said the modest proposed pay hike threatens the military's ability to retain strong servicemembers.
"We're disappointed this request proposes another year of capping military pay raises below the average American's," she said.
The budget also seeks to add 70 F-35 Lightning II Joint Strike Fighters and 14 F/A-18E/F Super Hornet fighters. The Navy would add eight ships, including two Virginia class submarines, two Arleigh Burke-class guided missile destroyers, one Ford-class aircraft carrier and one Littoral Combat Ship. The budget includes $2 billion for research and development of the Air Force's B-21 Raider long-range bomber.
Overseas operationsAs with Afghanistan, which would receive $45.9 billion for operations under the budget proposal, the Overseas Contingence Operations budget would remain steady for the ISIS fight at $13 billion for operations in Iraq and Syria.
But the OCO proposal would include a boost to the Pentagon's European Reassurance Initiative, its operations in Eastern Europe designed to deter Russian aggression in the region.
The proposal includes $4.8 billion for the initiative, which would allow the United States to deploy more troops to the region, increase the amount of equipment – including tanks and armored personnel carriers – stockpiled there, and fund more military exercises with other NATO nations.
The Pentagon's budget called for a new round of base closures in 2021, which was often sought by Obama's administration but never granted by Congress.
Army Lt. Gen. Anthony R. Ierardi, director for force structure, resources and assessment for the Joint Chiefs of Staff, estimated the Defense Department could save some $2 billion per year by eliminating about 20 percent of its infrastructure.
"We will be pushing that pretty hard," he said.
Mick Mulvaney, director of the White House Office of Management and Budget, will testify Thursday to lawmakers about Trump's overall budget proposal for the federal government. Defense Secretary Jim Mattis and Marine Gen. Joseph Dunford, the chairman of the Joint Chiefs of Staff, are expected to appear on Capitol Hill next month to defend the Pentagon's budget.
Roth, the acting Pentagon comptroller, defended the budget proposal, saying lawmakers should seriously consider it before dismissing the spending plan.
"I think we've made our case … and have laid out the concerns of the erosion of readiness that exists today," he said. "I think there is some recognition on The Hill that there is a mismatch between what we're being asked to do and the resources that have been made available in order to do what we're being asked to do."
dickstein.corey@stripes.com Twitter: @CDicksteinDC