Nearly 75 percent of grounded Air Force C-130s have returned to the air
by
Corey Dickstein
August 14, 2019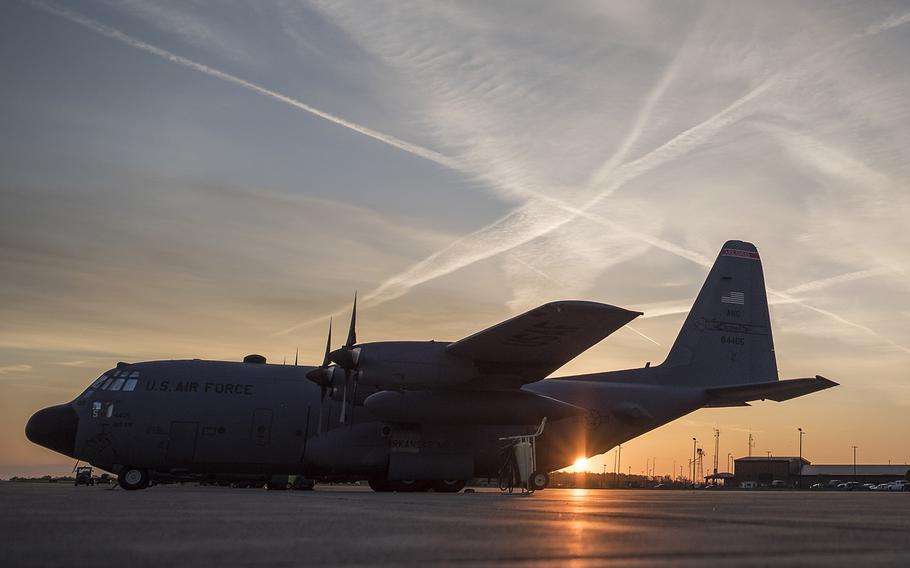 WASHINGTON – The Air Force has resumed flights of almost three-quarters of the transport planes that the service grounded last week after maintainers discovered unusual cracks in the wing joints of an Air National Guard C-130 Hercules aircraft, an Air Mobility Command spokeswoman said Wednesday.
Ninety-one of the 123 Air Force C-130 H- and J-model aircraft grounded for inspections were returned to service by Tuesday following thorough examinations of those aircraft, said Rose Riley, the spokeswoman for the command, which provides logistics, transport and air refueling for the military.
So far, one C-130 was found to have a similar crack during the inspections "and appropriate measures are being taken to address and repair it," Riley said. The Air Force had previously said any aircraft found to have the atypical cracks would be sent to an Air Force depot for refitting of the joints.
The Air Force still had 31 aircraft waiting to be inspected as of Wednesday. Those inspections, which take about eight hours each, are being conducted at the locations where the C-130s were when Air Force Gen. Maryanne Miller, the AMC chief, ordered the grounding Aug. 7.
Riley said the stand down has had minimal, if any, impacts on overseas operations in areas such as Iraq or Afghanistan.
"The Air Force prioritized repairs to aircraft supporting overseas contingency operations to eliminate any potential impacts," she wrote in an email. "Tremendous progress is being made to inspect all remaining affected aircraft and we continue to safely support operations around the world."
Miller ordered the stand down after maintenance crew at Robins Air Force Base in Georgia discovered the cracks on the lower center wing joint – known as a rainbow fitting – during depot maintenance of an Air National Guard C-130H. The upper and lower rainbow fittings connect the outer wings with the center wing box, which sits over the fuselage on a C-130.
The stand down included roughly 25% of the service's about 450 C-130 aircraft. Miller's order called for all H- and J-model C-130s to be inspected if they had not yet received upgraded center wing boxes and had flown at least 15,000 hours, according to AMC.
The Air Force began replacing center wing boxes on its C-130s in 2006 after maintainers discovered cracks were occurring in the part earlier than expected. That program was intended to ensure the service's C-130 fleet could fly through at least 2030, according to the Air Force.
dickstein.corey@stripes.com Twitter @CDicksteinDC