Nearly $1.5 billion for National Guard funding in coronavirus relief bill
---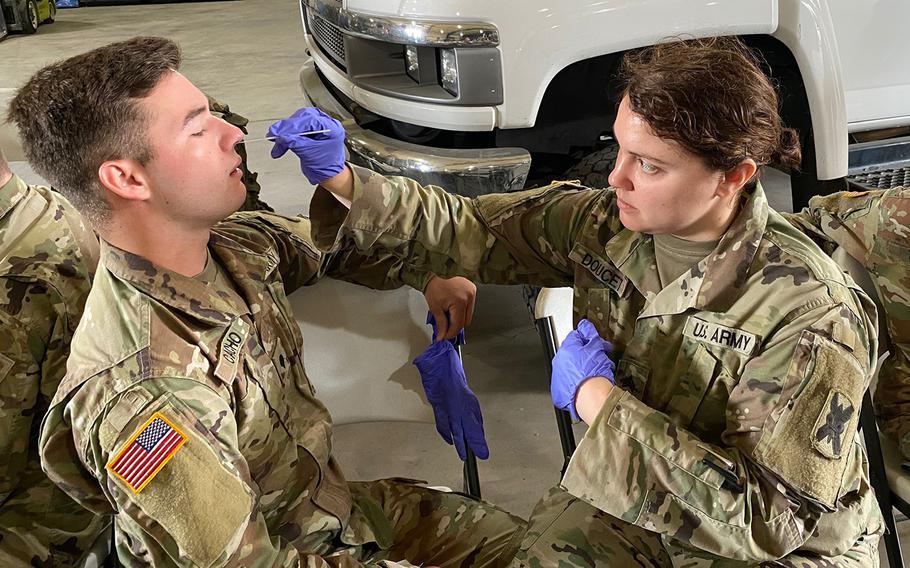 Stars and Stripes is making stories on the coronavirus pandemic available free of charge. See other free reports here. Sign up for our daily coronavirus newsletter here. Please support our journalism with a subscription.
The more than 12,300 National Guard members now working in their states to help combat the coronavirus pandemic could soon be eligible for federal funding through the $2.2 trillion coronavirus relief bill signed into law Friday by President Donald Trump.
With about $10.5 billion designated for the Defense Department, roughly $1.5 billion is directed to support National Guard deployments, which has increased by about 1,000 troops a day for the past week. The federal money is enough to fund about 20,000 troops from the Army and Air National Guard for up to six months, said John Goheen, spokesman for the National Guard Association, a service advocacy group.
Outside of funding, the relief package also allows National Guard Bureau leaders to remain in their positions after their four-year term has expired.
"The Guard has done some pretty incredible things," Goheen said of troops' work during the past two weeks as the number of Americans infected with coronavirus has grown to more than 100,000 — the most cases of any other nation.
Working in all 50 states, three U.S. territories and Washington, D.C., Guard troops have supported coronavirus screening and testing sites, helped feed people, provided crowd control in hospitals, transported medical supplies and personnel, and filled gaps in the supply chain to get grocery stores stocked faster.
"The governors turned to the Guard, because we're there and they can," Goheen said. "This is part of our mission and it's frustrating when [Defense Secretary Mark Esper] says the military is the last place to look and should be the last resort. We in the Guard don't see it that way. We have the capability of helping, so we should help."
However, even with the new Guard funding, it does not guarantee that the troops will immediately move from state active-duty status into a federal status known as Title 32, which governors, lawmakers and Guard officials have been asking Trump and the Pentagon to approve this week.
Title 32 provides federal funding for troops but keeps them under the control of the state's governor. The status also allows Guard members access to a variety of benefits that they are not eligible for on state active-duty status, including civilian employment protections, Tricare medical coverage, military hospital facilities, federal worker's compensation, a death gratuity, GI Bill accrual and retirement credit for service.
For now, all but three states — New York, California and Washington —are funding Guard troops responding to the pandemic. On Sunday, New York, California and Washington were granted Title 32 status.
At least seven other states have asked for the status, Goheen said.
"If a guardsman in a purely state status gets in an accident or is infected by the virus, he or she would be turned away from the military medical system, despite wearing an Army or Air Force uniform in service to their fellow citizens," retired Brig. Gen. J. Roy Robinson, the National Guard Association president, said in a statement on what he sees as a reluctance from the Pentagon to approve these requests. "They say they're concerned that the Federal Emergency Management Agency won't reimburse the Defense Department in a timely manner. I wonder if FEMA Administrator Peter Gaynor has heard this."
Last week, the Illinois congressional delegation sent a letter to Esper asking for the Title 32 status to be approved for all Guard members. On Friday, Democratic Sen. Elizabeth Warren led the Massachusetts congressional delegation in a plea to the president. Massachusetts Gov. Charlie Baker is among the people asking for additional Guard funding and resources, and Warren's letter to Trump asks for quick approval of Baker's request, which was sent to Esper on Monday.
"The governor is requesting this authority and funding for the Massachusetts National Guard as they work to respond to incidents related to the preservation of life and property in connection with [coronavirus]," Warren wrote. "State-active duty is inappropriate for a long-term response to a national emergency such as the one we currently face because these orders are fully funded by the state and do not allow full access to federal benefits."
Sen. Tammy Duckworth, D-Ill., sent a similar letter to Trump on Tuesday.
Robinson said Pentagon officials should be making plans for National Guard federal funding coming to them in the coronavirus relief package.
"No more excuses. It's time for them to recognize that the response to the outbreak is homeland defense," he said.
thayer.rose@stripes.com Twitter: @Rose_Lori
---
---
---
---