Navy to trade new technology for old to help avoid ship collisions
by
Scott Wyland
August 12, 2019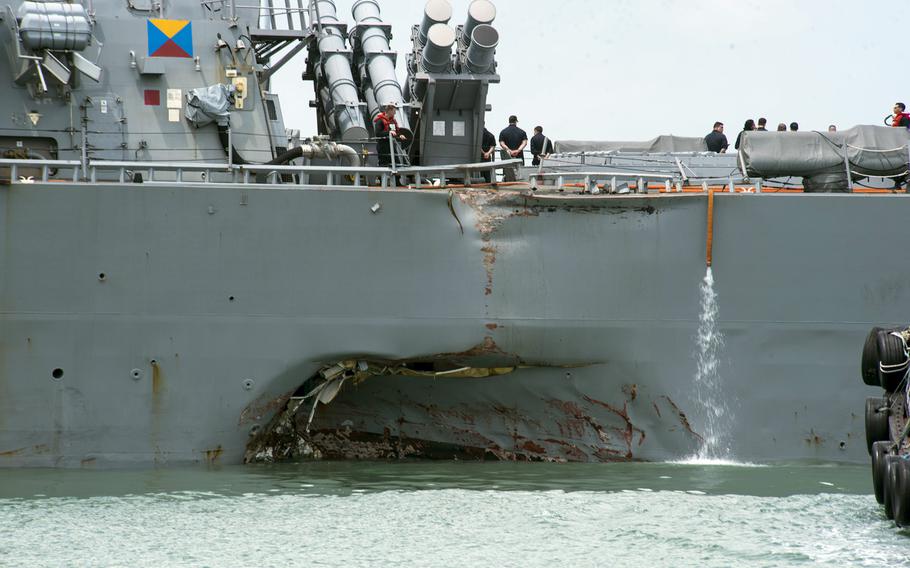 The Navy is replacing touch-screen throttles and helms on destroyers with hand-held ones after determining that the state-of-the-art controls caused confusion that contributed to the USS John S. McCain's deadly collision in 2017.
Steering and speed controls will revert to manual versions in the next two years on destroyers equipped with the Integrated Bridge and Navigation Systems, according to USNI News.
It's part of a push by the Navy to overhaul bridges in every class to help avoid accidents like the McCain's and USS Fitzgerald's, which together killed 17 sailors. Sailors stated in surveys after the collisions that they preferred the older, hand-held controls to steer and adjust speed, USNI News said.
One Navy leader appeared to agree that newer technology isn't always better.
Electronic throttles and helms fall in the "just because you can doesn't mean you should category," Vice Adm. William Galinis, head of surface-ship construction, was quoted by USNI News as saying at an industry conference in San Diego last week.
The first destroyer scheduled to undergo the change will be the USS Ramage in the summer of 2020, Navy Sea Systems Command said
Unfamiliar electronic controls were just one factor when the McCain collided with a tanker in the Singapore Strait.
Some sailors were poorly trained and unfamiliar with the equipment, the bridge crew had averaged less than five hours of rest in the 24 hours leading up to the collision, and there was a lack of coordination between the commander, deck officers and crew members, a National Transportation Safety Board report said.
An officer's unorthodox request to operate the helms and throttles separately also caused confusion, the NTSB report said.
Sailors increased speed on one side of the destroyer rather than both sides, causing it to veer sharply into the path of the commercial vessel that struck it.
Had the sailors had manual controls instead of touch screens, they would have detected problems immediately and been less likely to conflict with each other, it said.
Switching to manual controls will be fairly straightforward, Galinis told USNI News.
"We're already in the contracting process, and it's going to come on almost as a kit that's relatively easy to install," Galinis said.
wyland.scott@stripes.com Twitter: @wylandstripes