Navy to fill shortage of chiefs at sea by shifting away from shore billets
by
Wyatt Olson
August 8, 2017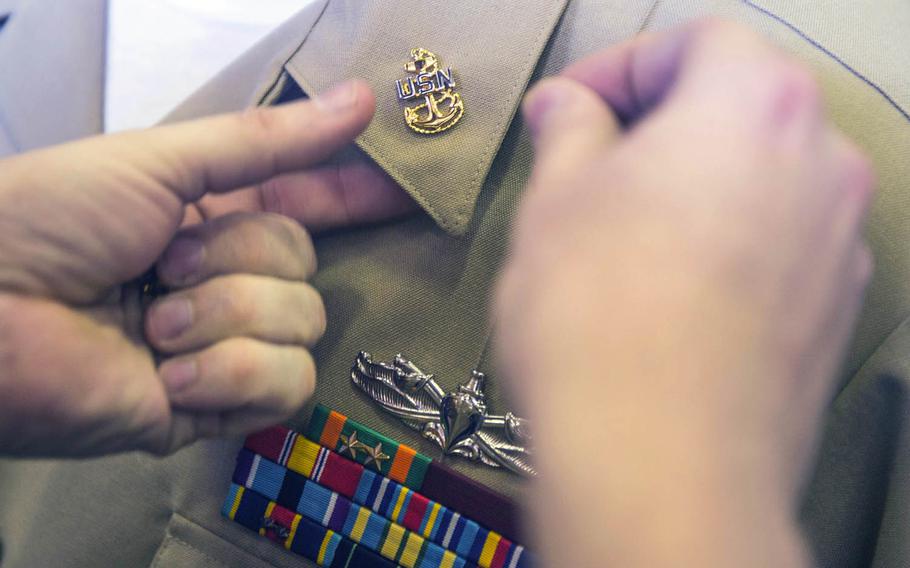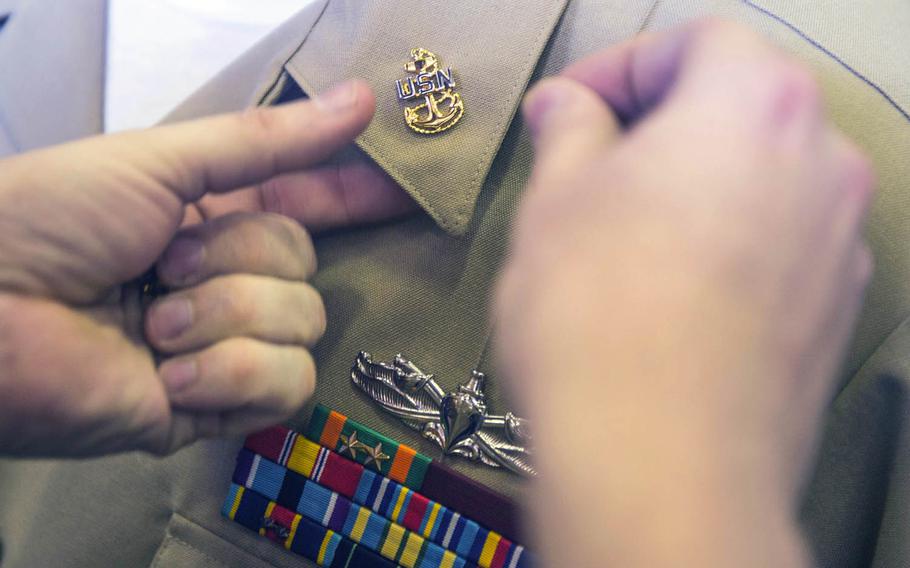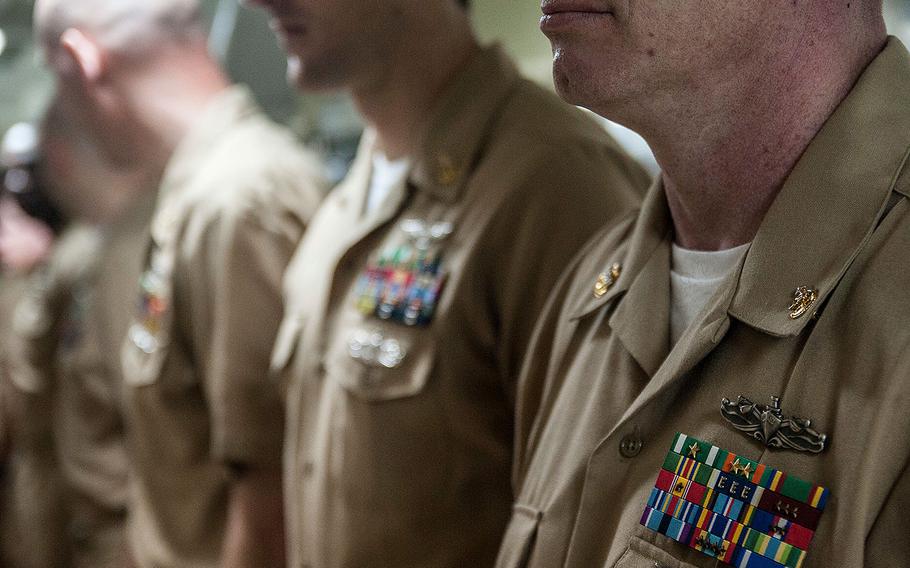 The Navy announced Monday it will begin shifting more than 1,100 senior enlisted sailors from certain shore billets to fill about 3,000 "gaps" in operations at sea.
"Our number-one priority is to keep the Fleet properly manned," Vice Adm. Robert Burke, chief of Naval Personnel, said in a statement. "We are aggressively using all force-shaping levers to do just that."
Twenty-five ratings are now overmanned ashore, and more than 1,100 senior enlisted supervisors in grades E-7 through E-9 could potentially be transferred to operational units over the next several months, the Navy said.
This is the latest in a series of policy changes this year designed to bolster enlisted sea-duty manning, previously focusing on grades E-1 through E-6.
The lopsided manning ashore arose largely from "strict adherence to sea-shore-flow and sea-shore-rotation rules, regardless of when an individual is selected for chief petty officer," the Navy said.
The revised rules will more closely resemble officer career paths, it added.
Flow and rotation will be a secondary consideration to fleet manning requirements, the Navy said.
"So you wouldn't be guaranteed three years at shore, five years at sea, three years at shore, five years at sea," Lt. Cmdr. Nate Christensen, a Navy spokesman, offered as an example.
"This is not the end of sea-shore flow," he said. "I want to be clear about that. We need leaders at sea, and if there are billets that are gapped at sea, then we're going to try to do everything within our power to minimize those gaps. So if every single gap at sea is filled, are we going to rotate people to sea? I just can't say we're going to do that because it's case-by-case dependent."
Overall, the Navy has about 7,500 gaps at sea, and the new rule is intended to begin filling the roughly 3,000 gaps at the E-7 through E-9 levels, he said.
Newly selected chiefs "should expect assignment to sea and operational billets as the new norm," the Navy said.
Chiefs at all three levels will be considered for reassignment if they are assigned to unfunded billets where there are too many supervisor billets, or to a billet of a lower pay grade, the Navy said.
The Navy's plan for longer sea time for chiefs got a cool welcome from the president of the National Chief Petty Officers Association.
"It's not going to help the Navy in their retention program," said Robert McCauley. "That's the bottom line."
A retired master chief petty officer who spent 40 years in the Navy, McCauley recalled the past when the Navy farmed out "non-military billets" to civilians and contractors, which left fewer places for sailors to spend shore rotations.
"So now they're going further and saying they're going to let them stay at sea even longer?" he said. "That doesn't enhance people's desire to stay in the Navy."
"To be sure, some will not love this new policy," Fleet Master Chief Russell Smith said in an opinion column published in Monday's Navy Times.
"When selected for chief, senior chief and master chief, we are reminded that we have not been selected as a reward for our achievements, but identified as having the tools and the talent to take our craft to the next level," he wrote.
Asked if the so-called redistribution policy would lead to double sea duty for some, Christensen said, "I think it's completely individual.
"The idea is to go away from strict adherence to sea-shore flow so if what you're saying is in sea-to-shore-to-sea, would we skip the shore? I don't have a good answer for that question because I think it depends on the individual. It depends on the rating. It depends on considerations for reassignment."
For example, "sea-going" ratings will be more likely to live up to their name, he said.
"If you're a boatswain's mate, odds are you're going to spend a lot more time at sea than if you are, say, a mass communications specialist," he said. "Odds are that they will notionally be spending more time at sea."
olson.wyatt@stripes.com Twitter: @WyattWOlson