Navy scraps instructor-led college at sea program as demand falls, costs rise
by
Joshua Karsten
October 1, 2019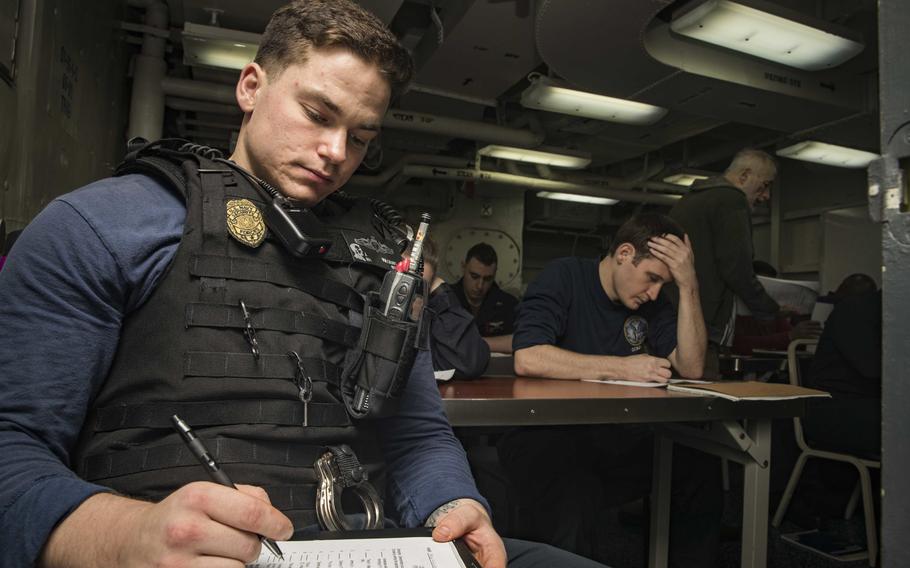 MANAMA, Bahrain — A Navy program that allowed sailors to take college courses while at sea is being shuttered, and the funds saved by the move are being transferred to a tuition assistance program that will benefit more sailors, Navy officials said Monday.
The decision to ax the Navy College Program for Afloat College Education - Instructor Led program, or NPACE IL, was made because of the high cost of running the program and the steady decline in enrollment over the years, officials said.
"NCPACE IL was resource-intensive with administrative costs exceeding one-third of the overall program expenses ($1.3 million annually), regardless of enrollment numbers," Lt. Cmdr. James Stockman, spokesman for Naval Education and Training Command, said in an email.
In addition to the instructor-led program requiring "intensive administrative oversight," having high program costs, and only attracting a relatively small number of sailors, it had generated "no interest from higher education institutions when the supporting contract came up for renewal this year," Ernest D'Antonio, director of Navy Voluntary Education, said in a statement.
The roughly $2 million that will be saved annually by closing instructor-led NCPACE will be redirected to tuition assistance, where the funds will benefit more sailors, both men said.
Enrollment has declined from 5,587 sailors in 2010 to only 1,491 in 2018, Stockman said. In just the past year, 80% of sailors chose online and distance education programs over the traditional classroom courses provided by NCPACE IL.
"We recognize that sailors are interested in pursuing advanced degrees, and we support their ability to further their personal educational goals," D'Antonio said. "This change ensures funding remains available to the greatest number of sailors."
But the NCPACE program is not going away completely, Stockman said. The program will be transitioned to a virtual model, to accommodate demand among sailors for online and distance-learning courses, he said.
karsten.joshua@stripes.com Twitter: @joshua_karsten
---
---
---
---