Navy relieves attack sub executive officer, investigates his personal conduct
by
Wyatt Olson
August 21, 2019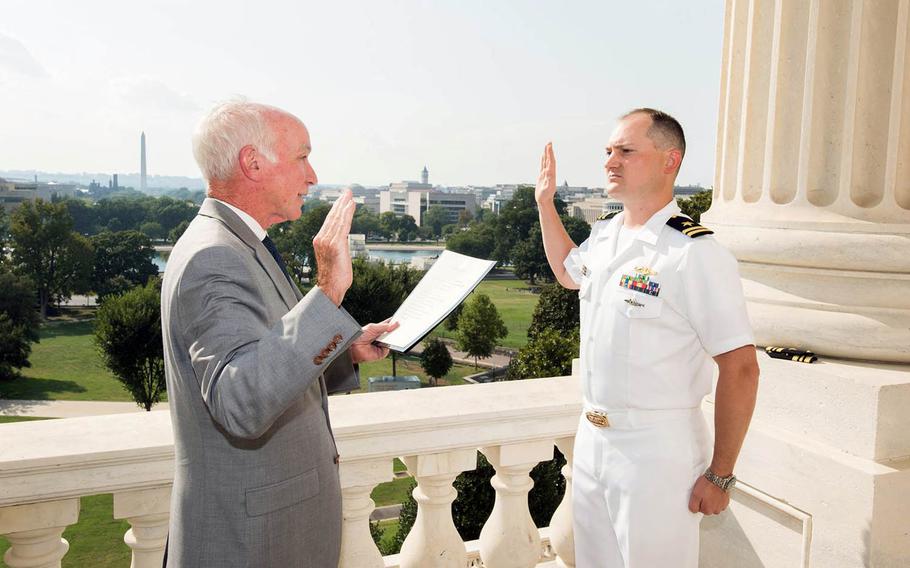 The executive officer of the attack submarine USS Jimmy Carter was relieved Monday due to loss of confidence in his personal judgment, the Navy said Tuesday.
Lt. Cmdr. Jonathan Cebik has been administratively reassigned to Submarine Development Squadron 5, the Navy said in a statement.
"The Navy is investigating questions that have arisen with respect to Lt. Cmdr. Cebik's personal conduct," Cmdr. Cindy Fields, a Navy spokesperson, said in an email response to questions by Stars and Stripes.
Fields did not provide specific details on the type or extent of personal conduct.
"The U.S. Navy holds its leaders, including executive officers, to very high standards and they are held accountable when those standards are not met," the Navy statement said. Executive officers "must demonstrate character and competence in their conduct at all times," the statement said.
Lt. Cmdr. Robert Osborne will assume duties as executive officer aboard the boat, according to the Navy.
Cebik, a Connecticut native, graduated from the University of Connecticut in 2005, according to a Facebook post by U.S. Rep. Joe Courtney, D-Conn., in 2016. Courtney, then the ranking member of the House Armed Services Subcommittee on Seapower and Projection Forces, administered Cebik's oath when he was promoted to lieutenant commander after working as a Navy Legislative Fellow in the congressman's office.
Cebik has served aboard both fast attack and ballistic missile submarines, Courtney said.
The USS Jimmy Carter, homeported at Naval Base Kitsap-Bangor, Wash., is a Seawolf-class, fast-attack submarine. Cebik was assigned to the submarine as executive officer in April 2018.
The nuclear-powered sub is named for the 39th U.S. president and is among the small group of Navy vessels named for a living person. It was christened in 2004.
olson.wyatt@stripes.com Twitter: @WyattWOlson
---
---
---
---