Navy needs to find $40 billion in savings to pay for more ships, readiness gaps
by
Caitlin M. Kenney
February 19, 2020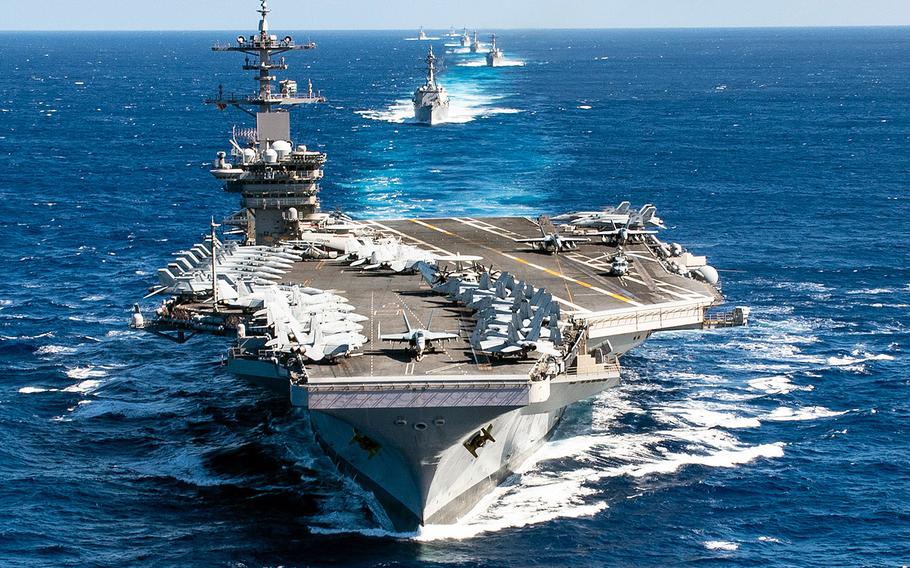 WASHINGTON— The Navy needs to find at least $40 billion in savings by 2026 in order to fund more ships to keep up with the demand on their fleet, the service's acting secretary said.
The service is facing significant challenges to meet mandates set by Congress and the Defense Department to increase its number of ships and start paying for the new Columbia-class nuclear ballistic missile submarine program that will continue for 40 years, all while having to dig themselves out of readiness gaps due to increased operational use in recent years and sequestration.
The acting Navy Secretary Thomas Modly announced Tuesday in a memorandum that he had started a department-wide "Stem-to-Stern" review to find $40 billion in savings -- or about $8 billion annually -- in the fiscal years 2022 to 2026.
Though the Navy's fiscal year 2021 budget request increased slightly from 2020, budget amounts for the service are expected to stay roughly the same for several years, Modly wrote in the memo. That means Navy leadership needs to make tough choices to meet the requirements under the National Defense Strategy to compete against military powers Russia and China, he wrote.
"We need to find savings within the department to reinvest in the kind of decisive naval force that will provide for our nation's future economic and political security," Modly wrote.
The savings will be reinvested in Modly's top three priorities: building 355 ships by 2030, digital modernization of the Navy, and "advancing our intellectual capacity and ethical excellence," though the memo does not detail what that is.
Modly pointed to the Army's own efforts during the last two years to find savings through their "Night Court" sessions in which the service uncovered about $13 billion.
The Navy review will look at the entire department to identify "low priority, redundant, or legacy capabilities, programs, processes, or headquarters functions that can be realigned, eliminated or reduced to meet the [service's] resource needs," he wrote.
There will be more of an emphasis in certain areas, including streamlining naval logistics and consolidating or eliminating headquarters, commands and organizations.
The review will end April 15 so the Navy can submit their findings as part of their fiscal year 2022 budget request in June.
Kenney.Caitlin@stripes.com Twitter: @caitlinmkenney