Navy commissions latest nuclear-powered attack submarine, the USS Vermont
by
Christian Lopez
April 21, 2020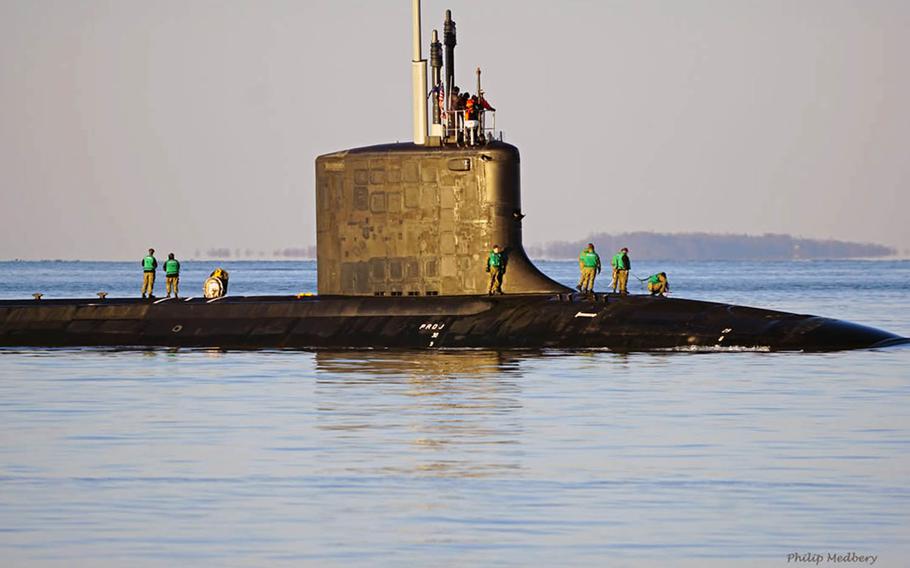 The Navy commissioned the 19th Virginia-class nuclear-powered attack submarine, the USS Vermont, on Saturday with an unconventional, low-key ceremony due to coronavirus restrictions.
The Vermont entered service administratively and with a small ceremony at Naval Submarine Base New London, Conn.
Friday, the submarine skipper, Cmdr. Charles W. Phillips III, told TV station WCAX that just the crew would attend in working uniforms while adhering to coronavirus measures.
A submarine or other vessel is commissioned after it has completed sea trials and has been accepted by the Navy. The launch occurs earlier, when the vessel enters the water, and involves breaking a bottle of sparkling wine across its bow.
Both events typically involve public fanfare.
The Vermont is the first of 10 Block IV Virginia-class submarines built on a $17.6 billion contract the Navy awarded to General Dynamics Electric Boat in April 2014.
Virginia-class submarines are designed to operate for longer periods between key maintenance cycles and to serve 15 deployments with three planned comprehensive depot maintenance periods throughout their lifespans.
Gloria Valdez, a former deputy assistant Secretary of the Navy, sponsored the Vermont, according to a Navy statement.
"I am very proud of the Sailors and families of USS Vermont, who worked so hard to bring her life," Valdez said, according to the Navy.
The 377-foot-long Vermont is built for several missions, including anti-surface warfare, anti-submarine warfare, strike warfare, surveillance and reconnaissance, mine warfare, intelligence, irregular warfare and the delivery of special operations forces.
"I am confident the crew of this cutting-edge platform will carry on this tradition and confront the challenges of today's complex world with the professionalism and dedication our nation depends on from warriors of the silent service," acting Secretary of the Navy James E. McPherson said, according to the Navy statement.
The submarine can maneuver underwater at speeds greater than 25 knots, or 28 mph, and dive to depths greater than 800 feet. Its weaponry includes Tomahawk cruise missiles and Mark 48 Advanced Capability torpedoes.
"As part of the nation's maritime asymmetric advantage over our competitors, we are ready to perform whatever duty is most needed," Phillips said, according to Navy statement. "The crew is hungry to hone our skills at-sea and become an effective fighting unit, and we will work tirelessly to justify the nation's confidence in us."
The Vermont is the third naval vessel named after the Green Mountain State. The first Vermont was a 74-gun warship authorized by Congress in 1816; the second was battleship No. 20, which was commissioned in 1907 and deployed as part of the "Great White Fleet."
lopez.christian@stripes.com Twitter: @CLopez_Stripes