Navy christens littoral combat ship honoring veterans among Baseball Hall of Fame
---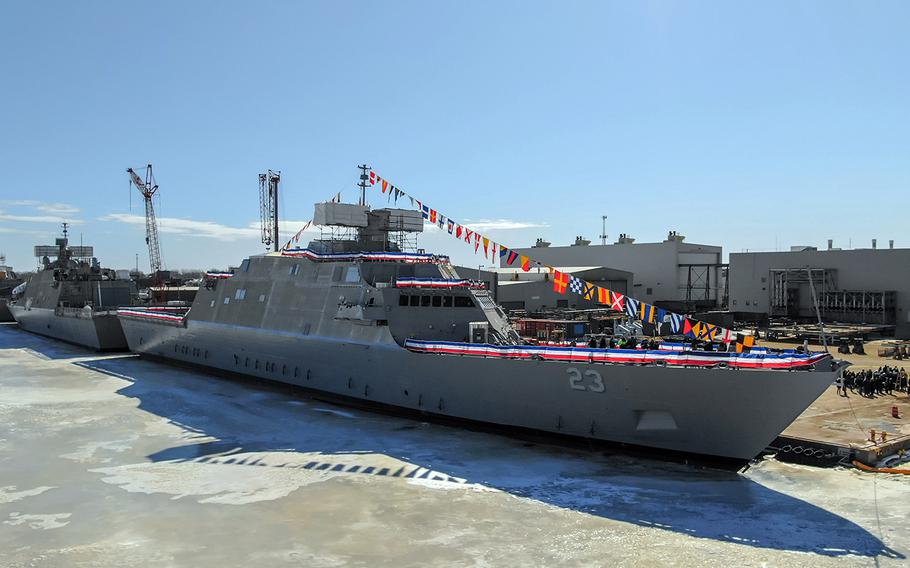 The Navy christened its newest littoral combat ship over the weekend, the USS Cooperstown, even as it looks to downsize its inventory of vessels in the same class.
Alba Tull, wife of billionaire film producer Thomas Tull, broke the traditional bottle of sparkling wine across the Cooperstown's bow Saturday at the Fincantieri Marinette Marine shipyard in Wisconsin.
The Cooperstown is the 12th ship of its kind, the Freedom variant, of 16 the Navy contracted with Lockheed Martin to build. Austal USA contracted to build another 19.
The proposed Defense Department spending plan released in February calls for decommissioning the first four littoral combat ships. Two were built at the Fincantieri shipyard and two at Austal's shipyard in Mobile, Ala., according to a Feb. 15 report by Mobile TV station WPMI.
The Navy categorized those first four ships as "test articles and training assets," according to WPMI.
The Cooperstown is expected to undergo sea trials later this year before going into service. Although the Navy has signaled its intent to curtail acquisition of littorals and build frigates instead, the littoral combat ships have been at work in the Pacific region.
In November, the USS Gabrielle Giffords steamed within 12 miles of Mischief Reef, a low-tide feature in the South China Sea, in a freedom of navigation operation. The Giffords also test-fired a Navy strike missile in October near Guam, the first demonstration of the missile in the Indo-Pacific region.
The Giffords joined the USS Montgomery, which arrived in the Indo-Pacific region in June.
The 377-foot-long Cooperstown can reach speeds better than 47 knots, or 54 mph. It carries a crew of 50 sailors and one MH-60R/S Seahawk helicopter and one MQ-8 Fire Scout unmanned, autonomous helicopter.
Littoral combat ships are built to be quick and agile and operate near the coast or in open ocean. They conduct anti-submarine warfare, surface warfare and mine countermeasure missions.
Jane Forbes Clark, chairman of the board of directors of The National Baseball Hall of Fame and Museum, in Cooperstown, N.Y., gave the principal address during the christening ceremony. Acting Secretary of the Navy Thomas Modly also spoke.
"The christening of the future USS Cooperstown marks an important step toward this great ship's entry into the fleet," Modly said in a Navy statement. "The dedication and skilled work of everyone involved in the building of this ship has ensured that it will represent the great city of Cooperstown and serve our Navy and Marine Corps team for decades to come."
Cooperstown is the first ship to be named after the city in New York. It received its name during a National Baseball Hall of Fame ceremony on July 25, 2015. honoring the 64 veterans, all members of the Hall, who served from the Civil War to Korean War.
---
---
---
---