Navy chief wants to ban the Confederate battle flag in open spaces
---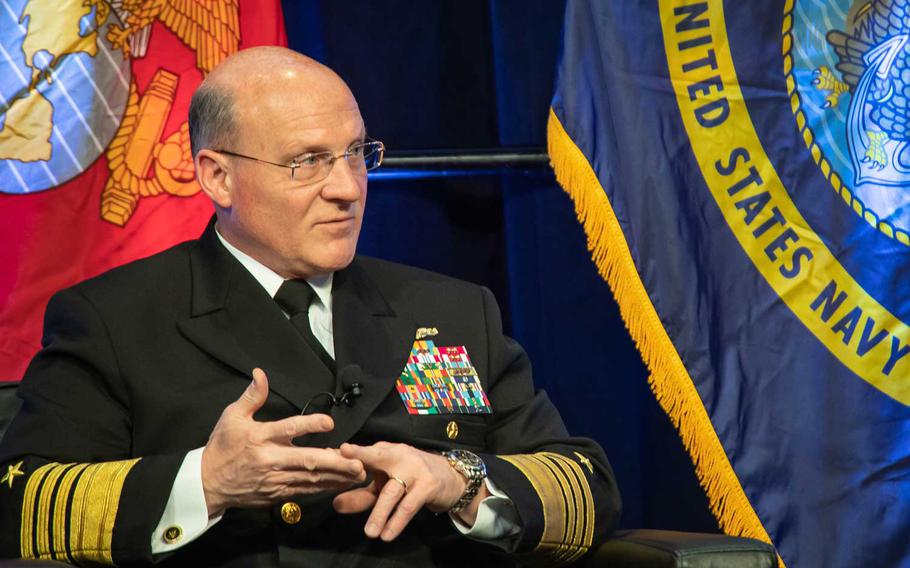 WASHINGTON— The Navy is working to prohibit the Confederate battle flag in public spaces a day after other Defense Department leaders said they were open to discussions about renaming 10 Army posts named for Confederate generals from the Civil War.
Adm. Mike Gilday, the chief of naval operations, directed his staff Tuesday to begin to write an order that would prohibit the Confederate battle flag from all public spaces and work areas on Navy installations, ships, aircraft and submarines, Cmdr. Nate Christensen, Gilday's spokesman, said in a statement.
The Navy announcement follows growing sentiment by some active and past military leaders that displaying the Confederate battle flag or honoring Confederate figures by naming installations after them is not in agreement with military values.
"The order is meant to ensure unit cohesion, preserve good order and discipline, and uphold the Navy's core values of honor, courage and commitment," the Navy statement said.
In February, Marine Commandant Gen. David Berger banned the Confederate battle flag and items with the flag on them from Marine bases. In an April letter that he posted to Twitter, Berger defended his decision, saying he did it because the flag is a symbol that "has shown it has the power to inflame feelings of division. I cannot have that division inside our Corps."
The Marine Corps on Friday also issued further guidance on the removal of public displays of the Confederate battle flag at installations and work places, including on clothing, mugs, and bumper stickers.
The topic of renaming Army posts named for Confederate generals once again emerged on social media in the days following the death of George Floyd, an African American man in Minneapolis. A white police officer has been charged with second-degree murder after he placed his knee on the back of Floyd's neck for several minutes while Floyd was handcuffed on the ground.
As recently as February, Army officials said there was no intention of addressing the Confederate names of Army posts. That changed Monday when Army officials said Army Secretary Ryan McCarthy wants to have a "bipartisan discussion" about renaming 10 Army posts named after Confederates. Defense Secretary Mark Esper also supported a discussion on the renaming the Army bases.
The posts are Camp Beauregard and Fort Polk in Louisiana, Fort Benning and Fort Gordon in Georgia, Fort Bragg in North Carolina, Fort A.P. Hill, Fort Lee and Fort Pickett in Virginia, Fort Rucker in Alabama, and Fort Hood in Texas. The installations were named primarily during the south's Jim Crow era in the 1910s and 1940s.
---
---
---
---