Navy cancels fall fitness tests, details changes for Senior Enlisted Academy students
by
Theron Godbold
July 8, 2020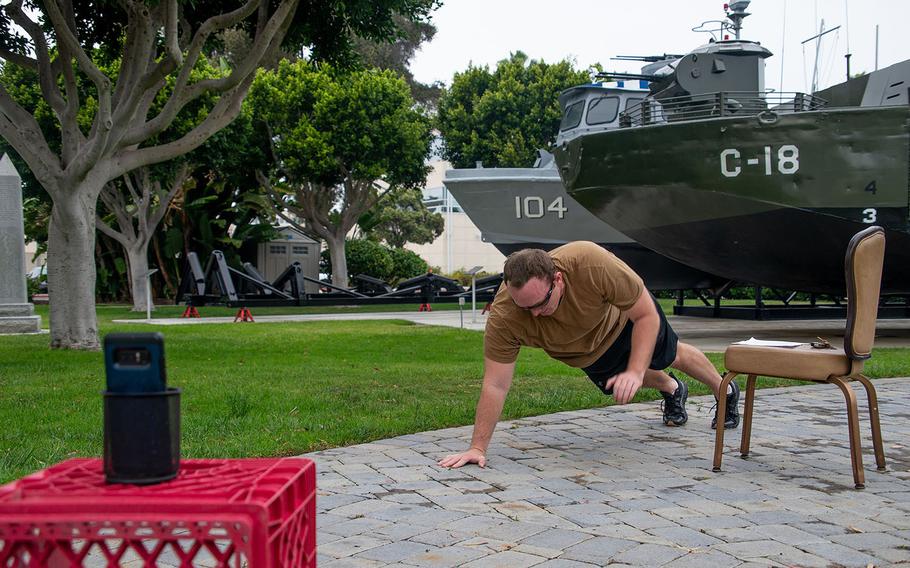 Sailors are spared their fall round of physical fitness tests, and professional education for senior enlisted sailors is being revamped because of the coronavirus, the Navy announced Tuesday.
The fitness tests have been suspended, along with body composition measures – what sailors call "getting taped" – according to a Navy administrative message. Fitness leaders are directed to make no official updates for fall to sailors' information in the management system.
"The COVID-19 situation requires that we continue to minimize risk to personnel," the message says, using the name for the respiratory disease caused by the coronavirus.
However, the suspended fitness requirements do not apply to new recruits in boot camp and sailors who need a passing score on a retest for retention or promotion. The latter may take an unofficial, or "mock," test administered under tight guidelines.
Sailors perform the mock fitness test, despite the name, but the results are not entered into the management system and apply only to re-enlistment or retention, according to the message.
Other requirements apply to the unofficial test: subjects must be medically screened; no more than 10 people, including the administrators, may be present; and sailors must adhere to social distancing, face mask and other local requirements pertaining to the coronavirus.
Although the fall fitness test is suspended, "sailors are reminded to make good choices for a healthy diet and are to continue a level of fitness to maintain Navy physical fitness standards," according to the message, which was signed by Vice Adm. John Nowell, chief of naval personnel.
In a separate message also released Tuesday, the Navy announced it is increasing class sizes and streamlining distance-learning courses at its Senior Enlisted Academy, a 10-week leadership development program at Naval Station Newport, R.I.
Starting in October, each of the regularly scheduled nine classes will increase in size from 144 sailors to 198.
Distance learning will be delivered in a three-week block, mirroring the amount of time students will be in their residences, the message said.
Also, the Navy will not require academy students to complete two courses — primary professional military education and senior enlisted joint professional military education — prior to enrolling or completing the academy, according to the message.
Established in 1981, the academy is the Navy's only professional military education institute for its senior enlisted force and provides senior enlisted leaders with education and training, according to the academy web site.
godbold.theron@stripes.com Twitter @GodboldTheron