National Guard troops still lack military health coverage despite federal funding
by
Rose L. Thayer
April 3, 2020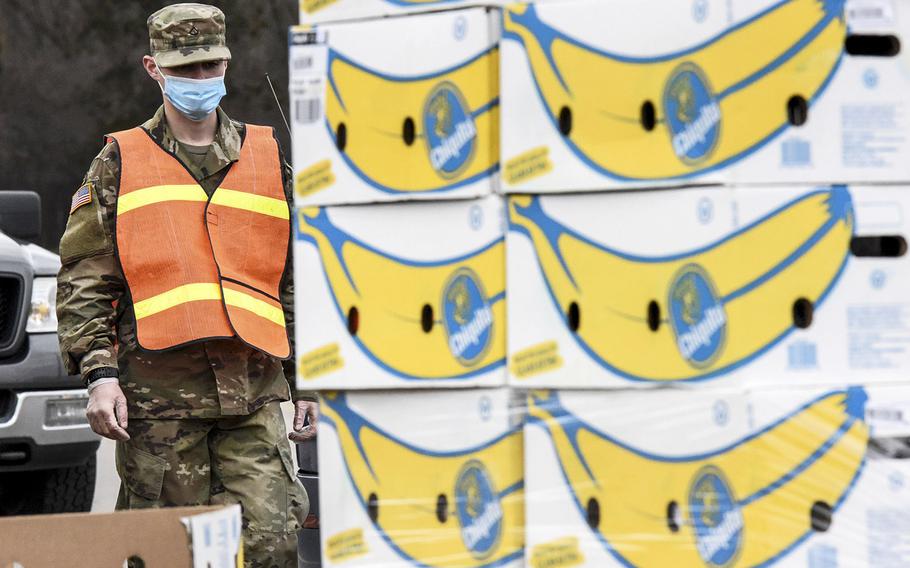 Stars and Stripes is making stories on the coronavirus pandemic available free of charge. See other free reports here. Sign up for our daily coronavirus newsletter here. Please support our journalism with a subscription.
Military health insurance is just out of reach for the National Guard troops activated on federal status to help combat the coronavirus pandemic because their deployment orders do not extend long enough for them to receive medical coverage, according to five senators and the National Guard Association.
Despite gaining approval for troops to deploy on federal orders that provide states with funding and troops with benefits through a status known as Title 32, President Donald Trump's directive limits the approval to 30 days, Sen. Tammy Duckworth, D-Ill., wrote in a letter to President Donald Trump on Friday. That limit falls just short of the amount of time needed for a service member and their family to gain Tricare health insurance, which requires more than 30 days of active duty.
"We respectfully request that you revise your memorandum to authorize Title 32 deployments for longer than 30 consecutive days, preferably through completion of response and recovery to this national emergency, or at least a minimum of 180 days. This simple change will provide peace of mind for our troops and a steady state to enable our governors to continue to respond to this crisis," wrote Duckworth, a retired lieutenant colonel of the Illinois National Guard.
Duckworth's letter is also signed by Sens. Richard Blumenthal, D-Conn., Jeanne Shaheen, D-N.H., and Joe Manchin, D-W.V.
John Goheen, spokesman for the National Guard Association, which has also sounded the alarm about troops' lack of health coverage, said he is hopeful a solution could come soon.
"We know the White House has heard our concerns," he said. "We are hopeful that this will change very soon."
In total, nearly 18,500 National Guard members are activated in some capacity in all U.S. states and territories in response to the coronavirus pandemic, according to the National Guard Bureau. Many of these service members are working missions that put them in close contact with the virus, such as administering tests at coronavirus screening and testing sites, manning field hospitals and distributing meals in hard-hit communities.
"They're out in the public and in an environment where the likelihood of exposure [to coronavirus] is pretty high," said retired Brig. Gen. J. Roy Robinson, president of the National Guard Association.
To then deny them access to health insurance would be "absolutely inexcusable," he said.
The 25 states and territories with approved federal status are California, Connecticut, District of Columbia, Florida, Georgia, Guam, Hawaii, Illinois, Indiana, Louisiana, Massachusetts, Maryland, Michigan, Missouri, New Hampshire, New Jersey, New Mexico, New York, Ohio, Puerto Rico, Rhode Island, Tennessee, Texas, Washington and the U.S. Virgin Islands, according to the National Guard Bureau and the White House.
In states without the federal approval, troops remain on state active duty, which only leaves them the option of workers' compensation, should they become ill or injured while working during the coronavirus pandemic.
Sen. Steve Daines, R-Mont., wrote a letter to Trump on Wednesday requesting he fix the gap in health insurance.
"Day by day, increasing numbers of our National Guard are asked to support the national effort to address this crisis. Many of our guardsmen and women have lost their jobs during this unprecedented situation," Daines wrote. "During this time, we should do all we can to support the men and women being asked to assist our nation's response to this pandemic and ensure that they are put on orders long enough to make them eligible for Tricare."
Other federal benefits such as access military hospital facilities, federal worker's compensation, death gratuity, GI Bill accrual and retirement points for service do not have the same time-of-service requirement, Robinson said.
"It's really not a hard fix," he said. "You can't help but be in awe of what the National Guard is doing."
Thayer.rose@stripes.com Twitter: @Rose_Lori